ARCHIVES
PAST CONTEST WINNERS
2000
August. Richard Kemper's nephew, Paul Cantor, with the help of Mamaroneck High School Social Studies teachers Mary Cronin, Lorna Minor and Adam Sobel and the support of MHS principal Dr. Mark Orfinger sets up the Richard Kemper Memorial Essay Contest linked to Richard Kemper Park.
2001
Uncovering the Kemper Memorial, an article in Mamaroneck High School student newspaper by Adam Bisno, explains:
"Anyone driving through Mamaroneck on the Boston Post Road passes the granite monument between the high school parking lot and the street. Why, then, do so few people know it exists? Mr. Paul Cantor, a grandson of the memorial's founders, posed the question first. With his and Mamaroneck High School Social Studies teacher Lorna Minor's help in providing invaluable letters and newspaper articles, I have pieced together the forgotten history of the Kemper Memorial. Richard Kemper, for whom the memorial was named and dedicated, graduated from Mamaroneck High School with the class of 1937. The yearbook of that year praised "Dick" as a most affable young man. After the outbreak of World War II, Richard Kemper joined the war effort and was stationed in Britain as an office worker. In his letters home, Lieutenant Kemper wrote on subjects ranging from war to the quirks of British schoolchildren. The letters are a valuable testimony of Richard Kemper's experiences before his request to be sent to the front lines. In the summer of 1944, Richard arrived in Normandy. Excited to be in command at the Battle of the Hedgerows, of which he wrote to his parents, Richard Kemper was fatally wounded by an exploding shell during battle on August 6, 1944. Adolph and Helen Kemper, Richard's parents, saved his letters for posterity, but they felt they should do more to preserve the memories of their son and the other men who lost their lives in World War II. In 1946, the Kempers purchased land adjacent to the high school, constructed a park and erected a granite monument bearing about one hundred names of Gold Star men from Mamaroneck and Larchmont. Adolph Kemper then donated the park and monument to the school district. The speeches given at the memorial's dedication upheld the values for which the men died: liberty, justice and peace. The Richard M. Kemper Memorial Park should preserve and uphold those values for the future classes of MHS. Adolph Kemper reminded those present that there is no justification for the destruction of war and, furthermore, that the values for which his son and his son's contemporaries gave their lives ought not be forgotten. Paul Cantor has suggested that Mamaroneck High School sponsor an essay contest in which students would either research one name on the monument or write an essay on the values for which the men sacrificed themselves. Although this proposal has not been effected this year, Ms. Minor will use Richard Kemper's letters in her American history classes and perhaps lead a visit to the park, itself. Through the introduction of Richard Kemper's letters and memory in Mamaroneck classes, the memorial will hopefully cease to drift into obscurity."
May. The First Richard Kemper Memorial Essay Contest Award Ceremony takes place. Ellen Fure is the winner. Ellen writes that the Kemper Memorial brings "to life the many young people who fought and died in WWII."
2002
The Second Annual Richard Kemper Memorial Essay Contest is held. Giulia Frontini and Kathy Reilly are the winners. Ms. Frontini writes about Ann Kathleen Cullen, the only woman whose name is on the monument in Richard Kemper Park and "the Grace Kelly of Larchmont" who was"well known for her zest for life" and "her generous and tolerant view of all people." Kathy Reilly writes about how the civil rights leader Medgar Evers "died for his belief in the freedom of every American, regardless of their skin color."
2003
Mathew Schumer and Steven Northrup win the Third Annual RMK Memorial Essay Contest awards. Steven writes, "the names of people engraved on war memorials around the world represent the loss of millions of dreams and hopes that were never realized."
2004
Abigail Benudis and Emma Rauschkolb, win the Fourth Annual Richard Kemper Memorial Essay Contest. Both, like Giulia Frontini before them, choose to write about Kathleen Cullen.
2005
William Moore and Robert Cross win the Fifth Annual Richard Kemper Memorial Essay Contest. Mr. Cross writes about his grandfather who was shot down while flying a B-17 over Austria in 1944. His grandfather is present at the reward ceremony when he receives his reward and then reads his essay. Mr. Moore points out in his essay points out how over a million African Americans contributed to the defense of our country in World War II even though faced with discrimination in the armed forces.
The nonprofit Kemper Memorial Park Preservation Fund is established to raise funds to: i. preserve, protect and restore Kemper Memorial Park, in its present location and in its present configuration in the Village of Mamaroneck, State of New York, for the use and benefit of the public as follows: (a) as a memorial to veterans of World War II and the sacrifices made by local residents who died in World War II; (b) for use as a place of quiet reflection by families of local residents who were lost in World War II and as a place where community members can pay their respects to those who were lost; and (c) as valuable open green space; ii. educate the community, especially students of the Mamaroneck School District, about the history and significance of the Park as a memorial to veterans of World War iii. assist the American Legion, Veterans of Foreign Wars, the Mamaroneck School District and the citizens of the community with the planning and conduct of the annual Memorial Day ceremonies; iii. encourage appropriate allocations from the Mamaroneck School District; iv. to prevent the Park from being used as an athletic field, parking lot or for any other purpose that would detract from the quiet, contemplative space originally envisioned by the donors; and v. raise funds from the public and other organizations, for the above described purposes. The Mamaroneck School board drops plans to relocate and redesign the park. Jan Northrup is elected president of the Fund. Mark Schumer is the treasurer.
2006
Edan Soroker and Joanna Lyons win the Sixth Annual Richard Kemper Memorial Essay Contest. Mr. Soroker writes about Norman Rockwell's art and President Roosevelt's Four Freedoms speech. Joanna Lyons composes an imaginary speech given by a returning soldier to a MHS graduating class.
2007
Lily Goodspeed and Pauline Mang win the Seventh Annual Richard Kemper Memorial Essay Contest. Ms. Goodspeed argues in her essay that "America needs to do its best" to settle differences "by peaceful discussion, and not jump to warfare so quickly." Ms. Mang concludes by saying her generation should encourage people "to respect not only the diversity of cultures but also the ideals of equality, human dignity, and freedom."
2008
The Richard M. Kemper Foundation for Promoting Human Rights Education, founded by Paul Cantor, is incorporated by the State of New York. The certificate of incorporation states that "the purposes for which the Corporation is formed are: Educational, literary, and cultural…to this end the Corporation shall promote human rights education by sponsoring activities designed to bring human rights issues into the public school curriculum. This will include sponsoring essay, research paper, poetry, photography and other contests or competitions which motivate students to search for ways to create a just and peaceful world in which human rights are universally respected; building archives that preserve the thoughts and experience of World War II veterans and their families so that future generations may gain a better understanding of how war affected their communities; funding programs or projects that motivate teachers or facilitate the efforts of teachers to address human rights issues; human rights film series; providing financial support for teachers to take university level human rights classes; offering Richard Kemper Human Rights awards or scholarships to students, teachers, and/or student or teacher organizations for academically oriented human rights activities; purchasing books and other materials that might be of particular interest to students of human rights; publicizing its activities or the activities of other human rights organizations; and awarding prizes for teachers or students who formulate questions for the Richard Kemper essay contest or research paper contests."
The first Richard Kemper Memorial Art Contest takes place. Danielle Kogan wins a $100 award for her poster calling attention to the Richard Kemper Memorial Essay Contest. Danielle's poster depicts a young woman addressing a seated audience. The woman is standing behind a podium with a microphone on top of it. One member of the audience is raising her hand to ask a question. On the front of the podium is the American Flag. The Poster reads: "It's Time to Address America: What will you say?"
Catherine Gerkis and Nina Chiappetta are the winners of the Eighth Annual Richard Kemper Memorial Essay Contest.
2009
Chelsie Walters and Addie Nicole Merians are the winners of the Ninth Annual Richard Kemper Memorial Essay Contest.
2010
MHS junior Patricia Cassidy and sophomore Max Gude were selected as the winners of the Tenth Annual Richard Kemper Memorial Essay Contest. Elizabeth Goodspeed received a prize for designing a poster promoting the contest.
2011
In 2011 for the first time there were two separate essay contests, one for students at Mamaroneck High School and one for students from all high schools. Ilana Gratch from Mamaroneck High School won the first contest for her essay Navigating the Road to Patriotism and Tild Maliqati from Rye Neck High School won the second contest for his essay, Racial Profiling and Lina Kheir from Scarsdale High School won honorable mention for her essay, Silencing Russian Journalism. The art contest for the best poster promoting the contest this year was won by Anna Hill of MHS.

2012
Mamaroneck High School students Emily Gerszberg and Andrew Yohan Lee were the winners of 2012 year's essay contests and Mamaroneck High's Jaileen Reyes won the 2012 art contest. Emily's essay, Sharing the Legacy Brings Remembrance, was written in response to the following question:
America's Veterans. Mamaroneck has kept its promise to "never forget their sacrifice" by recently adding the names of James Allen Callaghan and Warner Marshall to the Kemper Monument more than 60 years after their deaths in World War II. What are some other ways that we can honor our veterans, their comrades and the causes they fought for?
Andrew's essay, How to Help the People of North Korea, responded to the question:
"Americans came to liberate, not to conquer, to restore freedom and to end tyranny." Those are the words inscribed on the base of the flagpoles at the entrance to the World War II Memorial in Washington D.C. Yet as
Freedom House
points out many people in many countries still live under tyrannical regimes. What can and should be done to promote political rights and civil liberties in any one of those countries?
2013
The winner of the 2013 art contest was Sam Blumberg. The winners of the essay contests in 2013 were Alexa Barrett and James Quinn. Alexa's essay addressed the question of whether memorials that honor people involved in events that took place long ago are as important to today's generation as they were to previous generations. Jimmy wrote about how the government of Syria was violating the principles our World War II veterans died defending and how our country should respond to those violations.

2014
Natalie Spangle and Arthur Thery were the first and second place winners of the 2014 essay contest. Natalie's essay, Call to Arms, was about how one young courageous Pakistani woman, Malala Yousafzai, helped draw attention to the importance of guaranteeing the rights of women everywhere to be educated. Arthur's essay, How to Achieve Human Rights for All People, discussed the many ways in which we can employ today's technological tools to advance the cause of human rights. In 2014, for the first time, there were two winners of the art contest: Emily Olson and Eralda Balaj. Also in 2014, Stephen Frasene, the Assistant Principal at Mamaroneck High School spoke movingly of his father, Raymond Frasene St., who fought in the Normandy Invasion on Omaha Beach. Mr. Frasene's father was "extremely proud of his service to his country" but rued the fact that despite our victory in World War II people all over the world still must fight for their freedom. Nevertheless, Mr. Frasene said, he has always been proud of the fact that he works "in a school community where students stand up and take action to involve themselves in many ways to ensure that all of us are educated about the daily struggles for basic human rights in our nation and abroad."
2015
Najah Ellington a tenth grade student at Western High School in Baltimore, Maryland won the 2015 Richard Kemper Memorial Essay Contest with her essay Black Footsteps in a White World and Michael Tashash an eleventh grade student at Brien McMahon High School in Norwalk, Connecticut was the runner up with his essay Black Lives and Rights Matter. Also, on March 14, 2015 the Kemper Human Rights Education Foundation sponsored a lecture at Mamaroneck High School by David Blight on The Origins of Memorial Day and the Legacies of the American Civil War in Our Own Time (see the pictures below).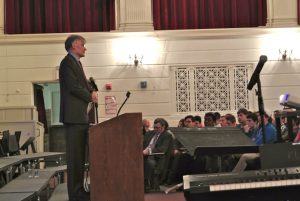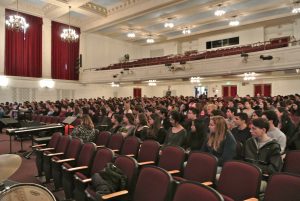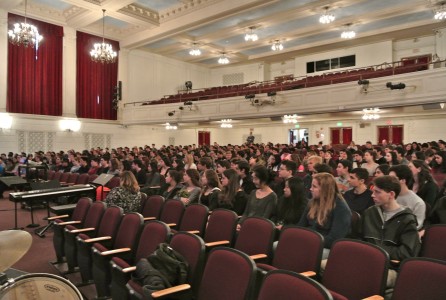 2016
This year, the sixteenth year of the KHREF human rights essay contest, we received 63 essays from 17 schools. Avon High School junior Ayushi Hegde, won $1000 for her essay Refugees Under a Trump Presidency in which she pointed out that people have a right to seek and receive asylum in any country of the world. And Andrew Selius from Mamaroneck High in Mamaroneck, N.Y.; Andrea Rašovská from the Czech Republic's Gymnázium Jana Palacha; and Michelle Woo from Greenwich High in Greenwich, Connecticut each won $250 for the essay s/he submitted. Mr. Selius wrote about The Crisis of Modern Slavery, Ms. Andrea Rašovská's essay was entitled Start Telling a New Story, and Ms. Woo wrote about Syrian refugees in her essay The People Who Have No One.
Kemper Human Rights Foundation's $1000 Essay Contest Winner,
Avon High School junior Ayushi Hegde with Avon High School's principal Dr. Timothy Breslin.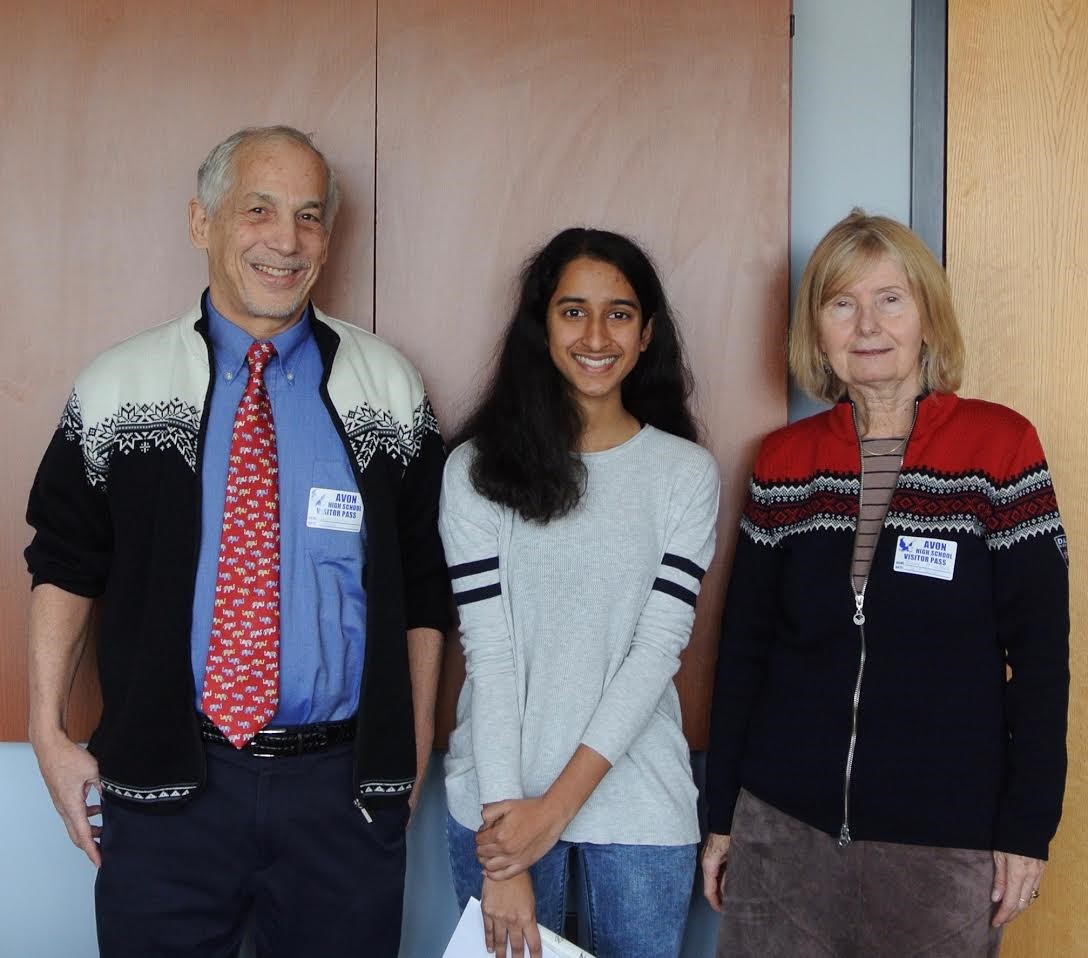 Ayushi Hegde with Kemper Human Rights Education Foundation's President and Vice President,
Paul Cantor and Yvonne Myška Lopaur.
2017
In 2017, for the first time, the Kemper Human Rights Education Foundation sponsored two essay contests: one for high school students in the United States and one for high school students who were citizens and residents of other countries. 115 essays were received from 13 high schools in the United States. 34 Essays were received from 11 high schools located in four countries outside the U.S. In 2017, also for the first time, we offered seven $100 honorable mentions.
ESSAY EXCERPTS
"In my dream, I see a country where the most fundamental human rights are not being violated…my reality…is the complete opposite of my dream!"  —Yaas Farzanefar
"Humans are like leaves, and the tree is like humanity.  We each have a role to play in order to make our tree grow.  It is the job of the entire human race to treat everyone equally ensuring that our tree grows to its full." —Mika Schubert
"Natural rights are what connects the world, helping us all to empathize with our fellow human beings," —Arden Hauk.
"The UDHR is a prodigiously important document…a powerful force that can unite people…" —Isabella Smith
"Education and communication is the key to eliminating ambiguity and intolerance in the world."  —Emma Ackerman. 
 "Human resilience and the willingness to debug an imperfect system indicate that there will always be hope for human rights." —Alex Chen.
"It does not seem right to fight for human rights abroad but not allow our country to be a safe haven for others." —Delaney Pollak
"People's views of which are the most important rights are dependent on many factors including education, wealth cultural norms, religion and identity."  —Julia Blank.
"Once the world is shown that even America…will violate human rights…no country will be inclined to protect the rights of anyone." —Samuel Kleiner.
"I'm sixteen years old and I have a better understanding of human rights than Donald Trump ever will."  Sahar Siddique
"The fundamental question is, do some rights take precedence over others?  The answer must be unequivocally yes…The correct act is the act that creates the greatest pleasure, and the least pain, for the greatest number of people." —Kerry Soropoulos
 "Although national security is critical, the travel ban and waterboarding completely violate individual rights and are ineffective in increasing security; therefore, individual rights must take precedence over these unacceptable and unjustified tactics."  —Lindsay Schwartz
 "Though a country's obligation to protect its citizens from any sort of danger should be one of its highest priorities, it should not take precedence over the natural rights and liberties of other people."  —Henry Asa
"The UDHR and other human rights documents must be amended so that it explicitly specifies that individual rights must receive precedence over the right of some to be secure." —Zain Jafar
"Basic human rights…should take precedence over national security." —Dorothy Low.  
"It would be extremely beneficial if the UDHR became a legally binding document as opposed to the suggestive force that it is right now."  —Olivia Serpico
"The human rights of the individual should take precedence over national security." —Arden Katz
The UDHR is so ambiguous that it is useless. —Daniel Xu
"In America right now all the great principles that make our nation so strong are being tested." —Dylan Marcus.
"The UDHR must be better enforced." —Nora Goodman
2017 HONORABLE MENTION ESSAYS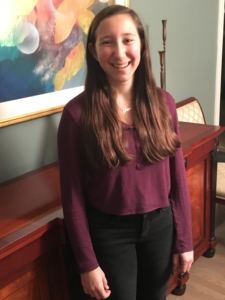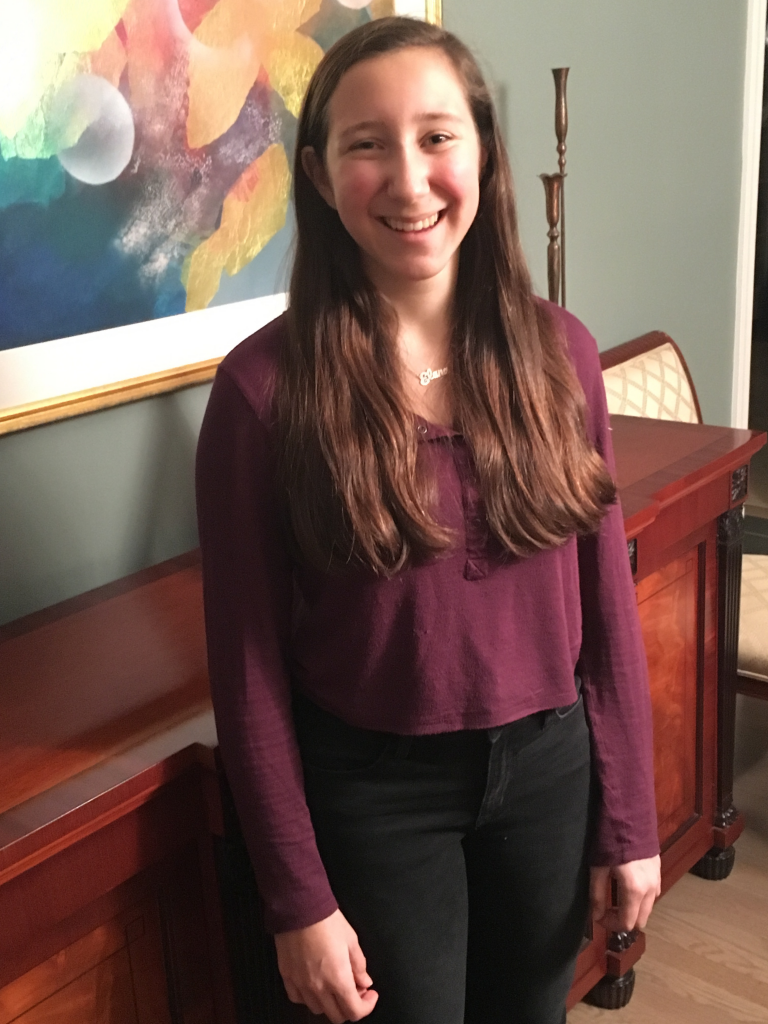 Fighting Fire With Love
Elana Atlas, Staples H.S., Westport, CT
I was once asked what I would do if there were one hundred people outside my house trying to come in, but one of them might end up killing my family and myself. Would I let them in?
When I hesitated, I was told that the example applies to the refugee crisis. I was very distressed because I didn't know how to articulate it, but I knew in my heart that the person who I was talking to was wrong.
Later I realized that what I was thinking was simply the following: he told me that the example can be used regarding the refugee crisis, but it cannot. There are not one hundred people outside my house. There are tens of thousands of refugees outside my country, and they are dying. The same person who used that example told me that we must put America first. Our country before every other. Our people above the rest. But that is not true. It doesn't matter that we are Americans and they are Syrians. It matters that they are people.
The refugee crisis is one of the many current issues causing debates centered around human rights in America, the main reason for this tension being the ambiguity of human rights documents. Some Americans argue that all human rights are equal, while their opponents feel that some must be prioritized. The truth is, it is impossible for every right to be equally represented in our society.
Some human rights must take precedence over others in certain situations, such as the decisions whether or not to deport undocumented immigrants, close US borders to refugees, and bring back torture. In The Case Against Human Rights, Eric Posner states that, "Given that all governments have limited budgets, protecting one human right might prevent a government from protecting another." For example, if Syrian refugees are admitted into the US, some American citizens will not feel secure; however, if they are not permitted to enter the country, they will face the horrific warfare going on in their own nation. Either way, a right is given up.  The question is how to choose which ones are more important.
In order to determine how to prioritize human rights, we must understand that the ranking of rights should be situational. We should not create a universal ranking that dictates which rights must be attended to first in every situation. There is no way to predict what conflicts we may be faced with in the future; therefore, there is no way to predetermine how to deal with them. That being said, the prioritization of human rights should also be sensible.
All people, despite where they come from, are entitled to human rights, and the situation they are involved in must be the deciding factor regarding which human rights take precedence. The number of people involved in a situation, as well as the extremity of the danger or human rights violations they are facing should be what convinces us to prioritize certain rights over others. Examining situations such as those surrounding the Trump administration's policies allows us to identify trends that will help us more successfully prioritize appropriate rights based off of specific situations.
Consider the proposed deportation of undocumented immigrants in the US, claimed by the Trump administration to protect Americans from immigrants who are often violent and criminal. In spite of this declaration, the facts show that in reality undocumented immigrants are only a tiny portion of the criminals living in America. According to BBC, there have been only eight cases of illegal immigrants committing acts of jihadist terrorism in the US since 9/11, while more than 120 American citizens have committed such atrocities (Trump's Executive Order: Who Does Travel Ban Affect?).  Therefore, the entire premise for the deportation, that sending them away will protect Americans' right to safety, is false given that Americans are significantly more at risk from each other than they are from undocumented immigrants.
Furthermore, since 2009, the number of undocumented immigrants who crossed the border seeking asylum, often from horrors such as gang violence and poverty, has grown remarkably. Many of these asylum seekers are lone children. In fact, "Nearly 409,000 migrants were caught trying to cross the United States' southwestern border illegally in the 2016 fiscal year, an increase of 23 percent over the previous year, according to government statistics." (Yee, Vivian, et al). Deporting the immigrants would send them back to these dangerous conditions, violating their rights to life, security, safety, and high quality of life. The deportation fails to consider the significantly more severe plights of the immigrants than those of the Americans. The immigrants are in an urgent situation in which a large number of them could face grave danger if the deportation was implemented, while deporting them would be less beneficial for American safety than deporting all American citizens themselves. The rights that should be prioritized in this case are those of the immigrants, because they have far more to lose from the deportation than Americans do.
On top of that, the government also has a wariness to admit refugees into the country, which is claimed by supporters of the travel ban to be for the protection of Americans from terrorism, meant to benefit their rights to security and safety. "This is about terror and keeping our country safe," Trump said of the ban. Nevertheless, of the 784,395 refugees who've been admitted into the US since September 11th, 2001, three have been arrested for terrorism (Gambino, Lauren, et al).
Contrary to the beliefs of travel ban supporters, refugees, despite where they come from, are no more dangerous than anyone else. Refugees are barely any threat at all to Americans, which means that the idea that Americans would be notably safer without refugees in the country is merely speculation, not actual fact. Therefore, some Americans would only feel more secure if US borders closed, but they wouldn't actually be much safer. In fact, stopping the influx of refugees into America would violate people's human rights far more than protect them.
The situation in Syria that is causing the current refugee crisis is incredibly dire. According to World Vision, "Syrian children and families have witnessed unspeakable violence and bear the brunt of the conflict. Hundreds of thousands of people have died, 5.1 million Syrians have fled the country as refugees, and 6.3 million Syrians are displaced within the country. Half of those affected are children" (World Vision Staff). If our borders close, all those refugees that America shuts out will be forced to continue fleeing the pain and death chasing them down, while Americans would feel a bit more protected.
In this situation, as millions of refugees flee death while Americans fear near nonexistent terrorism from them, the refugees' rights to life, safety, and happiness must take precedence over Americans' right to feel secure. Americans being able to feel safer because there is no longer a possibility of three refugees posing a threat does not validate sentencing millions of innocent people to die.
Another action that has been proposed by the Trump administration with the supposed purpose of protecting Americans' right to security is the return of torture to the CIA's interrogation techniques. While discussing putting a stop to terrorism and how torture would affect America's success in that endeavor, Trump declared, "You have to fight fire with fire" (Donald Trump on Terror: You Have to Fight Fire with Fire).
However, there is plenty of convincing evidence that "enhanced interrogation techniques" are typically unsuccessful. According to former US army counterintelligence special agent C. J. Grisham, who served in Iraq and Afghanistan, "more than 99% of interrogations are very successful even without using enhanced techniques." Further, the 2014 US Senate Select Committee's report on the CIA's use of torture (Masters, James) declared the torturous methods to be "deeply flawed" and frequently leading only to "fabricated information." This means that torture rarely accomplishes anything but lies.
False information does not help the CIA at all, but on the contrary likely leads them further from where they want to be. This certainly does not protect the right to security of the American people. Not only that, but torture horrifically violates the human rights of its victims, who, despite their possible hatred of America, are still people entitled to human rights. The unthinkable horrors forced on them by the CIA before torture was outlawed included waterboarding and being kept in pitch-black rooms while loud noise or music played, provided only with a bucket in which to relieve themselves. Some were even subjected to "rectal rehydration," which is when one is force-fed through a tube inserted in their rectum. One detainee was chained partially nude to a concrete floor and died soon after from suspected hypothermia (Masters, James).
In addition, "Dozens of prisoners developed persistent psychological problems after enduring torture and other brutal interrogation tactics in secret C.I.A. prisons or at the military detention center in Guantánamo Bay, Cuba" (Apuzzo, Matt, and James Risen). These accounts prove that torture is a disgusting and ineffective practice. Torture is not a successful method for protecting the right to security of the American people; instead, it unnecessarily ruins lives, violating several human rights, including the rights to security, freedom from torture or degrading treatment, and the right to an adequate living standard.
In other words, torture has been shown to be essentially pointless in providing helpful results for America while causing lasting harmful effects. As a result, in this circumstance, the rights of America's enemies not to be tortured must be prioritized, given that the long-term pain torture causes, or in other words, the severity of the victims' situations, outweighs the misconception that torture actually benefits Americans.
While analyzing Trump's policies, it becomes apparent that there is a pattern regarding the policies' relationships with human rights. Each policy is claimed to have the intention of national gain. However, if these strategies were to be implemented, they would fail to adequately protect Americans' human rights, and they would violate those of others.
These policies do not take into account that the situational ranking of human rights must be logical. While some rights must take precedence over others, the rights of those who are more numerous or suffering a more harmful violation of their rights must be the ones that are prioritized. Trump's policies prioritize the wrong rights, choosing Americans over immigrants despite the lack of good reason, Americans over refugees in spite of the terrors refugees are fleeing from, Americans over torture victims even though torture does nothing but inflict pain. The right thing to do is to prioritize the rights of people based not on their nationality, but on the size and urgency of their situation.
Accordingly, human rights documents must specify that nationality does not put any one person or group of people above any other. Eric Posner was correct when he wrote in The Case Against Human Rights that "the central problem with human rights law is that it is hopelessly ambiguous." That ambiguity must end.|
Human rights documents must make it impossible for Trump's reasoning to resonate with people. They must make it impossible for it to be a question whether to deport all undocumented immigrants, whether to close our borders to refugees, whether to become a nation that tortures. They must make it impossible for anyone to doubt protecting the human rights of another person based on their nationality. They must make it impossible for us to continue fighting fire with fire when it will only take people's rights away. Human rights documents must teach us to value specific human rights based on the graveness of the hardships people are going through, and in turn to fight fire with love.
Works Cited
Apuzzo, Matt, and James Risen. "Donald Trump Faces Obstacles to Resuming Waterboarding." The New York Times, 28 Nov. 2016,
www.nytimes.com/2016/11/28/us/politics/trump-waterboarding-torture.html. Accessed 21 Oct. 2017.
Donald Trump on Terror: You Have to Fight Fire with Fire. Youtube, 2016.
Youtube, www.youtube.com/watch?v=gWBPb9VXYDg. Accessed 21 Oct. 2017.
Gambino, Lauren, et al. "Syrian Refugees in America: Separating Fact from
Fiction in the Debate." The Guardian, 19 Nov. 2015,www.theguardian.com/us-news/2015/nov/19/syrian-refugees-in-america-fact-from-fictiN-congress. Accessed 27 Oct. 2017.
Masters, James. "Donald Trump Says Torture 'Absolutely Works' — but Does It?"
CNN, 26 Jan. 2017, http://www.cnn.com/2017/01/26/politics/donald-trump-torture-
waterboarding/index.html. Accessed 21 Oct. 2017.
Posner, Eric. "The Case against Human Rights." The Guardian, 4 Dec. 2014,
www.theguardian.com/news/2014/dec/04/-sp-case-against-human-rights.
Accessed 21 Oct. 2017.
"Trump's Executive Order: Who Does Travel Ban Affect?" BBC, 10 Feb. 2017.
www.bbc.com/news/world-us-canada-38781302. Accessed 20 Oct. 2017.
World Vision Staff. "Syrian Refugee Crisis: Facts, FAQs, and How to Help."
World Vision, 13 July 2017, www.worldvision.org/refugees-news-stories/syria-refugee-crisis-war-facts. Accessed 21 Oct. 2017.
Yee, Vivian, et al. "Here's the Reality about Illegal Immigrants in the United
States." The New York Times, 6 Mar. 2017,
www.nytimes.com/interactive/2017/03/06/us/politics/undocumented-illegal-immigrants.tml. Accessed 27 Oct. 2017.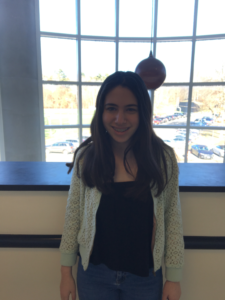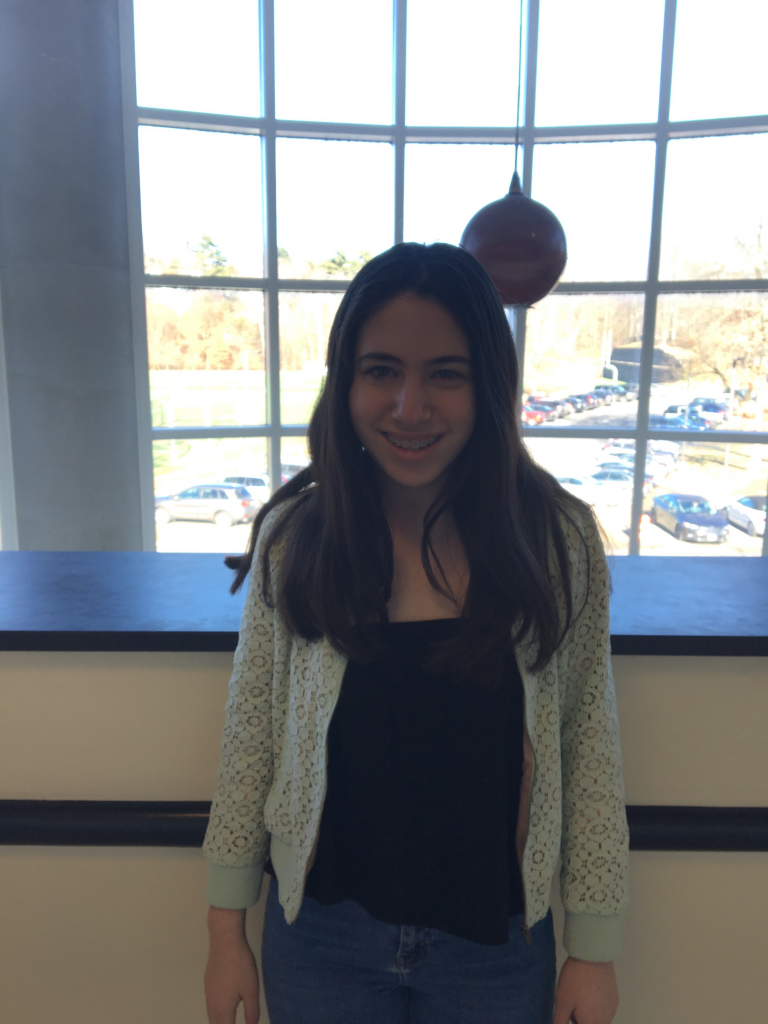 Competing Rights of Man and Government
Julia Blank, Greenwich H.S., Greenwich, CT
As an avid Model UN participant and lover of all things international, my heart tells me to strongly condemn Trump's travel ban, plan for deportations, and morbid fixation on waterboarding. As an avid student diving into the study of government and political philosophy, however, my head tells my heart not to be so quick to judge them.
While I praise the aspirations of human rights law, I agree with Eric Posner's assessment that it is "hopelessly ambiguous" allowing "governments to rationalize almost anything they do." Moreover, I think it is foolish to believe that there is some universal objective standard regarding which rights should take precedence over others. This ignores the long-standing reality that people's views of which are the most important rights are dependent on many factors including education, wealth, cultural norms, religion, and identity.
It is paternalistic and arrogant for one nation, or even the leaders of many nations, to assume that there is a one-size-fits-all hierarchy of these rights. With this in mind, as much as I dislike these policies and think they are misguided, I would argue that Trump's actions are intended to promote the security of his citizens.
This is the function of a government leader and is precisely what a nation's leader should do even at the expense of rights of citizens of other nations. I would also argue that the Universal Declaration on Human Rights needs to be amended only if we believe that such a declaration should become binding law. If, instead, we view it as analogous to our own Declaration of Independence it can remain as is; an aspirational statement of how we might like the world to be if pesky things like individual national self-interests didn't get in the way of our utopian internationalist vision.
The first part of the question posed above is how to respond to Trump's claim that his policies are intended to enforce American citizens' rights to "life, liberty, and security of person." My cynicism about his political motives, aside, let's assume that I do believe that he is in good-faith with this action and is attempting to protect the American people. If so, then I would say these actions are not only appropriate, they are essential.
The entire reason why governments were created in the first place is because groups of individual banded together to protect each other from other groups of individuals. Even back in the times of cavemen, people traveled in groups to protect each other from the dangers of the mysterious world. Protecting your own nationals from hostile foreigners is the quintessential proper function of government. If a leader were more concerned about the human rights of a foreigner than the safety of its own citizens, it would be falling short on its primary responsibility and could even be considered treason. But, let's analyze a little more what human rights these policies might conflict with in more specifics. There are three policies cited above: the travel ban, deportation of undocumented immigrants, and waterboarding.
The first policy mentioned, the travel ban, is not really in conflict with any human rights. There is no right to be able to travel to whatever country you choose nor is there an expectation that countries should have open borders. No one has ever complained that it is a denial of human rights for countries to require visas and passports for entry. The Alien act of 1798 even sets precedent for these laws to exist. During the Presidency of John Adams, he was given the ability to deny the immigration of citizens who may potentially be dangerous to the nation. Perhaps, if we see the travel ban as just a facade for a way to discriminate against people of a particular religion then we would see this as a denial of human dignity. However, even if that may be the ugly inspiration behind this initiative, the written law says nothing about religion. In fact, many religious ethnic minorities from these countries will suffer similarly to the Muslim majorities.
Similarly, the deportation of undocumented immigrants does not seem to be in conflict with any essential human right. There is no human right for people to be able to immigrate to whatever country they choose. Trump's policy takes aim at people who have immigrated to the United States illegally. As much sympathy as I have for them on a personal level, I can't say that their deportation is a violation of their human rights. Nowhere in the Declaration of Human Rights or American Constitution, does it say it is a human right to live in a country they were never granted permission to be part of. I would argue that it is unkind and not wise, but it is not illegal by any standard of national or international law. So, questioning this policy also seems to be a sham way of combining many of Trump's most unkind initiatives and somehow arguing that they are bad because they are violations of human rights. They may certainly be bad, but they aren't offensive from a human rights perspective.
The third policy cited, waterboarding, does seem to present a classic example of how rights can be in conflict. While both the Geneva conventions and the Declaration of Human Rights do outline waterboarding as a human rights defense, they also identify the right to security and for nations to procure and protect the security of its' citizens. Let's imagine a scenario in which the US government is certain that an individual has information about a planned nuclear attack not only on its citizens but on citizens of multiple countries. Let's further assume that the US believes it can use waterboarding to get this individual to provide it with information to stop the attack.
The immediate choice then comes down to the suffering of one individual for the safety of millions. I feel pretty sure that in this drastic scenario, even most avid supporters of human rights law might be tempted to permit waterboarding. Of course, this is a stark and an improbably bold example. In most cases, the potential attacks would not be as large, the certainty of getting information would not be as clear, or there would be other complicating factors. But, the point of this is that there is some situation in which most people would make the utilitarian assessment, the one that focuses on the consequence of the action, that torture is acceptable. This is a case where two competing notions of human rights security vs. freedom from torture are in conflict. In these cases, the obligations of governments to its own citizens must take precedence over its obligations to uphold international standards of human rights.
So, how are we supposed to rank which human rights take precedence over one another when they are in conflict? It would be helpful in these cases to have a hierarchy of human rights. One way to do this would be to look at why governments exist and what their essential purposes are. These essential purposes are what should drive which human rights are top priorities and which are secondary or tertiary. However, there is a severe flaw on this method. The problem with this approach is that people disagree as to what the essential purpose of their governments are. Certainly, all agree that their governments are there to protect them from foreign invaders. But others believe that their government exists to also provide employment and livelihoods to all of its citizens. Others believe that their government exists to preserve their religious way of life. Still, others see their government as a minimal force in daily lives, and as guardians of their personal freedoms. This is seen as a constant struggle throughout history, and driving the political stage we see today.
The struggle between Federalists and Democratic Republicans at the constitutional convention, the sparring between modern day Democrats and Republicans over the policies above, and even the fight among enlightenment philosophers and their often authoritarian or monarchical governments. This idea of ranking and prioritizing rights universally defies Rousseau's theory of the social contract. The entire idea of a social contract is that the people agree to a set of values and set up their government in line with these values. The assumption is that people can opt out of this contract by choosing to live in another place, under another government. The creation of a one-size-fits-all hierarchy of human rights would deny people the ability to choose to live under a government that shares their own particular values.
Without specific guidance about how these rights should be prioritized, we are left with the problem described by Professor Posner. Governments can basically justify almost any action they take as in-line with an essential human right, even if it violates another essential human right. I think this is an inevitable situation if we want to live in a world that allows individuals to band together to form different communities with different values. This does not make the Universal Declaration on Human Rights useless. Like our own Declaration of Independence, it is a document filled with inspiring and lofty, nearly always distant goals. Listing these goals can only help bring us closer to a world where Human Rights are respected more broadly, even if it doesn't do enough to ensure that all countries adhere to these ideals. Like me, many countries and many citizens of the world, even those of us who embrace internationalism, may find themselves conflicted between their hearts and their heads when confronted with difficult choices between human rights and national interests. But documents like the Universal Declaration ensure that there at least continues to be a struggle and pushes the cause of Human Rights forward in the world and into the future.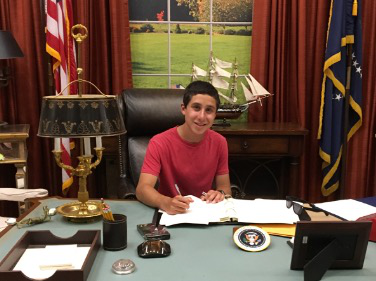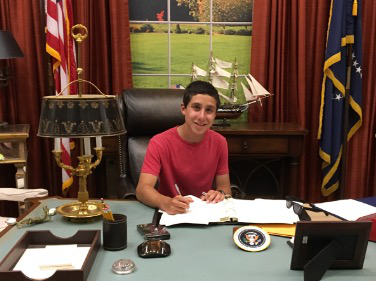 History Must Not Repeat
Jacob Miller, Horace Greely H.S., Chappaqua, NY
I was in the third grade when I had my first experience with religious prejudice. Waiting in the line for the vault at my regularly scheduled gymnastics practice, my friend and I were engaged in our usual banter as he released some words that truly struck me by surprise: "Isn't it true that all Jews steal money to become rich?" Being just half the age that I am today, I didn't think much of it, largely because he hadn't known I was Jewish, and I didn't want to start any conflict. But every so often I found myself coming back to this moment and reflecting on it. I knew that he wasn't a bad person. He was just as young as I was, and would continue to be supportive of me in the years to come. Why, then, could he have generated a response so biased, repugnant, and religiously intolerant?
It all came down to a lack of understanding. It was not possible for him to have come to that conclusion on his own, and he likely raised the idea from something that he had overheard in the past. But where would he have overheard it, and why would someone have said it?
American society has always been plagued by religious misconceptions. Unfortunately, one religion has been recently targeted above the rest. In the past several years, a small percentage of the Islamic population have become radicalized, and they are using their religion as a justification to terrorize innocent people all over the world. Ironically, the vast majority of the victims are their Muslim brethren because they live in and around the African, Middle Eastern, and Asian countries with powerful terrorist organizations.
Many of these citizens, fearing for their lives, have fled their native countries and sought refuge in other areas of the world with more stability. Due to the small amounts of money that these refugees have, it is very difficult for them to travel great distances, and they usually end up migrating to relatively safer areas in the Middle East temporarily, such as Turkey or Lebanon ("Syrian Refugee Crisis") while attempting to be accepted into a European or North American country. The United States, the "land of freedom" with the largest economy in the world (Gray), seems like a nation that should be willing to take in substantial amounts of refugees and offer assistance in this humanitarian crisis. The nation has not, however, accepted the responsibility of sheltering these refugees, instead attempting to pass a federal ban preventing refugees from seven predominantly Muslim Middle Eastern countries surrounded by conflict from entering the U.S. The argument is that doing so increases the security of American citizens, but the miniscule effect that this has on the safety of individuals is not worth the extreme dangers that these refugees are facing everyday they are not accepted into a more secure settlement. The potential ban on Muslim refugees from entering the United States does not ensure that every citizen's "right to life, liberty, and security of person" is enforced because it only prevents innocent victims from relocating to a safe haven and neglects to address security issues within the borders.
One of the largest initiators of the proposed Travel Ban is the growing phenomenon of Islamophobia. Having swept the country as an effect of the increasing frequency in terrorist attacks being carried out by Islamic extremists, it has become common for people to subconsciously associate all Muslims with terrorists (Gutoc), a high level of stereotyping for a religion with more than 1.8 billion followers (Lipka). Prior to this proposed ban, there were still heavy vetting procedures in place to ensure the legitimacy of the refugees entering the United States, and background checks were used to prohibit the access of anyone associated with terrorist organizations. These procedures have been successful, as not a single refugee from any of the seven banned countries has killed someone in a terrorist attack in the U.S. (Wilmingham, Martucci, and Leung). The intentions of the ban appear to be further discriminatory, rather than beneficial, to American citizens because there has never been a security issue with the acceptance of these refugees into America. In addition, the September 11th attacks on the World Trade Center in New York City were carried out predominantly by Saudi Arabians, with two respondents from the United Arab Emirates and one each from Egypt and Libya ("Identity and Immigration"). All of these terrorists were legally permitted access into the U.S., yet none of these countries were included in the Travel Ban. The reasoning for this decision is that the president and father of this executive order, Donald Trump, has held many business interests within these countries, and would not want to create tension with them. It sounds silly that a single person has the potential to dictate rules affecting millions of people all because of personal preferences, but that is what could occur.
The United States is currently the strongest nation, economically and militarily, in the world. The influence that it has had on the global landscape is undisputed, and many of its policies, trends, and cultural aspects have been adapted by other countries as well ("America's Cultural Role"). It should be a moral responsibility of a nation with so many resources to assist in this humanitarian crisis that is occurring today. Even though these displaced people are being affected by conflict happening thousands of miles from U.S. borders, in an era of Globalism, the United States has a duty to spread assistance, not shy away from it. During the Cold War in the mid 1900's, Russia and America both "fought" to spread or contain Communism ("Marshall Plan"), interfering with the sovereignty of other countries in attempts to better spread their influence and implement their power. Both philosophies, whether to spread or to contain the new phenomenon, had their advantages and disadvantages, and there were valid arguments for and against each approach. In terms of assisting refugees fleeing from these war-torn countries, there is no debate: it should be done. The means to this approach, however, are disputable. Some cannot afford the burden of assisting others when they are barely surviving themselves. Some do not want change within their own communities. And some fear that the refugees being let in could be dangerous and potentially cause harm.
Well, it's time to wake up and really understand the situation. No one is calling upon any individual and requiring that they provide assistance to these refugees. No one is trying to double the population of any community with an influx of foreign refugees. And no one is being allowed into the United States without a series of comprehensive background checks (Park, Haeyon, and Buchanan), weeding out all of those with violent histories. But innocent humans should have the right to security. Just because they were born into a violent situation does not mean they are deserving of the constant dangers in these conflicting areas. As a nation of great fortune, we must recognize the devastating conditions that these refugees are facing everyday of their lives, and take part in accepting them into our safer communities. To turn away dignified people because of their religious beliefs is a mistake that has been made all too often in history, and we should not allow it to repeat itself.
The Universal Declaration of Human Rights, the guidelines that all nations are expected to follow in terms of treatment of its citizens, states in Article 2 that "Everyone is entitled to all the rights and freedoms set forth in this Declaration, without distinction of any kind, such as race, colour, sex, language, religion". Nowhere in the Declaration, however, does it have any restrictions on discrimination regarding humanitarian aid. In a crisis to the scale of the current one pertaining to refugees, it is necessary for people to interfere and help the impoverished and displaced persons. The lack of discrimination should still be applied to these situations, however, and just because someone is of a certain race, sex, or in this case, religion, it does not justify their denial of assistance in crises.
If the Trump Administration is really as worried about domestic safety as they appear to be, then there are more dire areas to focus than banning Muslim refugees. The initial motive behind the Travel Ban was to prevent any potential terrorists from entering the United States, but according to CNN, 440,095 Americans were killed from gun violence between 2001-2014, while just 3,412 Americans were killed by terrorist incidents in that time period (Bower). This equivocates to one American being killed in a terrorist attack for every 129 Americans killed by guns. And if 9/11 is excluded, that number jumps up to 1012. The gun debate is still a highly partisan issue, but considering that there are on average over 1,000 more gun related deaths per each death in a terrorist attack (9/11 excluded), it may be wiser to focus on the pros and cons of the possession of firearms over the banning of innocent refugees.
In my scenario, being told an untrue statement by a fellow third grader had no lasting impacts on me. I was not in a situation of crisis, and at that time he held no authority that could deprive me of basic and simple privileges. The refugees in these war-torn countries are not as fortunate as I was. This misconception and association of all Muslims to terrorists has prevented them from seeing safety from the actual terrorists. Under the Obama Administration, action was still being taken to allow a certain amount of the refugee population to settle in the United States and there had never been a threat to civilian safety, yet the Trump Administration seems to be deciding to end this policy and spread more discrimination. Limiting the human rights of thousands and thousands of people based on their religious affiliation is an action that was vowed not to recur since the conclusion of World War II, and as a community, as a nation, and as common, dignified people, we cannot allow for this religious suffering to happen again.
Works Cited
"America's Cultural Role in the World Today." Access, Cappelen Damn,
access-internationalvg2.cappelendamm.no/c951212/artikkel/vis.html?tid=385685.
Bower, Eve. "American Deaths in Terrorism vs. Gun Violence in One Graph." CNN, Cable News Network, 3 Oct. 2016,
www.cnn.com/2016/10/03/us/terrorism-gun-violence/index.html. "Containment and the Marshall Plan." Ushistory.org, Independence Hall Association, www.ushistory.org/us/52c.asp.
Gray, Alex. "The World's 10 Biggest Economies in 2017." World Economic Forum, World Economic Forum, 9 Mar. 2017,
www.weforum.org/agenda/2017/03/worlds-biggest-economies-in-2017/.
Gutoc, Abraham. "Subconscious Bigotry: When You Associate Muslims with Terrorism." Rappler,
www.rappler.com/views/imho/175668-subconscious-bigotry-muslims-terrorism.
"Identity and Immigration Status of 9/11 Terrorists." Federation for American Immigration Reform, Jan. 2011,
fairus.org/issue/national-security/identity-and-immigration-status-911-terrorists.
Lipka, Michael. "Muslims and Islam: Key Findings in the U.S. and around the World." Pew Research Center, 9 Aug. 2017,
www.pewresearch.org/fact-tank/2017/08/09/muslims-and-islam-key-findings-in-the-u-s-and-around-the-world/.
"Syrian Refugee Crisis: Facts, FAQs, and How to Help." World Vision, World Vision Inc., 6 Nov. 2017,
www.worldvision.org/refugees-news-stories/syria-refugee-crisis-war-facts.
Park, Haeyoun, and Larry Buchanan. "Refugees Entering the U.S. Already Face a Rigorous Vetting Process." The New York Times, The New York Times, 29 Jan. 2017, www.nytimes.com/interactive/2017/01/29/us/refugee-vetting-process.html.
Willingham, AJ, et al. "Chances of a Refugee Killing You – and Other Surprising Immigration Stats." CNN, Cable News Network, 6 Mar. 2017,
www.cnn.com/2017/01/30/politics/immigration-stats-by-the-numbers-trnd/index.html.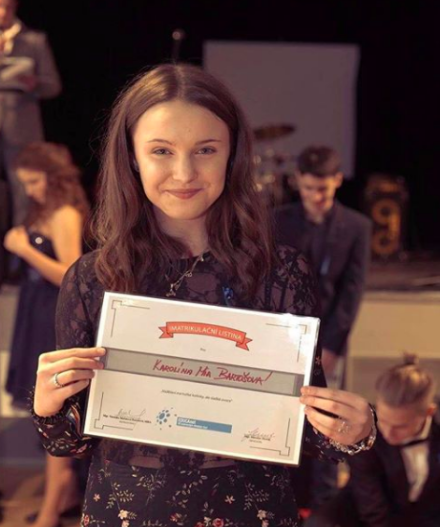 The "Us" And The "Them"
Karolína Mia Bartošová, EDUCAnet gymnazium, Prague, Czech Republic
I scroll through Facebook and rest my eyes on a post by HateFree Culture. "Myths and Facts: With Gypsies come only problems. They destroy houses, burn floors. They behave like animals!" I click on the article, listing everything that is wrong about this statement (stated by a person from my country, the Czech republic) and explaining how stereotypes are highly misleading. Kim Bogucki mentions in her amazing TED talk, "not every Mexican is undocumented, not every person of color is a criminal, not every white cop shoots people of color.." I click on Myths and Facts and am overwhelmed with similar hateful comments, in which the staff of HateFree explains why their hate is utterly unreasonable. Comments such as: "Gypsies don't want to adapt, they just want to take, take, take!" or "Gypsies have everything for free and live from the taxes we pay!" and sadly, many more.
Romani is an ethnic group, which had come to Europe in 14. century, however they originated in the Indian subcontinent. They developed a reputation of a nomadic lifestyle and a migratory ethnic.
---
"Us versus Them | Kim Bogucki | TEDxPennsylvaniaAvenue." Performance by Kim Bogucki,Youtube, 14 July 2015, www.youtube.com/watch?v=aevrVzymeOA&feature=youtu.be  Bradford, Alina. "Gypsy (Roma) Culture: Customs, Traditions & Beliefs." LiveScience, Purch, 1 May 2017, www.livescience.com/44512-gypsy-culture.html.
From a young age, most people in the Czech Republic are taught to respect others, no matter their skin color, religious affiliation or looks. Yet, whenever they have to walk past a Roma, they either cross the street, clutch their purses, reach for a pepper spray or at least quicken their pace. I believe no one is born racist, however somehow people still manage to develop a feeling of hate based on our fear towards a whole race, only judging from their skin color. Does this sound ridiculous? It does. Nevertheless, in my country, this is the reality and it is not discussed enough to prevent it from being an issue.
Upon arrival, my former English teacher who flew all the way from the USA, had to undergo a 'sensitivity training', as Romas aren't a problem in his country to adapt them to the poor situation in the Czech republic, personal experiences and movies had been played for the foreigners. I have never even talked about the issue in school, just until last year, as it is a very sensitive topic in the Czech republic and most people try to avoid it to prevent heated discussions. When my teacher opened the topic and waited for the class' reaction I waited as well what the others have to say. And everyone was quiet and didn't say a word. Just as the teacher took a deep breath to start a debate, a boy raised his hand. "I hate them." It struck me. Who is THEM? "Them" are the ones who aren't us. On the other hand, who are we? Who is "us"? Those are all questions lying behind the whole problem of racism. We tend to put people in boxes, sometimes even unintentionally. We divide people into certain groups, based on what is most often only a first glance. As described in a powerful video by TV2 Danmark, "people see themselves as a part of a group of other people, depending on a common trait they share, it might be religion, age, hair color, social status or the color of their skin". Most people do not bother to dig deeper and find common hobbies or traits in the people who aren"t the comfortable and comforting "us". Furthermore, Roma people are not only labeled as "them" and only rarely accepted as "us", they are also put in a pigeonhole according to mean comments (not just online), disregarding stereotypes and inappropriate jokes. This results in what is considered to be almost "general knowledge": All Gypsies are thieves, thugs, bullies, rapists…This not only can not be considered a fact. This also, and most of all, promotes fear, violence and most of all, racism.
Another example of this is what I've seen only a few days ago; a harmless post by a community on Facebook called Psí štěstí (Dog's luck), which shares pictures of dogs looking for a new home for various reasons. It was about a dog called Bobík, who was taken away from a Roma family, which supposedly wasn't able to take care of him. I listed through the comments and found numerous negative, rude comments such as: "I wouldn't even give a rat to them (Roma's)" or "I wouldn't trust them to take care of a Tamagotchi." Those were comments left on a post about a puppy looking for a new home. Those were comments by real adult people, who might even have  children.
---
Barnes, Z. (2017, August 31). Email interview
"TV 2 | All That We Share." TV 2 | All That We Share, TV2Danmark, 27 Jan. 2017, www.youtube.com/watch?v=jD8tjhVO1Tc.
Psí štěstí, 18 Nov. 2017, Facebook status update, Retrieved from https://www.facebook.com/psistesti.cz/posts/1951375305184122 (The comments were deleted by the Facebook page, a screenshot will be enclosed on the last page of this essay.)
I am getting on a bus and as the doors are closing, a group of guys rushes in, pushing me onto the people already standing on the bus. I am guessing they might be a bit older than me, perhaps 18 years old. They don't attempt an apology and so I take a deep breath and let it go. One stop later, two of the boys start shouting rude words, exclaiming, laughing and bumping into everyone around them as the bus takes a sharp right turn. I take out my headphones and look the same direction as them. Two small Roma boys, probably not older than 12 or 13 are standing at the opposite side of the bus, holding onto the poles and talking quietly. I hear the white boys next to me shout: "Hey, Gypsies, wanna take my wallet straight away or do you want to kill me first?" I look at the two little boys. They lower their heads, staring into the ground. The bus is full of people and I look around for someone to stand up for them. But no one does. Some people smirk, some just stare into the ground. And I don't do anything myself. I feel alone despite being considered by most people on the bus as a part of 'us'. And the two Romas are 'them'. I ask myself why haven't I done something. I must say I was worried I might fall out of the comfortable 'us' box, become a part of 'them' and get in trouble. I was weak because I didn't feel support from the others on the bus. And that needs to change. Racism should be a thoroughly discussed topic in all Czech schools, televisions, on social media and in newspaper, so that the ones who are scared to help, would gather all the needed courage to stand up to racism. I keep replaying that moment in my mind. And I will be for a long time, until racism towards the Romas will not be a problem in my country. However that will not happen by itself, it needs help from us, us people in general, to realize that in the end, we are all humans.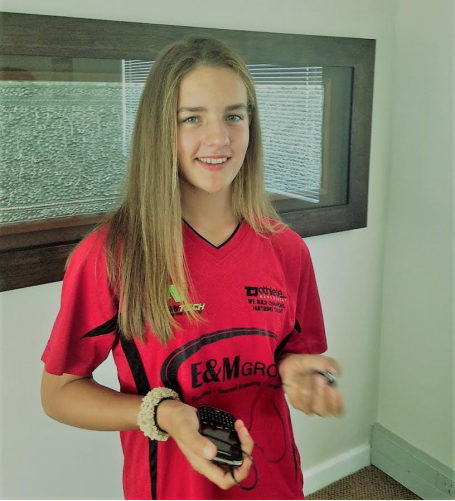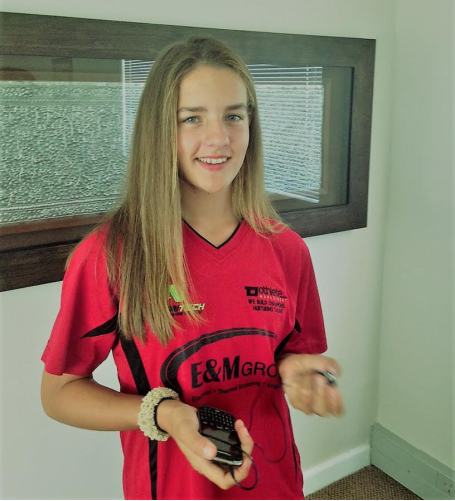 Ubuntu1, भाईबंदी, Kameraadskap, اد ن سالح ال ,Comeradeship…
By Soleil Botha, Collegiate Girl H.S., Port Elizabeth, South Africa
Michael Onyebuchi Eze stated, "A person is a person through other people' strikes an affirmation of one's humanity through recognition of an 'other' in his or her uniqueness and difference. Humanity is a quality we owe to each other. And if we belong to each other, we participate in our creations: we are because you are, and since you are, definitely I am.".
"To deny human rights is to challenge their very humanity". Behind every human right there is story and behind every story a struggle. Each human right I inherited was not safeguarded by a police force but by the corpses on the Soweto streets2, each human right that protects me today was not publicized in the speeches of the prime ministers but by the mouths of the malnourished and each human right that allows me to prosper was not created in committee meetings in parliaments but around a fire in a rural reserves. This is the story of South Africa.
The rebirth of the new South African identity in 1994 was revolutionary but as with the trudging evolution of any new born it came with unforeseen adversities. In the dawn of a new nation the process started with an uncoordinated crawl as it commenced in exploring the uncharted fields of freedom and democracy. Today the toddler has started to speak his first words of equity. However, because the rainbow nation is an offspring of a notorious political, military, economic and social system orchestrated to deny human rights on the basis of race thus due Apartheid we have inherited the Sins of our fathers as the scars inflected during the previous decade still runs deep throughout the land. This sinister system which promoted social engineering resulted in South Africa being one of the most unequal countries in the world today there for the composition of the of the sectors of poverty, unemployment, vulnerability and discrimination coincide with race thus the biggest infringed human right in South Africa is the right to equality3., Gail Smith ,Spokesperson of the South African Rights Commission, reported, "Since 2012, the number one human right violation in South Africa has been around the right to equality."
The government's policies try to rectify the problems of the past instead of providing a long-term solution to the present. On paper human rights have been documented in our constitution and has granted to all but on the streets these rights have lost some of its value. The South African government's commitment to human rights remains in question as the past few years the eroded effort led the free generation of today asking for the refund for the dreams their parents were sold in 1994.
The rainbow nation was an abstract, idealistic and fictitious notion created a society of nominal equals. To our parent not having to carry a dompass4 or bow to the white baas5 was seen as progress or at least it was better than the beatings, rapes and massacres on yesterday's streets. In the words of Malcom X6, "If you stick the knife nine inches into my back and pull it out three inches that is not progress. We still have a knife in our back."
How is this freedom when the face of poverty today is still that of the victims of Apartheid? The configuration of the gentry has been altered but the configuration of the lower classes has been preserved.
The poor cannot feed their children a vote, today's free feet cannot visit their ancestors land without being deemed trespassers7 and beggars have earned the right qualifications but are born the wrong race8.
23 years prior to Apartheid9 and inequality with regards to race, religion, caste, colour and gender are still evident.
Race inequality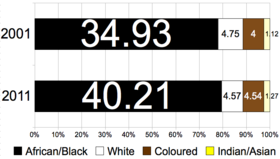 Legislation cannot change a country's tolerance towards racism but rather a change in heart. Markiana Massacre and the various xenophobic attacks are testaments of a bitter reality: human rights are contextualised.
The Markiana Massacre of August 2012, began with a protest against poor wages and 34 slaughtered platinum miners later police brutality was declared. Police officers received a slap on the wrist before returning to office. Police officers , partially white, was criticised of being deemed above the law. The Commission criticised the mining union for not resolving the dispute over increase in wages and better accommodation. There was no protection for the poor black working class.
Conflict was not exclusive between different local groups in South Africa but also between groups of different countries. Xenophobic10 attacks in April 2015, led to thousands of foreign nationals' shops being looted and their families assaulted KwaZulu Natal. The victims of this prejudice were Zimbabwe and Somalia. The police force arrested but never successfully prosecuted the instigators neither did they publicly condemn provocative comments made by traditional leaders and government officials who promoted this xenophobic movement.
Income inequality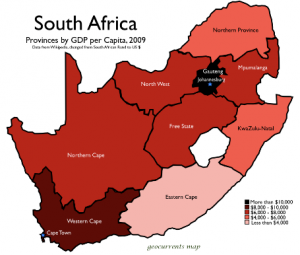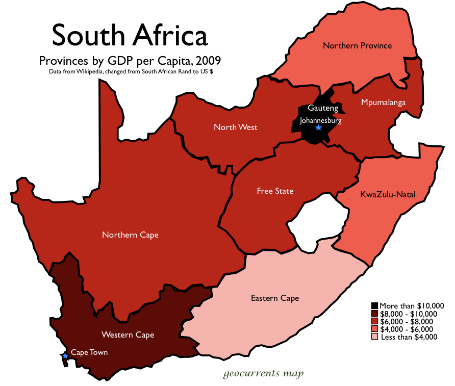 Severity of income inequality by country as measured by the Gini coefficient
South Africa has one of the most unequal income growth and distributions on the planet with 60% of the people earning less than R42, 000 per annum whereas 2.2% of the people has an income exceeding R360, 000 per annum. Poverty is still largely experienced by the black population as they make up 90% of the impoverished class whislt being 80% of the total population make up thus poverty coincides with race.
The number of people living on less than US$1 from day-to-day has doubled in from 2 million to 4 million in the last decade. The government issued welfare grants as a shortterm solution to keep the uprisings at bay however failed to create a sustainable system for South Africa were all can experience economic independence and share in the country's wealth where the previously disadvantaged can become entrepreneurs, captains of the economy and business owners.
Inequality is the roots of all problems thus economic salvation can be stimulated once the income gap is rectified through a change in attitude and application towards government policies.
Land distribution inequality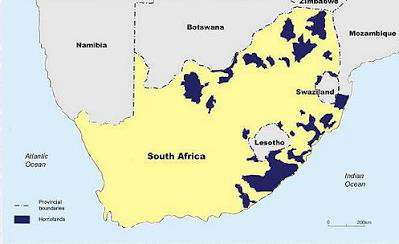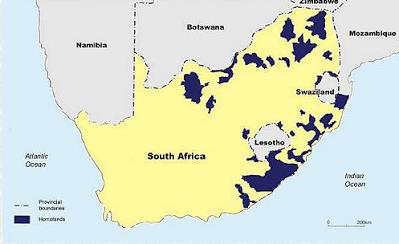 Homelands created during Apartheid indicate in dark blue
As of 2006, 70% of the land is in the hands of 8.4% of the population, the whites. This form inequality was the offspring of the 1913 Land Act that stated that Africans could only own land in reserves where the land was infertile, flood-prone and undesirable. This meant that 80% of the population lived on 7% of the land. Thousands were displaced and forcibly removed from their land without compensation. The government strived to return the land to many black Africans but in recent years the effort has become eroded.
Gender inequality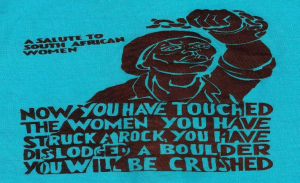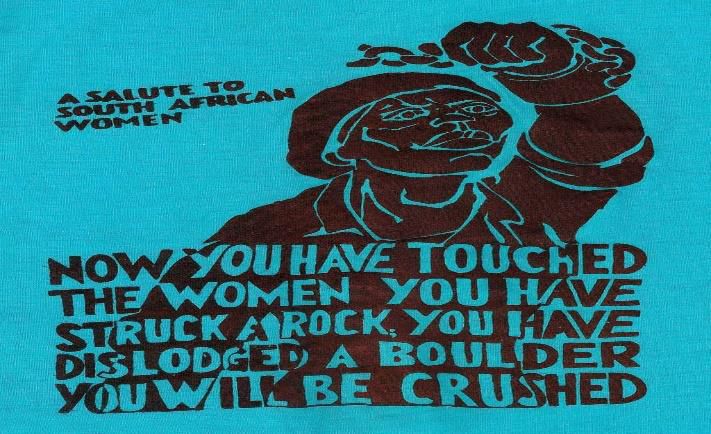 Today, South Africa women are not benefitting from the laws promoting gender equality. This is in part caused by gender-based violence and the culture of many ethnic groups which promote patriarchy, according to the Commission for Gender Equality. KPMG, the acclaimed finance company, reported in 2014 that gender-based violence against women is high across all racial and economic demographics in South Africa. The study further states that the female homicide rate in 2009 was five times the global average.
The ability of women to claim land entitlements are depend, the goodwill of male partners and relatives. Many women partake in labour including chores, child bearing and rearing, which is not accounted for in national statistics and unpaid thus many remain outside the formal economy. Gender inequalities is inherited in households consequently it spread to gender inequality in the workplace. Women have a lower access to forms of paid employment, lower incomes and less job benefits and less job security than men do. Women constitute 30% of the members of parliament. 77% of women earn same as male counterparts, according to 2010 figures from Statistics South Africa.
Gender inequality stimulates a rape custom. United Nations reported that of all the sexual offences documented in South only 6% of these led to convictions There are few support structures for victims of rape. Organisation for Economic Co-operation and Development (OECD) graded South Africa 90th out of 148 nations on the gender index.
Exorcizing the culture of the exploitation and oppression women is vital in order for the prosperity of my country.
Women have a right to a wage which sustains a dignified livelihood and the rights to capitalise on education, training, and equal opportunities. Christopher Hitchens, wrote: "The only known cure for poverty that has ever worked is the empowerment of women."
Religion inequality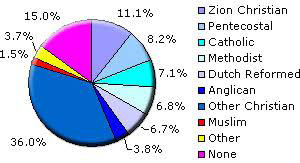 South Africa is a secular state, with freedom of religion documented in the Constitution. Section 15 of the Constitution states that religious observances are permitted in public schools provided they are conducted on an equitable basis which acknowledges religious diversity and attendance is free and voluntary however some religions are more promoted than others.
The post-apartheid South Africa's calendar of public holidays still celebrates Christian concepts for example Good Friday and Christmas Day. The CRL Rights Commission held public hearings in June and July 2012 for a review of public holidays following the rise in complaints from minority groups about discrimination against their religion not being recognised by the public. In another case, the Constitutional Court found that Durban Girls' High School unfairly discriminated against a Hindu schoolgirl by not permitting her to wear a nose stud.
Culture inequality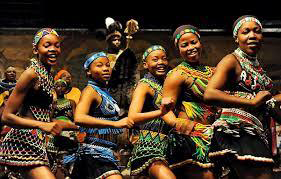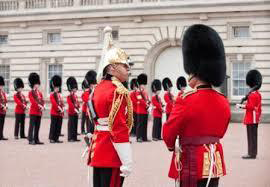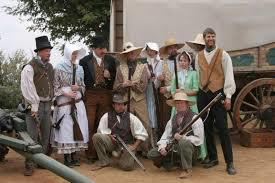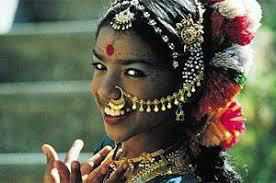 Many who dismiss being labelled a racist have the misconception that racism is characterised by active, violent and discriminatory acts rather than benign actions or something as simple as a mentality. Although discrimination has been legislated away on paper, it has not been erased from many' s psyche. Whites who oppose affirmative action today forget that apartheid was an affirmative action on the largest scale in history.
South Africans have assimilated into a Western culture thus lack the authenticities of their ancestors. South African's were not rewarded due to their cultural differences but on how well they adapted to foreigner's. With the recent birth of an African Renaissance, many criticised that certain cultures were valued more than others since colonial elements as well as the whites government of Apartheid imposed their culture in the form of the names of various streets, suburbs and cities as well as the establishment of various statues which celebrate the early pioneers of their culture. This has sparked a recent 'cleansing' movement in which many colonial statues were vandalised by non-white youths in attempt to have them removed.
In conclusion accepting culture is not only recognising the external manifestations of culture like food and dress of a particular peoples but also accepting their psyche.
Inequality in facilities in 2017
The access to basic services is are still skewed in racial, gender and geographic terms. These trends clearly reflect inherited apartheid inequalities. This crime against humanity was the systematic exploitation of resources such as land, minerals, wealth and labour by the minority white at the expense of the black majority.
| | | |
| --- | --- | --- |
| Access to | Whites | Blacks |
| Running water on property | 87,2% | 51.7% |
| Telephone | 95.4% | 31.1% |
| Flush toilet | 98.7% | 41.9% |
| Refuse removal | 99.5% | 45.3% |
| Electricity | 96.6% | 39.3% |
| Radios | 94.7% | 68.7% |
| Refrigerator | 97.6% | 40% |
| Television | 92.6% | 44.2% |
| Unemployment |  4.1% | 28.1% |
Distrubution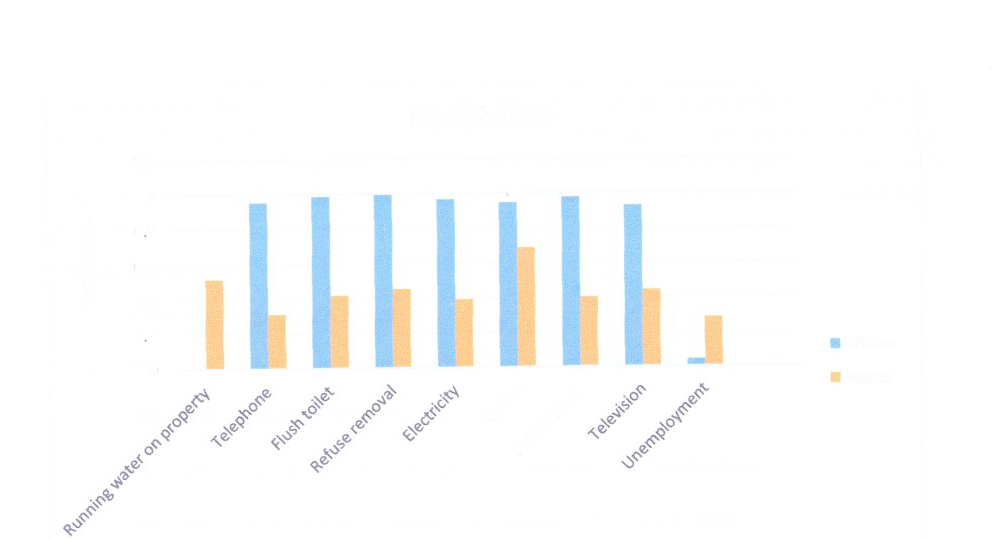 Unemployment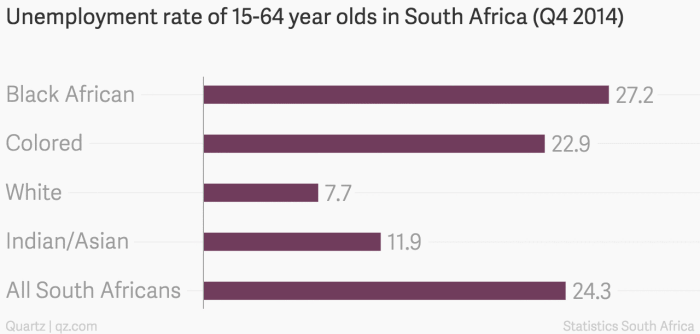 Unskilled non-whites make up 90% of the unemployed sector but 80% of the population. Senior management posts are still painted lily white, non-whites are underrepresented in virtually every sector of the economy and non-whites receive less job security, job benefits and pay.
Conclusion
The triumph over inequality may not be witnessed by the generations of this epoch as a nation at war with itself is one of the poorest nations in the world. A countless number of South Africans are still living in dehumanising situations in a land where the fat cats get fatter and the vagrant's thin cans emptier as many forget that human rights are interdependent and interlinked without it society ceases to exist. Rejecting equality is not disregarding Mandela, Sisulu or Mbeki's efforts in the struggle but it becomes a denial of humanity to all. An individual's freedom to equality should never be compromised neither prioritised over another's.
Tomorrow the weak will still be neglected, the doors of education will be closed for money is the key, the public purse will become the corrupt's purse, tyrants will still sit on our thrones and cabinet ministers will be coordinated like chess pieces to fasten its grip around the staff. Today inequality is an obstacle that lies in our path to opulence and social cohesion.
FOOTNOTES:
1 Ubuntu (Zulu pronunciation: [ùɓúnt'ù]) is a Nguni Bantu term translated as "humanity towards others", and "the belief in a universal bond of sharing that connects all humanity".
2 Sharpeville massacre in Soweto in 1960 where the police shot dead 69 antiapartheid demonstrators who protested against the crooked Bantu Education system. It was a major turning point in the struggle against the White superiority.
3 Universal Declaration of Human Rights Article 1; "All human beings are born free and equal in dignity and rights."
4 A term translated to "dumb pass" created to show resistance towards the pass laws created by the Apartheid government in which non-whites' movement was restricted across South Africa.
5 Translated into boss in English
6 Malcolm X (1925–1965) was an African-American human rights activist.
7 White colonial land dispossession enabled by the Native Land Act in 1913 took land away from any member of an aboriginal race or tribe of Africa. There was a prohibition imposed on natives from buying or hiring land in 93% of South Africa. As a result many natives lost land they inherited from their ancestors.
8 Non-whites have now more than ever before received the best opportunities to further their education and skills yet they whites still get preference in employment and non-whites under represent in the workplace despite various government policies that rectify the past.
9 Apartheid denied land ownership, franchise and freedom of movement of non-white South Africans.
10 Xenophobia is the dislike and distrust of foreigners
Bibliography
· www.statssa.gov.za/?cat=22
· https://africacheck.org/factsheets/factsheet-inequality-south-african-cities/
· https://mg.co.za/tag/rhodesmustfall
· www.sahistory.org.za › Politics & Society › Contemporary South Africa
· www.sahistory.org.za/topic/sharpeville-massacre-21-march-1960
· https://tradingeconomics.com/south-africa/unemployment-rate
· https://adrianfrith.com/dot-maps/
· www.ngopulse.org/article/inequality-south-africa
· https://www.iol.co.za/mercury/news/single-religion-schools-unlawful-10019675
· U.S Department of State. "The End of Apartheid". usa.gov.
· "The World Transformed, 1945 to the Present – Paperback – Michael H. Hunt – Oxford University Press"
· "Race in South Africa: Still an Issue". The Economist. 4 February 2012.
· "South Africa's Population". southafrica.info. Retrieved 25 November 2013.
· Durrheim, K (2011). "Race Trouble: Race, Identity, and Inequality in Post-Apartheid South Africa". Theory and Psychology.
· "United Nations report highlights growing inequality in South Africa". World Socialist Website. 21 May 2004.
· Bhorat, H (19 July 2013). "Economic inequality is a major obstacle". The New York Times. · Klein, Naomi (2007). Democracy Born In Chains: South Africa's
Constricted Freedom. Henry Holt and Company.
· Atauhene, B (2011). "South Africa's Land Reform Crisis: Eliminating the Legacy of Apartheid".
· Klein, Naomi (2007). Democracy Born in Chains: South Africa's Constricting Freedom.
· Mpehle, Z (September 2011). "Black Economic Empowerment in South Africa: Reality or Illusion?".
· https://www.pastemagazine.com/articles/2016/07/and-why-shouldnt-black-america-revolt.html
· sahrc.org.za
· http://www.artnews.com/2006/10/01/a-knife-in-our-back/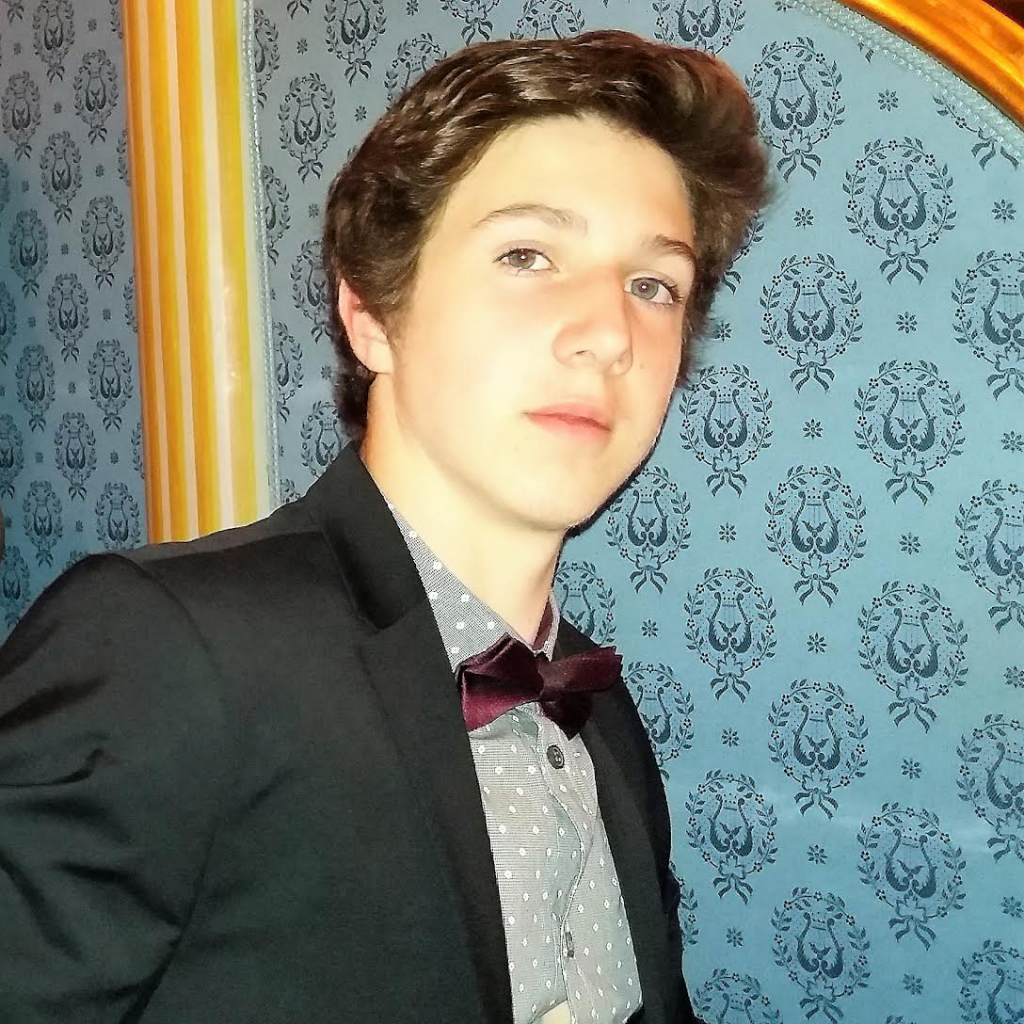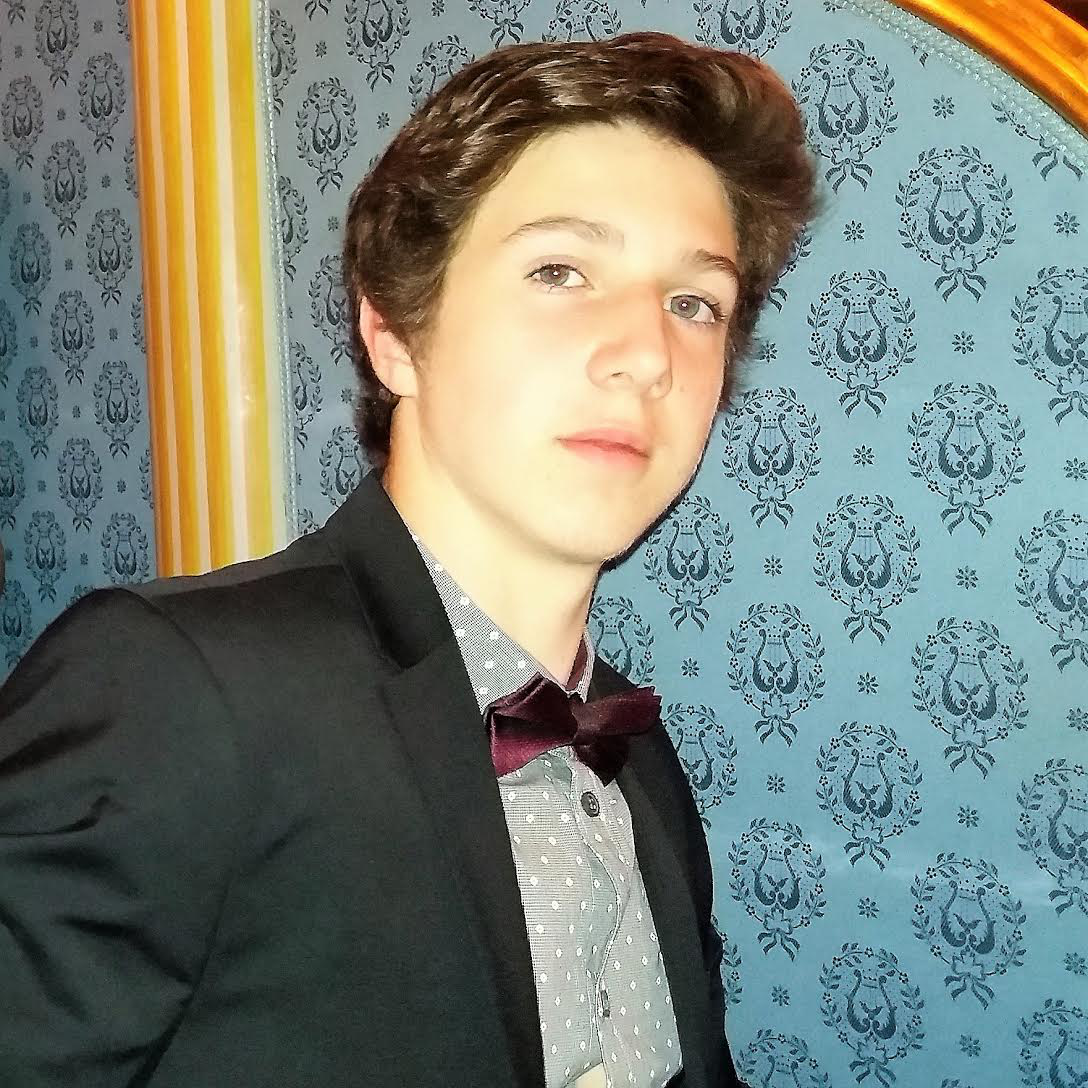 IS EVERYBODY EQUAL?
Kilian Marques, Gymnazium Jana Palacha, Prague, Czech Republic
Kilan Marques, Czech Republic.  Roma.  Is Everybody Equal? "Why are the Czech people so hateful towards the Roma?"  The main reason is the Roma are well educated and do not have jobs. "I too believe that the Czech Republic will have a Roma one day!"  [3.5, 3]
In this essay, I would like to draw attention to the violation of Human Rights of the Roma community in the Czech Republic. The Roma, known as Gypsies, have been in our country for many centuries. They came to Europe from India around the 12th century.  They share a different language and culture than the majority of Czech people and they have a darker skin.  Many times I have encountered racist comments against Roma people. Most people in our country think that the Roma are dangerous, only steal and do not want to work. The Czechs are overprotective of their country and much closed to themselves. Accepting other cultures is very difficult for the Czechs. That is probably because they do not have the ocean and have been isolated by the mountains.
The fact is that a few times, my friends and I did not have a nice experience with the Roma boys. We were playing soccer in a public field and they came and wanted to join the game, which we welcomed because we needed more players. However, after we scored and they started losing, they became vulgar and aggressive.  I think they probably feel inferior because they don´t train in soccer teams like us. The reason they don´t is that their parents do not have money to pay the fees and also that soccer clubs don't want to enroll them. There was even one Roma soccer club in the town of Decin (town in the north of the Czech Republic), but no other teams wanted to play with them. It was documented in a film called FC Roma. The whole case became such a scandal that ambassadors of various countries in the Czech Republic formed a team and went to Decin to play with them. Why is this happening? Why are the Czech people so hateful towards the Roma?
I think that the main reason is the lack of education amongst the Roma community. As a result, they cannot find work because they do not have any qualifications and no one wants to employ them. Roma people are not represented in the Czech society. There are no Roma teachers, policemen, businessmen, managers, shop keepers or doctors. They do not have any education because for several generations, they have been continuously placed in special schools designed for children with mental disabilities. After a few decades, more than a third of pupils in special schools for mental disabilities were Roma, which became strange to many human rights watchers and activists all around the world. Lawyers from the Open Society Justice Initiative started to investigate this. They came to Ostrava and started interviewing Roma families and gathering data. After several months of research they filed a lawsuit against the Czech Republic at the European Court of Human Rights. Finally, the ruling over the D.H. and others against the Czech Republic case came out on November 13, 2007. The Roma families won! Or did they? Since then, the Czech Republic is obliged to end the discrimination.  It has been ten years now, however, the situation is pretty much the same. That means the steps and measures that the Ministry of Education has taken so far are not effective.
So what should the Czech Republic do? I thought about this for some time and have a few ideas how to improve their situation. The first thing I would do is to place two or three Roma children into every classroom of a public kindergarten and elementary school. The problem is that if a classroom or a school starts having a little bit more Roma students than the non-Roma, the Czech parents start complaining, being racist and taking their children away to another school. As a result, the school ends up with a 100 % enrollment of Roma pupils. We have 80 of such schools in the Czech Republic. The problem begins when there is a class with a majority of Czech, white students. There are two reasons why Roma students would start fighting: the first is because they often experience violence at home since their parents are not educated and cannot discipline their children in a non-violent way; the second reason is that when there is a bigger group of Roma kids, they have enough confidence to start a fight.  That´s why I suggest to keep the numbers of Roma in each class limited and they would have to adapt to more peaceful way of interactions.  They would make friends with non-Roma kids and, after school, they could go to their homes and see how they live. They would have an example of various jobs their parents do and hobbies as well. If this measure would be implemented, these two or three Roma kids would grow up in this integrated environment and would be able to get a higher education, find a good job and not live in poverty as their parents. They would raise their children in a better environment than the one their parents grew up in. More and more Roma kids would start living in this more educated and peaceful environment, so the crime amongst Roma would decrease. That would help to improve the image of the Roma community in the society and the relationships with the majority of Czechs.
I believe that after a few generations of successful integration of Roma into the Czech schools, the Roma will become a natural part of our society. They will contribute to our country with their skills and wits. Similarly in the United States, the African American community was oppressed by the whites for centuries and managed to break the vicious circle of poverty and discrimination. These changes came about as a result of similar government interventions, some of them quite controversial like busing, where children were moved around from districts in order to create a more integrated school, or positive discrimination, where minorities were given preferential help when applying to universities or professional jobs. The biggest achievement of the human rights struggle in America was the election of the first African American president Barack Obama in 2008. And I too believe, that the Czech Republic will have a Roma president one day!
References
https://www.youtube.com/watch?v=Q6wSLfGBVGY
https://hbogo.cz/filmy/fc-roma
http://www.romea.cz/en/news/czech/czech-republic-romani-footballers-play-embassy-employees
http://www.errc.org/article/dh-and-others-v-the-czech-republic/3559
https://www.opensocietyfoundations.org/litigation/dh-and-others-v-czech-republic
http://scholarlycommons.law.northwestern.edu/cgi/viewcontent.cgi?article=1084&context=njihr
https://www.opensocietyfoundations.org/press-releases/czech-government-flouts-court-ruling-roma-education
https://www.opensocietyfoundations.org/voices/inclusive-education-reform-presents-litmus-test-czech-republic
https://learning.blogs.nytimes.com/2012/04/20/april-20-1971-supreme-court-rules-that-busing-can-be-used-to-integrate-schools/
http://www.romea.cz/en/features-and-commentary/is-impunity-ending-for-ethnic-discrimination-in-the-czech-schools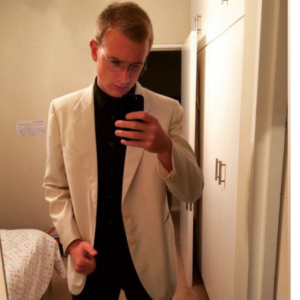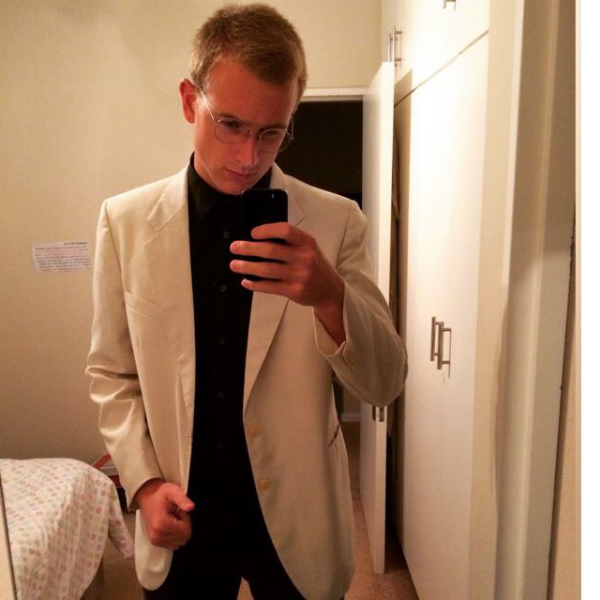 SIMULTANEOUS INEQUALITIES
By Mika Schubert, Wynberg Boys' H.S., Cape Town, South Africa
In my opinion, equality is the most violated human right in South Africa. As expressed by Gandhi, "No two leaves are alike, and yet there is no antagonism between them or between the branches on which they grow." Much like the leaves, as humans, we each have our own uniqueness, but we are all the same species. Yet there is clear antagonism and inequality that is prevalent in society. This is not natural and may be perceived as taught behavior.
These taught inequalities, specifically in the forms of gender inequality, racism and socio-economic status will be the focus of my discussion. I will also discuss possible solutions which, I believe, should start at the root of the problem – education, namely, constructive education. If we start teaching different perspectives and allowing freedom of thought, it could be the solution. If ideas that represent inequality can be untaught, just as it was taught, we could replace inequality with ideas of equality.
The Bill of Rights dictates that all humans must be treated with dignity. According to Merriam Webster, "dignity" is the state or quality of being worthy of honor or respect. Prejudice has many forms and is undoubtedly a violation of dignity. One of the most prevalent forms of prejudice in South Africa is racism.
With a long history stemming from the Apartheid regime, racism has reached a dire situation in South Africa. In some cases, racism is displayed openly, while in other cases, racism is ignorantly displayed in a covert manner. Dr Jonathan Jansen made a great example of how racism is 'hiding in plain sight' with a Facebook post on the 23 of October stating, "Here is one of those irritating habits of white South African men. He greets everyone at the table as 'Mr' this or 'Dr' that. He then sees you, the only black person at the table, does not know you, and starts "hello my friend". First, I am not your friend. Second, where did you learn to stoop?" (2017).
Despite obvious physical experiences of racism, I believe that Dr Jansen might have experienced the worst, and easiest form of racism – from the media. It is worth noting that he posted this post on Facebook and it is on these social media platforms that white privilege and racist comments can thrive openly and subtly without repercussions. The free and non-regulated nature of these networks often results in posts of undignified comments with racial undertones.
With racism on the forefront of inequality in our country, the lack of diversity is rife. South Africa has made good progress with how people of color (POC) are included on television and the media. However, when discussing this issue with fellow students, I came to realize that the writer's rooms, boardrooms and executives of these media outlets are still majority white males. Taking us two steps back from achieving a diverse and equal society. It is impossible for it to be equal if all races aren't equally represented in every facet of society. A diverse array of cultures and ideas cannot be represented through the media if the people at the top aren't a diverse group themselves. Race, gender, sexuality and religion all need to be represented.
In a recent study, it was found that "Since 2012, the number one human rights violation in South Africa was inequality.  Citing cases which involve the 'K' word and other derogatory comments with racial undertones such as 'baboon' or 'monkey'" (Smith, 2017). These unacceptable words are still evident in today's society.
However, racism can be overcome by the people of this country but a large amount of acknowledgement needs to take place. Mindsets need to grow. As the South African Rights Commissioner posits "I think that we can make as many laws as we want to, but if we do not have a change of heart and mind, laws do not really make an impact", (Smith: 2017). Her solution is that people go to her website (www.sahrc.org.za) and make the 'anti-racism' pledge in order to begin the end of racism.
This great initiative, started by Smith, invites people to make a pledge to themselves and fellow South Africans, in an attempt to eradicate the South African mindset of keeping racism subdued. Smith continues by explaining that, "South Africans are fundamentally good people; most South Africans want us to be a nation; want us to move beyond our racial past. It shows that there is hope for the future" (2017). This is highly relevant and is a thought that many South Africans, who I have discussed this issue with, have attached to their 'Rainbow Nation'.
Furthermore, South Africa and its people have to acknowledge the immense damage that Apartheid caused. As with many things, acknowledging that there is a problem is a step in the right direction. Mindsets need to be changed and attitudes around maintaining the power struggle within these racial paradigms need to be addressed. The sooner we acknowledge that we are all human, no matter the race we were born with, the sooner we can start repairing the inequalities of race.
The second form of inequality I wish to address is socio-economic status. A socio-economic status (SES) is what sets many South Africans apart and has caused inequality within the classes (among different genders, cultures and races). Karl Marx explains how the 'proletariat' and the 'bourgeoisie' were not 'classes', but in fact, merely occupations (Loberfeld: 2004). If we measure occupation through class it would exclude more than half the country due to unemployment. Therefore, labelling people with no job, 'classless'. It's bad enough not to have created jobs for 50% of the country, but to discard them from society by not including them in any class is a horrendous inequality in itself.
Lower-income areas, such as Nyanga, also house the majority of unemployed people in South Africa.  It perpetuates the desperation, resulting in gang-related crimes. In July 2017, it was reported that the crime was at an all-time high (Evans, 2017). With no real improvement since the 2012 census, where Nyanga proved to be the murder capital of South Africa. There were 281 registered deaths in 2016/2017. This equates to over five murders a week. Five lives that had a right to live. The right that could have been conserved had they had jobs, or any income, or an equal opportunity.
---
A word which represents the horrible manner in which the Apartheid regime treated black people in South Africa. The "K" word, similar to the American "N" word, is a derogatory slang word created by racists and was an accepted term during Apartheid that described "black" or "African" people.
A well-known revolutionary Socialist – His work in economics laid the basis for much of the current understanding of labour and its relation to capital, and subsequent economic thought.
Nyanga is one of the oldest black townships/informal settlements in Cape Town, South Africa. It was established as a result of the migrant labour system. In 1948 black migrants were forced to settle in Nyanga as Langa (also a township) became too small. Nyanga is one of the poorest and most dangerous parts of Cape Town.
These lives could have been harnessed positively, but instead, were discarded on a weekly basis. The census also highlighted how Nyanga had 16 times more murders per 100 000 people compared to Camps Bay. Camps Bay had seven times more police personnel per 100 000 people than Nyanga. This is not the only case where SAPS have prioritized rich and middle-class white areas over poor black communities. Reiterating how absolutely appalling the people who should be caring and looking after South African citizens are neglecting their people daily. A simple solution might be to redistribute SAPS officers according to the numbers needed in specific and key areas like Nyanga for example.
It is an offence to any humans' rights to be treated the way that people were treated under the Apartheid regime. The level of discrimination was unthinkable (although, not entirely as they thought of it and went through with it). It did not consider human dignity whatsoever, but rather 'white human dignity'.  The majority of the POC in South Africa fall under the low SES bracket. 27.9% of black African people were unemployed in comparison to 7% of white people.
Due to the Apartheid regime, most POC in South Africa were forced into informal settlements, classifying them as lower-class or at most, middle-class citizens. This is not, and will never be an excuse to continue this mindset that POC living in informal settlements are lower or middle-class citizens.
Apartheid was not just a political system nor an economic system, it was also a social system in which people's dignity was impugned with regularity which was protected by the law. People in South Africa are still being treated in the same way as they were being treated under the Apartheid regime. This fact is horrifying! Now, not only are people being treated unequally, they are being victimized purely because of their socio-economic status. This is a violation of their human right because it is reminiscent of dishonorable behavior and it must stop! In an attempt to fix this, the South African government have to address the structural poverty and the socio-economic status issues that are causing inequality. Without a big, effective reform from the whole country, it will be difficult for South Africans to live in a society in which we all are free and equal.
Society is difficult for people to live in. It is particularly difficult for people that have female features. I don't use the word 'women' or 'men' because it would be ignoring the fact that there are many different genders. Schooling systems have continually ingrained into us the idea that there are only two gender binaries in the world: 'Man' and 'woman'; 'boy' and 'girl'. It is extremely clear that that is not the case worldwide. There are a number of genders all over the world and before I begin my discussion on gender inequality, I wanted to acknowledge this. For my discussion, I will use the words 'woman/women' when discussing a female who is born as and identifies as a female gender.
Women in the workplace are currently put in a lower SES than men. SAStats confirmed that there is a 27% wage gap between men and women (2017) violating all women's rights to dignity and equality. Proving that, in the workplace, women aren't treated the same and are often underestimated (and therefore underpaid) for their work.
---
a middle and high-class white area
The latest employment statistics from Statistics South Africa (Stats SA) from April to June 2015.
Men get treated with more dignity than women as men's opinions and feelings get more credit. Men's ideas are seen, by society, to be more accountable due to the patriarchal mindset that South Africa still possesses. This mindset creates conflict between genders and propagates gender inequality.
In other countries, women are discriminated by law. In Saudi Arabia, women are forbidden to drive or even ride bicycles, while in other countries, women's faces covered in acid because they did not wear their traditional Muslim burqa (Rushfan, 2008). In Israel, if a Jewish woman wants a divorce, she needs to gain permission from her husband, regardless of whether he wants the divorce or not. These legal discriminations undermine women's full personhood and equal participation in society, putting them at an increased risk for violence.
These unequal legal rights equate to unequal social and domestic rights. "Spousal rape has not been criminalized; husbands have an absolute right to their wives' bodies at all times. Penal codes in several countries in the region (middle east) also contain provisions that authorize the police and judges to drop charges against a rapist if he agrees to marry his victim" (Rushfan, 2008). These laws, clearly stripping women of their human rights, fortify male power.
Many different cultures possess gender inequalities that are embedded in their values. When discussing isiZulu beliefs with my friends who are familiar with that culture, I was informed that women are expected to be the husband's slave. This behavior is then seen as acceptable due to the "cultural norms" that it possesses.
Gender inequality not only makes people feel lesser while denying their right to dignity, it also exploits them. Companies make massive profits off of women's natural biology, menstruation. When discussing this issue with friends, I found out just how expensive feminine hygiene products are. On the other hand, we have free Choice condoms given out at many toilets. The fact is, women have no say with their periods, yet they have one every month. Yes, contraceptives and safety are important issues. However, having sex is a choice. Periods are not a choice, yet they cost women so much.
Apart from the money spent each month, many girls pay for their periods heavily in the form of missed school days and academic exclusions. This situation has been swept under the rug because it doesn't directly affect men. As humans, we need to educate ourselves about injustices and do something about it. Not only with gender inequalities between the male/female binaries, but inclusive of all genders.
The entire LGBTQQIP2SAA community faces discrimination against their right to equality. It is important to note that they have in no way instigated the immense backlash and daily discrimination that they are going through. "55% of people who are LGBTQQIP2SAA live in fear of being discriminated against in our country (South Africa)" (2016). This holds true for anyone discriminated against.
 The reality is that society has been living with a patriarchal mindset for so long, that people perceive inequalities as normality. Inequalities are not normal. Poverty is not normal. These are taught inequalities that are rife in society: racism, socio-economic status and gender inequality are the most important issues that need to be addressed. This needs to be done through constructive education. Not by teaching what is wrong or right, but by teaching the consequences
---
 Lesbian, Gay, Bisexual, Transgender, Queer, Questioning, Intersex, Pansexual, 2S, Asexual, Ally.
of actions and letting people, especially children, learn how to formulate their own opinions. In conjunction with those 'teachings', it will be beneficial to unteach mindsets that insinuate inequality of all forms.
Humans are like leaves, and the tree is like humanity. We each have a role to play in order to make our tree grow. It is the job of the entire human race to treat everyone equally ensuring that our tree grows to its full potential and that there aren't leaves left to fight on the ground.
Evans, J. Nyanga murder rate still on the up. https://www.news24.com/SouthAfrica/News/nyanga-murder-rate-still-on-the-up-20170728
Gandhi, M. 2000. The Collected Works of Mahatma Gandhi. (v.93) Publications Division, Ministry of Information and Broadcasting, Government of India.
Herald Live. 2016. http://www.heraldlive.co.za/news/2016/11/29/majority-lgbt-south-africans-live-fear-discrimination/
Jansen, J. 2017. Facebook Post (23 October)
Loberfeld, B. 2004. Social Justice: Code for Communism. http://archive.frontpagemag.com/Printable.aspx?ArtId=13978
Merriam-Webster. 2017. https://www.merriam-webster.com/dictionary/dignity.
Rushfan, 2008. 10 Extreme Examples of Gender Inequality. Listverse Ltd. http://listverse.com/2008/11/20/10-extreme-examples-of-gender-inequality/
SA STATS. 2017. http://www.statssa.gov.za/publications/Report-02-11-02/Report-02-11-022015.pdf#page=167
Smith, G. 2017. www.sahrc.org.za
2018
This year the question high school students in the U.S. were asked to address was:
The American Civil Liberties Union (ACLU) claims: "U.S. government policies continue to sanction human rights violations against immigrants." Do you think the ACLU is right? If so what policies, laws or other factors (political, economic, cultural, etc.) are responsible for the violations and what actions should be employed to end them? If you think the ACLU is wrong explain why it is wrong.
47 students from 19 High Schools in 12 states (CT, IL, IN, MD, MI, MS, NJ, NV, NY, OR, TN, TX) participated in the contest for students in the U.S.
The question high school students from other countries were asked to address was :
December 10, 2018 will be the 70th anniversary of the adoption of the Universal Declaration of Human Rights by the General Assembly of the United Nations. Yet, in a recent article Samuel Moyn, the author of The Last Utopia: Human Rights in History wrote: "The human rights movement, like the world it monitors, is in crisis: After decades of gains, nearly every country seems to be backsliding." Has your country been backsliding? If so, what is the reason and what needs to be done to turn things around? If not, explain how it has managed to make progress and by so doing set an example for other countries.
92 students from 29 High Schools in 11 countries (The Czech Republic, Canada, Ghana, India, Nigeria, Pakistan, Palestine, Philippines, South Africa, Uganda, and Zimbabwe) participated in the contest for students in other countries.
"'Zero Tolerance:'
The Erosion of Human Rights for Immigrants in the U.S."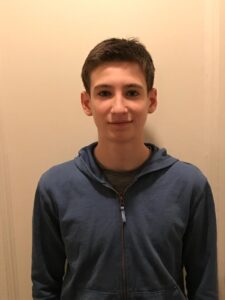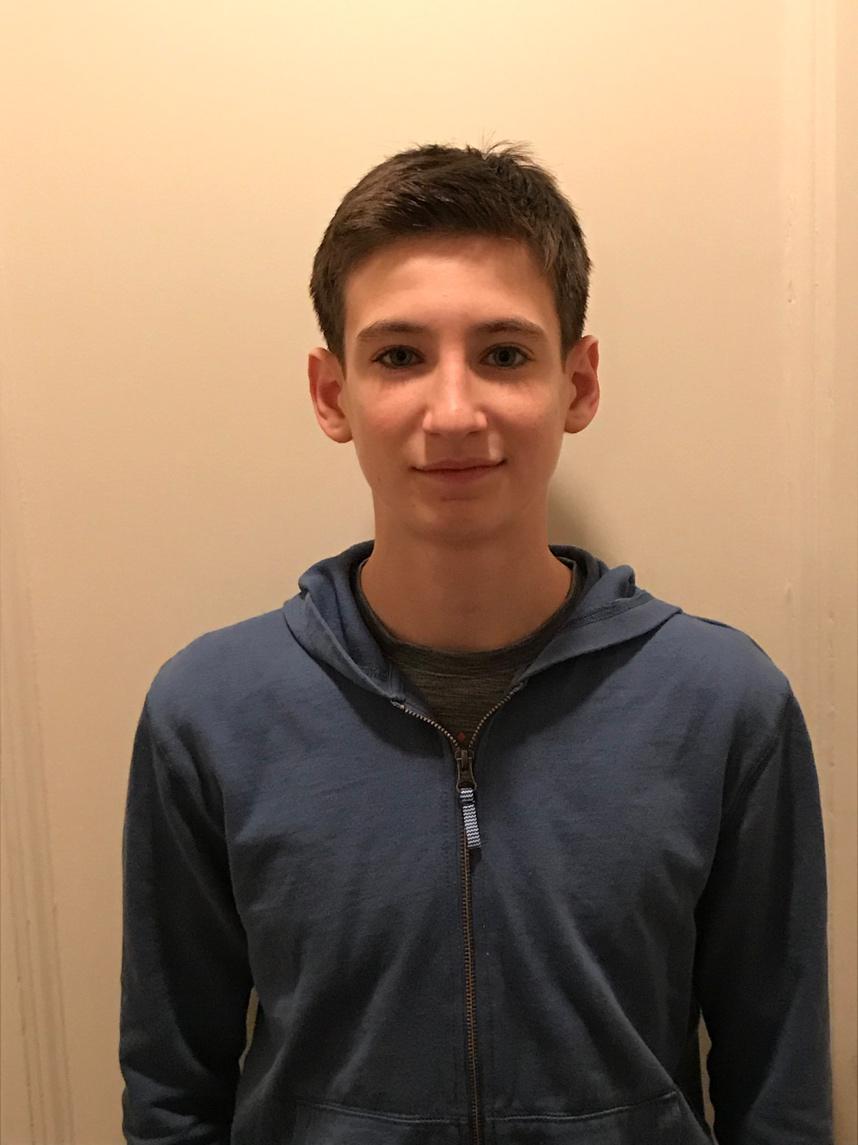 Benjamin Raab 
1st Prize Winner U.S.
9th Grade, Bronx High School of Science
The American Civil Liberties Union claims that despite the clearly established principle that discrimination and abuse based on immigration status are violations of human rights, U.S. government policies "continue to sanction human rights violations against migrants and im­migrants" (ACLU). In the last two years, President Trump's administration has adopted immigration policies that not only sanction, but actively contribute to, human rights violations against immigrants. These policies consist of mass illegal pushbacks of asylum seekers at the U.S.-Mexico border, illegal family separations that inflict extreme suffering on families, and arbitrary and indefinite detention of asylum seekers. These policies violate both U.S. and international standards on human rights and undermine the international framework of protection for refugees and the right to seek asylum. In enacting these policies, President Trump has sought to exploit fear to justify human rights violations, characterizing immigrants and refugees as evil, as threats, or as criminals, not worthy of basic human dignity. These portrayals provide the pretext for allowing the U.S. government to violate fundamental principles of international law in its treatment of immigrants.
U.S. law allows any immigrant who is physically present or who arrives in the U.S. (whether or not at a designated port of arrival and regardless of whether they cross illegally) to apply for asylum (8 U.S.C. §1158). "Pushback" refers to the practice by governments of preventing refugees from seeking protection on their territory by forcing them to return to another country. By pushing back refugees, countries abdicate responsibility for examining the individual cases of the refugees. Pushbacks violate the principle of non-refoulement, which prohibits states from returning or turning away people to territories where their "life or freedom" would be threatened (1951 Convention, Article 33). Although the U.S. never ratified the 1951 Convention itself, it acceded to the 1967 Protocol, by which it became bound by certain sections of the 1951 Convention (Davis). In conformity with these obligations, U.S. law prohibits border authorities from pushing back asylum seekers and requires them to refer such persons to an asylum officer who can conduct an individual assessment of any risks of persecution or danger they may face if they are returned to their countries (8 U.S.C. §1158).
Nevertheless, human rights advocates point to the increasingly frequent practice of U.S. border officials turning away asylum seekers at the U.S.-Mexico border without considering their claims ("Illegal Pushbacks" 13), in violation of the principle of non-refoulement. The Trump administration has claimed that the number of asylum seekers at U.S. border crossings is higher than ever and that the U.S. does not have the capacity with its current staff to fulfill its obligations under U.S. and international refugee laws. The available evidence, however, does not support this claim ("Illegal Pushbacks" 14). Moreover, border agencies are required to admit asylum seekers on at least a temporary basis and consider their claims without discrimination, regardless of capacity constraints (UNHCR). In order to justify its illegal pushbacks and other efforts to undermine refugee protections, President Trump has demonized asylum seekers, claiming that they are dangerous "criminals" and animals who are seeking to "infest" and "invade" the U.S. (Twitter). To counteract the illegal pushbacks sanctioned by the Trump administration, Congress should increase funding for immigration judges and USCIS asylum officers in order to facilitate processing of asylum seekers. In addition, Congress should exercise greater oversight of Department of Homeland Security (DHS) agencies to halt illegal pushbacks and curtail overreach by the executive branch in violation of human rights laws.
The U.S. government's policies with respect to illegal family separations also violate human rights principles and have inflicted extreme suffering on thousands of families. On April 6, 2018, the administration announced its "zero-tolerance" policy of criminally prosecuting adults who enter the U.S. illegally. The result of "zero tolerance" was that DHS apprehended families and detained parents or guardians for criminal prosecution, then designated the children as unaccompanied minors and placed them in shelters. Through fast-track deportation processes, many of the adults were returned to their countries, while their children remained in shelters in the U.S., with no way to connect or be reunited with their parents or guardians. This separation of families violates fundamental human rights of family unity and the right to freedom from torture and other ill treatment. The International Covenant on Civil and Political Rights, ratified by the U.S. in 1992, mandates that when a government arrests, detains or imprisons a person it must treat them humanely and with respect for "the inherent dignity of the human person" (UNHCR). Recent reports have indicated that child migrants placed in U.S detention facilities have been forcibly medicated, abused, and denied adequate food and water ("Ten Human Rights Standards"), and Amnesty International has condemned the family separations as torture ("Illegal Pushbacks" 27). The American Academy of Pediatrics further found that conditions include "forcing children to sleep on cement floors, open toilets, constant light exposure, insufficient food and water, no bathing facilities, and extremely cold temperatures," which are traumatizing for children (Davis).
In response to criticism, President Trump signed an executive order on June 20, 2018 to detain children and parents together. However, his order still raised concerns as it did not address the reunification of already separated families and proposed modifying time limits on detention of families instead of abolishing the policy altogether. As a possible solution, Congress should pass legislation banning separation and detention of families with children and ratify the UN Convention on the Rights of the Child, which the U.S. signed in 1995 and is the only country in the world not to adopt. In addition, DHS should reunite as quickly as possible any children who remain separated from parents/guardians, and should grant compensation and other reparations to families who were separated in order to ensure their rehabilitation.
Finally, the U.S. government's policy of arbitrary and indefinite detention of asylum seekers sanctions human rights violations against immigrants. Indefinite detention without criminal charge violates the UN Convention Against Torture, which the U.S. ratified ("Illegal Pushbacks" 48). In a January 2017 executive order on border security and immigration enforcement improvements, President Trump ordered the default detention of all asylum seekers, without parole except in rare circumstances. In 2018, the Trump administration projected an increase in its average daily population in immigration detention by over 23 percent in 2019 ("Illegal Pushbacks" 48). Amnesty International has pointed to evidence that following the 2017 executive order, ICE field offices have issued blanket denials of nearly 100 percent of parole requests by asylum-seekers, compared to the previous record of parole approval in 90 percent of the cases ("Illegal Pushbacks" 48). In declaring and enforcing indefinite detention, the U.S. government continues to commit human rights violations against asylum seekers.
In addition, international law protects individuals' right to seek asylum (1967 Protocol). This includes the opportunity to request asylum, due process in determination of that claim, and freedom from arbitrary detention or prosecution. International law recognizes that asylum seekers must not be criminally prosecuted for requesting asylum, regardless of whether they enter the country without authorization. In the U.S., however, illegal entry into the U.S. is punishable by a fine or by up to six months' imprisonment for a first-time offense and up to two years for subsequent entries (8 U.S.C. §1325). Under the Trump administration, criminal prosecutions have markedly increased pursuant to the "zero tolerance" policy that has targeted migrants and asylum seekers. Nearly two years after the 2017 executive order, in November 2018, President Trump enacted a wholesale, 90-day entry ban on any person trying to seek asylum at a place other than a port of entry, claiming that requesting asylum anywhere else "would be detrimental to the interests of the United States" (Presidential Proclamation). After 90 days, the secretaries of state and homeland security and the attorney general are supposed to inform the president if the ban should be lifted or extended. According to the proclamation, this "limited suspension" is necessary because of the migrant caravan crossing Mexico on its way to the U.S. border. The New York Times in an editorial has suggested that this latest proclamation is "yet another expression" of President Trump's tactic of fabricating a crisis to justify eroding human rights protections: "The president can't, with the stroke of a pen, disregard people with credible asylum claims who don't present themselves at a port of entry. By issuing the ban and ensnaring those who don't comply with it, the administration is clearly aiming to deny people . . . an opportunity to make their case for asylum and instead put them on a fast track to deportation" ("Trump Dreams Up Another Immigrant Crisis"). In further attempts to keep the caravan from crossing into the U.S., customs officials in late November 2018 shut down the border crossing and fired tear gas to push back the migrant caravan from the border. In order to stem these human rights violations, Congress should decriminalize irregular entry into the U.S., in line with international standards, and punish illegal entry with reasonable and proportional administrative sanctions. In addition, DHS should detain asylum seekers only when absolutely necessary and should increase oversight of field agents to prevent blanket denials of parole.
By promoting and permitting mass illegal pushbacks of asylum seekers at the U.S.-Mexico border, family separations, and arbitrary and indefinite detention of asylum seekers, the U.S. government has actively contributed to human rights violations against immigrants. The administration's characterization of immigrants as dangerous criminals presenting a threat to national security has further escalated tensions and contributed to anti-immigrant sentiment in the U.S. In the past two years, the U.S. has moved backward on human rights for immigrants. Congress must step in to stem further erosion of human rights. In addition, the United Nations should exert pressure on the U.S. government to protect human rights of immigrants. Perhaps with a new administration in place in a few years, human rights conditions for immigrants will improve. We cannot afford to wait.
Works Cited
8 U.S.C. §1158–Asylum, https://www.law.cornell.edu/uscode/text/8/1158. Accessed 13 Nov. 2018.
8 U.S.C. §1325–Improper entry by alien, https://www.law.cornell.edu/uscode/text/8/1325. Accessed 14 Nov. 2018.
@realDonaldTrump. "Children are being used by some of the worst criminals on earth as a means to enter our country. Has anyone been looking at the Crime taking place south of the border. It is historic, with some countries the most dangerous places in the world. Not going to happen in the U.S." Twitter, 18 June 2018, 6:50 a.m., https://twitter.com/realdonaldtrump/status/1008708576628625408?lang=en.
@realDonaldTrump. "Democrats are the problem. They don't care about crime and want illegal immigrants, no matter how bad they may be, to pour into and infest our Country, like MS-13. They can't win on their terrible policies, so they view them as potential voters!" Twitter, 19 June 2018, 6:52 a.m., https://twitter.com/realDonaldTrump/status/1009071403918864385.
@realDonaldTrump. "We cannot allow all of these people to invade our Country. When somebody comes in, we must immediately, with no Judges or Court Cases, bring them back from where they came. Our system is a mockery to good immigration policy and Law and Order. Most children come without parents…" Twitter, 24 June 2018, 8:02 a.m.,https://twitter.com/realdonaldtrump/status/1010900865602019329?lang=en.
Davis, Jeffrey. "US 'zero-tolerance' immigration policy still violating fundamental human rights laws." The Conversation, 27 June 2018, http://theconversation.com/us-zero-tolerance-immigration-policy-still-violating-fundamental-human-rights-laws-98615. Accessed 13 Nov. 2018.
"Human Rights and Immigration." American Civil Liberties Union, https://www.aclu.org/issues/human-rights/human-rights-and-immigration. Accessed 13 Nov. 2018.
"Presidential Proclamation Addressing Mass Migration Through the Southern Border of the United States." 9 Nov. 2018, https://www.whitehouse.gov/presidential-actions/presidential-proclamation-addressing-mass-migration-southern-border-united-states/. Accessed 13 Nov. 2018.
Protocol relating to the Status of Refugees (1967), 606 UNTS 267, http://www.unhcr.org/en-us/3b66c2aa10. Accessed 14 Nov. 2018.
"Ten Human Rights Standards Implicated by U.S. Immigration Policy Changes." International Justice Resource Center, 27 June 2018, https://ijrcenter.org/2018/06/27/ten-human-rights-standards-implicated-by-u-s-immigration-policy/. Accessed 13 Nov. 2018.
"Trump Dreams Up Another Immigrant Crisis." Editorial. The New York Times, 12 Nov. 2018, https://www.nytimes.com/2018/11/12/opinion/trump-caravan-asylum-immigration-border.html?action=click&module=Opinion&pgtype=Homepage. Accessed 13 Nov. 2018. UN Convention Relating to the Status of Refugees (1951), 189 UNTS 137, http://www.unhcr.org/en-us/3b66c2aa10. Accessed 14 Nov. 2018.
UNHCR, "International Covenant on Civil and Political Rights," adopted and opened for signature, ratification and accession by General Assembly resolution 2200A (XXI) of 16 December 1966, entry into force 23 March 1976, in accordance with Article 49, https://www.ohchr.org/en/professionalinterest/pages/ccpr.aspx. Accessed 14 Nov. 2018.
UNHCR, "Protection of Asylum-Seekers in Situations of Large-Scale Influx" No. 22 (XXXII) 1981, http://www.unhcr.org/en-us/excom/exconc/3ae68c6e10/protection-asylum-seekers-situations-large-scale-influx.html. Accessed 14 Nov. 2018. USA: 'You Don't Have Any Rights Here,' Illegal Pushbacks, Arbitrary Detention and Ill-Treatment of Asylum-Seekers in the United States. Amnesty International, 2018.
The American Nightmare:
Human Rights Abuses
Against Immigrants in the U.S.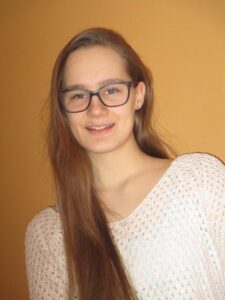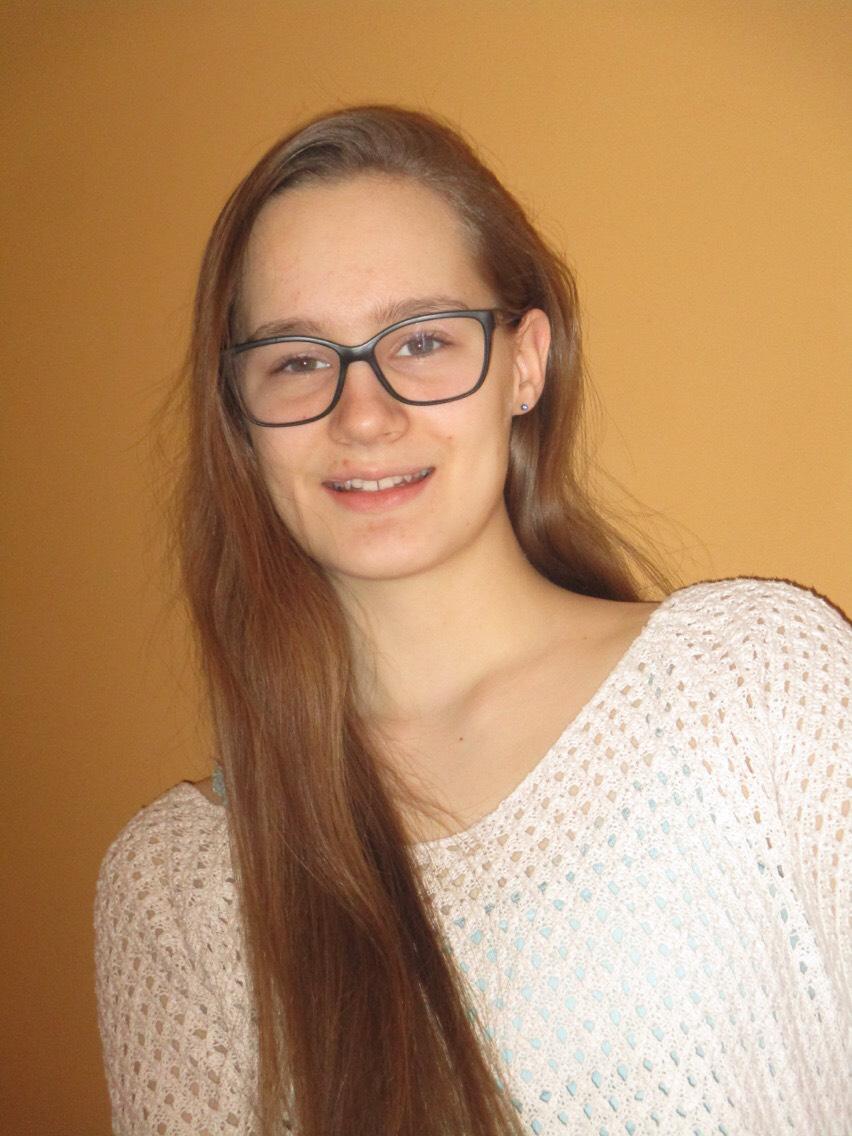 Julia Rademacher-Wedd
Second Prize U.S.
11th Grade, Whitney M Young Magnet High School, Chicago
Human Rights (UDHR), include the right of all people to life, liberty, work, social security, and education. However, the United States is only a party to 5 out of the 18 international human rights treaties ("Status of Ratification Interactive Dashboard"). When a state ratifies a treaty, it assumes obligations under international law to protect the rights outlined within it, so the reluctance of the United States to ratify these documents is undoubtedly due to its reluctance to respect the rights that the agreements protect. One population within the United States that is especially vulnerable to human rights abuses is the immigrant and migrant population, or those who change their country of usual residence ("Refugees and Migrants: Definitions"). The ACLU claims that "U.S. government policies continue to sanction human rights violations against migrants and im­migrants." There is a great deal of evidence that government policy regarding immigration law and enforcement actively violates internationally accepted human rights conventions, and that immigrants and migrants in the United States are culturally, politically, and legally criminalized in ways that endanger the protection of their human rights. The people of the United States of America cannot continue to accept the inhumane way in which our government treats immigrants and migrants, especially those who are undocumented or seeking asylum.
The US government systemically sanctions the violation of the human right to life, protected by Article 3 of the UDHR, of immigrants and migrants, especially those who are undocumented. Since 1998, the remains of 7,000 people have been recovered in the area around the U.S.-Mexico border (Part 2- Interference with Humanitarian Aid"). The deaths of most of those people are a direct result of over two decades of United States government policy. Since the mid-1990s, the U.S.-Mexico border has been militarized as part of the policy of "prevention through deterrence," closing off safer urban border crossings to undocumented immigrants and asylum seekers and forcing them to cross the border in harsh and remote stretches of desert ("Rubio-Goldsmith et al."). The policy of "prevention through deterrence" did not succeed in its goal of decreasing the number of undocumented immigrants who attempt to cross into the U.S. from Mexico ("Rubio-Goldsmith et al."). Instead, maintaining a militarized U.S.-Mexico border serves only to perpetuate a deadly humanitarian crisis.
In reaction to the high rate of deaths along the border, grassroots organizations have established water stations, food and water drops, medical camps, humanitarian patrols, and rescue operations in the borderlands. In direct violation of the human right to life that the United States is obligated by the UDHR to respect, U.S. Border Patrol agents actively undermine that humanitarian aid, a reality exemplified in the agency's destruction of the gallons of water that humanitarian organizations leave in the desert for migrants ("Part 2- Interference with Humanitarian Aid"). Additionally, "Border Patrol agents in the Arizona borderlands routinely intimidate, harass, and surveil humanitarian-aid volunteers, thus impeding the administration of humanitarian aid" (Part 2-Interference with Humanitarian Aid"). By obstructing humanitarian aid, agencies such as the U.S. Border Patrol actively contribute to the deaths of migrants and immigrants.
The U.S. also disregards Article 9 of the UDHR, which protects all people from arbitrary arrest, detention, and exile, by issuing immigration detainers. When local law enforcement detains someone who Immigration and Customs Enforcement (ICE) believes to be deportable, ICE may issue an immigration detainer, instructing local police to hold that person for up to 48 business hours so that ICE may take them into custody ("Immigration Detainers"). The issuance of detainers violates the Fourth Amendment to the United States Constitution because detainers do not provide probable cause for what is technically a new arrest, which is Constitutionally required in order to arrest any person in the United States (Cabrera). ICE should halt the practice of issuing immigration detainers that involve local law enforcement in the detention and deportation process of undocumented immigrants because key parts of the process have been declared unconstitutional by a number of state and federal courts.
In deportation cases, the United States government completely disregards the due process of law that the Fifth Amendment to the Constitution guarantees all people within the United States. Over half of people in immigration court proceedings have no access to legal counsel, and in many cases, immigrants cannot challenge their detention and are not allowed to appear before a judge ("Deportation and Due Process"). Of those individuals who do have the chance to appear in court with legal counsel, several hundred receive criminal convictions each day through Operation Streamline, a program of fast-track criminal prosecution that operates in several federal districts along the U.S.-Mexico border ("Operation Streamline Fact Sheet"). In mass court appearances, up to 70 defendants charged with illegal entry or reentry after deportation appear in each court, plead guilty, and are sentenced to 30 to 180 days in prison in under two hours ("Operation Streamline Fact Sheet"). Criminal prosecutions of immigration crimes along the U.S.-Mexico border have contributed to a sharp rise in immigrant Latinx representation in the federal prison system, though crime and incarceration rates are lower in general among immigrants than among U.S.-born residents (Moore). Therefore, the Constitutional and human rights violations taking place in the federal prison system are the result of discrimination based on ethnicity and race, which is prohibited by the UDHR.
There are over 40,000 individuals in immigration detention every night in the United States ("Code Red"). Private prisons, where human rights abuses within the immigration detention system disproportionately occur, reap enormous profits by housing three-quarters of these detainees (Luan). As a result of lobbying by the private prison corporations that are contracted to house immigration detainees, many legal permanent residents and asylum seekers are arbitrarily detained for prolonged periods of time. There are no enforceable standards relating to detention conditions, so medical treatment, mental health care, religious services, transfers, and access to free legal services are not always available to detainees ("Immigrants' Rights"). LGBTQ+ immigrants endure more violence in the immigration detention system than their cisgender and hetereosexual counterparts, in part because LGBTQ+ individuals are more likely to face violence from fellow detainees in addition to guards. The detention of immigrants, migrants, and asylum seekers condones a host of human rights abuses on a mass scale.
The U.S. government also sanctions the deprivation of the human right of many migrants and immigrants to access healthcare, though access to medical care is guaranteed by Article 25 of the UDHR. From 2010 to 2017, 72 people died in immigration detention, and bad medical care contributed to at least 23 of those deaths ("Code Red"). Immigrants who are in immigration detention face a deadly lack of comprehensive health services, while undocumented immigrants and asylum seekers who are not in detention also face political, economic, and cultural barriers to receiving healthcare. The Affordable Care Act politically excludes undocumented immigrants and asylum seekers from obtaining health insurance, and there are often requirements that individuals show documentation in order to receive health care services (Anies, et. al.). Since undocumented individuals cannot obtain health insurance, they cannot realistically shoulder the financial burden of seeking healthcare. Additionally, cultural reluctance to seek healthcare springing from discrimination on the basis of documentation has led to a stigma around receiving healthcare while undocumented. The U.S. government sanctions the violation of human rights in the deprivation of access to healthcare that specifically affects the immigrant and migrant community.
The International Covenant on Economic, Cultural, and Social Rights, which the United States has not ratified but 164 countries are a party to, recognizes the right of every person to work for fair wages in safe working conditions, receive social security, and to have access to all levels of education. Under United States law, undocumented immigrants and asylum seekers do not enjoy these rights. Because undocumented immigrants and asylum seekers are not authorized to work in the United States, they are not protected under United States labor laws (Costa). Furthermore, Title V of the Illegal Immigration Reform and Immigrant Responsibility Act of 1996 (IIRIRA) denies social security and federal postsecondary financial assistance to people whose immigration status cannot be verified. Undocumented immigrants in the U.S. must work in order to survive, but because they are not protected by U.S. labor laws, they are often afraid to report unpaid wages and substandard working conditions because their employers can threaten to assist in their deportation (Costa par. 3). If the parents of an undocumented student suffer minimum wage abuse, the student cannot attend college without financial assistance, which they are legally barred from receiving. The Obama administration attempted to relieve undocumented individuals who were brought to the United States as children with the passage of Deferred Action for Childhood Arrivals (DACA) in 2015. Obtaining deferred action allows the recipient a two -year deferral from removal action that is subject to renewal, and the issuance of a work permit ("Consideration of Deferred Action for Childhood Arrivals"). However, only about half of undocumented immigrants who entered the U.S. before their 18th birthday qualify for DACA status, and under a quarter have actually received DACA protections (Gomez). Therefore, the majority of undocumented immigrants and asylum seekers in the United States do not enjoy the human rights to work, receive social security, and access postsecondary education.
People who want to receive protection from persecution in the United States are not always given access to the process by which they can obtain it. As a signatory of the Convention Relating to the Status of Refugees, the United States has an obligation to allow asylum seekers entry so that they may demonstrate their credible or reasonable fear of persecution or torture to an asylum officer ("Asylum in the United States"). In order to request asylum, a person must make it to the border or to U.S. soil, but those coming from Mexico are often forced to wait, as under 100 claims are processed each day at ports of entry where thousands of people wait to enter (Barajas). This forces many people to attempt to cross in the desert so that they may declare asylum more quickly. A district judge recently suspended President Trump's proclamation that denies asylum to those who cross the border without going through a port of entry because it is a violation of Congressional law, but such a proclamation contributes to the popular conviction that asylum seekers are not within their rights to enter the United States (Barajas). In another violation of international and domestic law, the U.S. Border Patrol turned away at least 125 asylum seekers during early 2017, although the international Refugee Convention and the federal Refugee Act require that the U.S. government cannot send someone back to their home country if they face threats to their life or freedom there (Harris). As a result of United States government practices, many people who come to the United States seeking refuge that the government pledged to provide are either treated as criminals and detained or forced to turn around and face certain death at home.
The first step to ending human rights violations against immigrants and migrants in the United States is the acknowledgement that the government is perpetuating a humanitarian crisis. Human rights abuses against immigrants and migrants are intentional and in direct conflict with the human rights principles that the United States helped originate during the first half of the 20th century. The United States can take some immediate actions to improve the situations that immigrants and migrants face while long term immigration reform is negotiated. To start, the United States needs to stop preventing grassroots humanitarian aid organizations from doing their work, and instead support those organizations in their searches for missing persons and the recovery of bodies in the desert. The U.S. government should also establish a mechanism for data collection on injuries and deaths at the border and partner with the Mexican government to prevent them. The United States should not focus its resources on criminalizing and detaining undocumented immigrants and asylum seekers, whose mere presence is not unlawful. Instead, more resources should go towards processing asylum requests so that people do not venture into the desert to cross the U.S.-Mexico border. The executive branch of the U.S. government can accomplish almost all of these actions unilaterally and therefore swiftly, so it is up to the President to promote such policy.
Legislative solutions will take longer to implement but are absolutely necessary in order to protect the human rights of immigrants and migrants. Congress should ratify the international human rights agreements that they have not already ratified so that the U.S. government will be obligated to respect human rights. The United States government has expressed a fear that protecting the rights of undocumented immigrants will incentivize unauthorized immigration. Although that fear is misguided by racism, it will be difficult to dismantle. Within the current system, changing the process for obtaining visas to work and live in the United States will be the most meaningful and realistic reform. Currently, nonimmigrant visas for workers without a college degree are only available for specific types of work. The fees for nonimmigrant visas range from $160-265, a cost that not everyone can afford. For immigrant visas, a U.S. citizen or permanent resident relative or employer must sponsor the applicant. Both immigrant and nonimmigrant visas require documentation such as passports, medical forms, and recommendations from inside the U.S., a month's long interview process, and often, access to internet. If someone does not have these resources, it is impossible for them to obtain a visa so that the U.S. government may authorize their entry. The solutions that the U.S. government should pursue in order to ensure that everyone who wants documentation can obtain it include making the visa application process free, investing resources into the Department of State and U.S. consulates so that the interview process is faster, and opening up visa eligibility to more groups of people, such as those without family in the U.S. or workers who are not eligible for H-2A or H-2B visas. If it is easier to come to the United States with documentation, more people will have legal status in the United States, and the government will be not be able to condone human rights abuses against them.
The United States has always been seen as a land of refuge for immigrants, but prejudices against the religion, ethnicity, language, and national origin of groups of immigrants has allowed the United States government to sanction the denial of human rights to immigrants and migrants. Ultimately, the attitudes of American people towards their immigrant and migrant neighbors need to shift to recognize our shared humanity so that we may defend it.
Works Cited
Anies, Maria, et. al. "Barriers to Healthcare for Undocumented Immigrants: A Literature Review." Risk Management and Healthcare Policy, vol. 8. 2015. pp. 175-183. Doi. ​10.2147/RMHP.S70173.
"Asylum in the United States." The American Immigration Council. 14 May 2018. https://www.americanimmigrationcouncil.org/research/asylum-united-states. Accessed 27 Nov 2018.
Barajas, Joshua. "What's Happening With Asylum-Seekers at the Border?". PBS. 26 Nov 2018. https://www.pbs.org/newshour/nation/whats-happening-with-asylum-seekers-at-the-bord er. Accessed 27 Nov 2018.
Cabrera, Yvette. "Federal Judge: Holding Inmates Longer on Immigration Detainers is Unconstitutional." ThinkProgress. 11 Feb 2018. https://thinkprogress.org/immigration-detainers-unconstituitonal-9fde460fdeca/. Accessed 3 Dec 2018.
"Code Red: The Fatal Consequences of Dangerously Substandard Medical Care in Immigration Detention." Human Rights Watch. 20 Jun 2018. https://www.hrw.org/report/2018/06/20/code-red/fatal-consequences-dangerously-substa ndard-medical-care-immigration. Access 24 Nov 2018.
The Constitution of the United States. 2nd ed., National Center for Constitutional Studies, 2016. "Consideration of Deferred Action for Childhood Arrivals." U.S. Citizenship and Immigration Services. N.D. https://www.uscis.gov/archive/consideration-deferred-action-childhood-arrivals-daca. Accessed 24 Nov 2018.
Costa, Daniel. "Employers Exploit Unauthorized Immigrants to Keep Wages Low." The New York Times. 3 Sept 2015. https://www.nytimes.com/roomfordebate/2015/09/03/is-immigration-really-a-problem-in -the-us/employers-exploit-unauthorized-immigrants-to-keep-wages-low. Accessed 24 Nov 2018.
"Deportations and Due Process." Immigrant Defense Project. N.D. https://www.immigrantdefenseproject.org/issue-brief-deportation-and-due-process/. Accessed 3 Dec 2018.
"Did NAFTA Help Mexico? An Assessment After 20 Years." Center for Economic and Policy Research. Feb 2014. http://cepr.net/documents/nafta-20-years-2014-02.pdf. Accessed 7 Oct 2018.
Gomez, Alan. "Who are the DACA DREAMers and How Many Are Here?". USA Today. 13 Feb 2018. https://www.usatoday.com/story/news/politics/2018/02/13/who-daca-dreamers-and-how- many-here/333045002/. Accessed 24 Nov 2018.
Harris, Lindsay M. "Seeking Asylum Isn't a Crime. Why Do Trump and Sessions Act Like It Is?" The Washington Post. 29 Jun 2018.
https://www.washingtonpost.com/outlook/seeking-asylum-isnt-a-crime-why-do-trump-an d-sessions-act-like-it-is/2018/06/29/dc4cf136-7a7c-11e8-93cc-6d3beccdd7a3_story.html? utm_term=.561382491c39. Accessed 3 Dec 2018.
"Human Rights." United Nations. N.D. www.un.org/en/sections/issues-depth/human-rights/. Accessed 7 Oct 2018.
"Immigration Detainers." National Immigrant Justice Center. N.D. https://www.immigrantjustice.org/issues/immigration-detainers. Accessed 24 Nov 2018.
"Immigration Detainers Legal Update: Key Court Decisions on ICE Detainers as of July 2018." Immigrant Legal Resource Center. 24 July 2018. https://www.ilrc.org/sites/default/files/resources/immig_detainer_legal_update-20180724 .pdf.
"International Covenant on Economic, Social and Cultural Rights." Office of the High Commissioner for Human Rights. 16 Dec 1966. https://www.ohchr.org/EN/ProfessionalInterest/Pages/CESCR.aspx. Accessed 25 Nov 2018.
"LGBTQ Immigrants." National Immigrant Justice Center. N.D. https://www.immigrantjustice.org/stop-abuse-detained-lgbt-immigrants. Accessed 26 Nov 2018.
Luan, Livia. "Profiting From Enforcement: The Role of Private Prisons in U.S. Immigration Detention.
" Migration Policy Institute. 2 May, 2018. https://www.migrationpolicy.org/article/profiting-enforcement-role-private-prisons-us-immigration-detention. Accessed 25 Nov 2018.
"Migrant Deaths Remain High Despite Sharp Fall in US-Mexico Border Crossings in 2017.
" International Organization for Migration. United Nations, 6 Feb 2018. www.iom.int/news/migrant-deaths-remain-high-despite-sharp-fall-us-mexico-border-crossings-2017. Accessed 7 Oct 2018.
Moore, Solomon. "Study Shows Sharp Rise in Latino Federal Convicts." The New York Times. 18 Feb 2009. https://www.nytimes.com/2009/02/19/us/19immig.html. Accessed 27 Nov 2018.
"Part 2- Interference with Humanitarian Aid: Death and Disappearance on the US-Mexico Border. " The Disappeared Report. Accessed 24 Nov 2018. http://www.thedisappearedreport.org/uploads/8/3/5/1/83515082/disappeared_report_part _2.pdf.
"Refugees and Migrants: Definitions." The United Nations. 2018. http://indicators.ohchr.org/. Accessed 3 Dec 2018.
Rubio-Goldsmith et al. "A Humanitarian Crisis at the Border: Estimates of Deaths Among Unauthorized Immigrants. " Immigration Policy Center. Feb 2007. https://www.americanimmigrationcouncil.org/sites/default/files/research/Crisis%20at%2 0the%20Border.pdf. Accessed 3 Dec 2018.
"Status of Ratification Interactive Dashboard." Office of the High Commissioner for Human Rights. 2014. http://indicators.ohchr.org/. Accessed 3 Dec 2018.
"Universal Declaration of Human Rights." United Nations. 10 Dec. 1948. Paris, France.
"U.S. Visas." U.S. Department of State-Bureau of Consular Affairs. N.D. https://travel.state.gov/content/travel/en/us-visas.html. Accessed 2 Dec 2018.
FIRST STEPS TO PROGRESS TOWARDS HUMANITY
(THINKING BEYOND SOCIAL
AND RELIGIOUS TABOOS)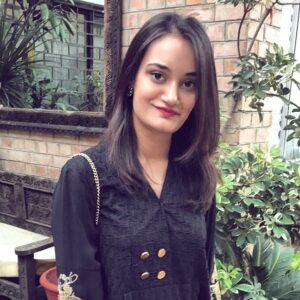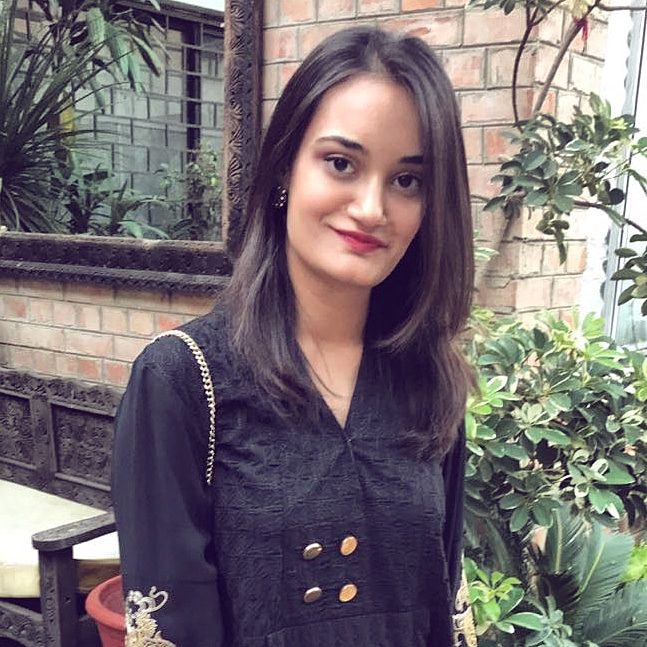 Ayman Fuad 
First Prize Other than U.S.
Grade Level A2 G2
Beaconhouse School System, Margalla Campus, Islamabad, Pakistan 
Humanitarian action is a fundamental and complicated endeavor, involving the efforts of populations affected by crises as well as those of local, national and international institutions and organizations trying to assist them.
Pakistan being a developing country has been faced with multiple crises in the past decades such as influx of Afghan refugees, earthquake, war on terror and unstable political governments; which inadvertently contributed to low economic growth, low literacy rates, compromised physical and mental health sectors and rising cost of living. These factors created excessive economic and social pressures for general public of Pakistan. This disappointment and frustration found vent into excessive cases of mental and physical abuse which includes rape, child molestation, child labour and abuse, abuse of senior and physically challenged people, domestic abuse, underage marriages of girls with elderly men for the preservation of property, laws that do not favour minorities and other instances of gender inequalities. In extreme cases of frustration with existing state of affairs it took the form of suicide including relatively younger generation of Pakistan.
To begin with, the abuse against women and girls is of great concern which includes rape cases and sexual assaults. The State of Pakistan has failed to treat these cases as a serious matter; the number of these cases is only growing. On the other hand, the conviction rate of the abusers in cases of sexual violence and abuse remains fatally low. This sheds harsh light on the judicial system of the country and only goes to show that women most certainly do not have the same rights as the men in this country, going as far as to not having basic human rights and being objectified. The case of the rape of a teenage girl ordered by a village council in 'revenge' for a rape allegedly committed by her brother serves as a paradigm of the rights of women in Pakistan. If village councils believe that they are the ultimate authority to which cases must be referred, Pakistan can never know true justice. Thus, the country must "establish a unified judicial system, to eliminate all parallel legal systems and informal dispute resolution mechanisms which discriminate against women…" [ https://www.amnestyusa.org/press-releases/village-council-revenge-rape-order-must-prompt-urgent-reforms-in-pakistan/]Moreover, the punishment for the perpetrators must equal the crime they committed without having to resort to the death penalty. Making the abuse of women lawful is a gross injustice and it defies all basic human rights.
Additionally, the latest blasphemy laws passed by the country serve to restrict free speech and disregard the religious freedom of minorities. They have constantly been misused to undermine the religious minorities and settle personal vendettas. The Asia Bibi blasphemy case concerned with the accusation of blasphemy against a Christian woman, Asiya Noreen, resulted in a court verdict of death by hanging. She received death threats and bounties were offered to whoever killed her. Here we see Articles 18 and 19 of the Universal Declaration of Human Rights — concerned with the freedom of belief and religion, and freedom of opinion and information (abbreviated) — in direct contradiction with the penal system of Pakistan. The verdict was reversed after various petitions and protests from several human rights organizations and Pope Benedict XVI and Pope Francis called for the charges to be dismissed. This highlights the fact that the citizens of Pakistan would have allowed her to be hanged had it not been for international support for Asiya. Does Pakistan, as a state in its own right, not care about the rights of minority and majority individuals and groups equally? Such a case insinuates otherwise.
The situation concerning child laws in the country does not bode well for the country's reputation either. No check on forced child marriages and child labor renders children as yet another vulnerable area in dire need of justice. In the rural community of Pakistan, forced child
https://www.amnestyusa.org/press-releases/village-council-revenge-rape-order-must-prompt-urgent-reforms-in-pakistan/
marriages are as common as legal marriages of choice, maybe even more so, with 21% of girls in Pakistan getting married before the age of 21[ https://www.girlsnotbrides.org/child-marriage/pakistan/]. Villagers are constantly using their daughters to settle debts, transfer money between families and acquire land[ https://herald.dawn.com/news/1153952]. A total of 557 cases of child marriages cases were reported from all over the country between 2012 and 2016.[ https://dailytimes.com.pk/295598/child-brides-and-grooms-in-sindh/] Out of all reported cases, an alarmingly low 5% get a formal court verdict. The consequences of child marriage are not treated gravely even though they include domestic abuse, depression, unsafe sexual practices leading to serious illnesses and infections, high mortality rates during childbirth,
1. https://www.amnestyusa.org/press-releases/village-council-revenge-rape-order-must-prompt-urgent-reforms-in-pakistan/
2. https://www.girlsnotbrides.org/child-marriage/pakistan/
3. https://herald.dawn.com/news/1153952
4. https://dailytimes.com.pk/295598/child-brides-and-grooms-in-sindh/
stillbirths and babies suffering from serious diseases. In the face of all this, religious values act as a barrier in preventing the bans on underage marriages.
Early marriages are not the only way through which children are oppressed in Pakistan. Child labor practices in Pakistan include long working hours, hard labor, low to none wages being paid, not to mention the atrocious practice of making children work long, hard hours when they should be getting the education they rightfully deserve[ https://blogs.tribune.com.pk/story/20461/in-lahore-does-child-labour-and-torture-go-hand-in-hand/]. Article 25-A of the Constitution of Pakistan makes education free and compulsory for all under the age of 16[ https://tribune.com.pk/story/506910/bill-passed-free-education-for-all-children-up-to-16-years], but such laws are rarely followed due to no strict order or structure observed by the law enforcers. The most common places where child labor is practiced are rural villages, where people believe in having large families to have more hands in the field. Alas, larger families only lead to more people to feed and less and less food to be fed/eaten. Thus, the cycle of poverty continues. Child labor, torture and child molestation go hand in hand at times. In the horrific case of a 15-year-old maid who was sexually assaulted and brutally tortured by her employer[ https://en.dailypakistan.com.pk/opinion/blog/tayyaba-a-case-of-justified-bonded-child-labour/], we witness basic human rights denied: those of the right to life, liberty, personal security and the right for freedom from torture and degrading treatment. Flimsy laws on education and slavery, little to no bans on employment of minors, high population growth with no family planning, few training opportunities for the unskilled leading to less employment, and little to no constraints on the treatment of children have led to these terrible conditions.
Another disturbing practice performed in the country is that of 'honor killing': the homicide of a family member or social group by another member as a way to restore the honor of the family which was plunged into dishonor by the victim. This directly encroaches the most basic human right – the right to life, liberty and personal security. This practice usually targets women who have behaved 'immorally', which might include a woman demanding a divorce, getting raped, alleged marriage infidelity, and not submitting to an arranged marriage but instead wanting to marry a person of their own choice. It counts for yet another injustice against women, refuting an additional right – the right to equality. With the highest number of documented and estimated honor killings per capita in the world, Pakistan needs to address this pressing social problem urgently. A popular case in regard to honor killing that received worldwide attention was that of Qandeel Baloch, a model, actress and social media celebrity. Baloch regularly discussed controversial issues and her bold videos challenged the conventions of the Islamic state. In 2016, Baloch was asphyxiated while she was asleep, and her brother confessed to the murder[ https://www.pakistantoday.com.pk/2016/07/17/qandeel-balochs-brother-arrested-says-he-killed-her-for-honour/]. While the more educated classes in the country condemned the murder, the less educated rural people were on Baloch's brother's side, accepting that he had taken the right action. The social fabric of Pakistan is so deeply ingrained in traditional values which go against gender equality that we can only hope to change public opinion in favor of equality of the sexes and the protection of human life, no matter what 'crimes' were committed.
5. https://www.independent.co.uk/news/world/asia/pakistan-prevented-from-banning-child-marriages-because-it-is-unislamic-a6817066.html
6. https://blogs.tribune.com.pk/story/20461/in-lahore-does-child-labour-and-torture-go-hand-in-hand/
7. https://tribune.com.pk/story/506910/bill-passed-free-education-for-all-children-up-to-16-years
8. https://en.dailypakistan.com.pk/opinion/blog/tayyaba-a-case-of-justified-bonded-child-labour/
9. https://www.pakistantoday.com.pk/2016/07/17/qandeel-balochs-brother-arrested-says-he-killed-her-for-honour/
A grave matter yet to be discussed is the Islamic armed forces of Tehrik-e-Taliban, wreaking havoc in the country since 2007 (official announcement of existence). The Taliban have threatened the personal security of civilians, tortured and killed thousands of armed and unarmed individuals, taken hostage and abducted numerous people, and consistently abused women and girls. Under the name of Islam, the group has committed barbaric crimes, to the extent of attacking a school and shooting innocent children by the hundreds Peshawar School Massacre December 2014 [ https://en.wikipedia.org/wiki/2014_Peshawar_school_massacre.] The Government of Pakistan has officially condemned their practices and executed a military operation to dismantle the group. However, it is not enough to make people pay for their crimes after they have been committed. Rather, the authorities have a duty to protect all citizens of the nation and prevent further such attacks. The government must strive to build a safer nation with a stronger defense system, where the threats against personal and social security and freedom are not a part of everyday life.
A news article in Dawn dated 10th August 2018 by Asif Chaudhry reports 141 cases in Lahore and states, "LAHORE: Minor children — both girls and boys — are falling prey to pedophiles in the provincial capital as the incidents of child sexual abuse continue to surface here and most of such criminals escape conviction because of poor investigation by police and flawed prosecution. Such crimes are on the rise despite Chief Justice of Pakistan Justice Saqib Nisar taking suo motu notice of Kasur rape cases." [ https://www.dawn.com/news/1426078 ]
The alarmingly high official figures of cases of sexual assault on minors in Lahore show that such crimes have not been a priority for the police high-ups" In a Journal of medical sciences blog by Shazia Perveen on 6th April 2016 she highlights an increase in such cases. Sahil a renowned NGO operating to handle such cases in particular has reported 2778 child molestation cases in 2012 in comparison to 3002 cases in 2013.An alarming aspect of her blog is that she mentions people with special needs to be mostly victims of such abuse. [ http://blogs.jpmsonline.com/2016/04/06/child-sexual-abuse-in-pakistan-a-factual-analysis/1] [13] https://www.hrw.org/world-report/2017/country-chapters/pakistan [14] https://www.hrw.org/world-report/2018/country-chapters/pakistan
In this fast-paced technological age, we find ourselves growing ever more reliant on technology and this might not be a bad thing as it has helped create awareness of all the aforementioned cases among society. Thanks to the rise in the importance of the role of media in today's society, we are growing more aware of these issues in our society and are able to contend with them accordingly. The media has empowered the victims by helping them come to the forefront and fight for their rights by linking them with the concerned authorities who can provide them with protection and justice. Though we cannot claim that all cases are reported as social and religious barriers prevent people from reporting such cases especially in case of female victims where honor is involved, but the number of reported cases has increased dramatically. Some people criticize this fact for apparently it shows an increase in abuse which means humanitarian efforts
10. https://en.wikipedia.org/wiki/2014_Peshawar_school_massacre
11. https://www.dawn.com/news/1426078
12. http://blogs.jpmsonline.com/2016/04/06/child-sexual-abuse-in-pakistan-a-factual-analysis/1
13. https://www.hrw.org/world-report/2017/country-chapters/pakistan
14. https://www.hrw.org/world-report/2018/country-chapters/pakistan
have backslid or been ineffective. In fact, it is a positive sign that reluctance to report is on the decline and people are becoming aware of the consequences of hiding such abuse. While most of the humanitarian work is currently being done in urban peripheries, the standard of living is lower in the rural areas and such cases are thus more prevalent in those territories; more attention must be paid to neglected areas in the country. Justice must not be denied any longer for if we now knowingly ignore these violations against humans, we fail ourselves as a species.
While the state has managed to address the larger issues of threats against national security and protection of the masses, who will protect the vulnerable minorities? Humanitarian efforts in eradicating the root causes of such practices have been gaining roots in Pakistan for quite some time now. Though the efforts still have a long way to go, but media has been able to create awareness within society to discard social taboos and fear of rejection from society and come forward and report all sorts of physical and mental abuse. The country must let go of the traditional beliefs and practices that are a menace to social order, and instead employ new laws and practices that will facilitate the growth and protection of the minorities. Education plays a vital role in this cause, as educating the masses on gender equality, family planning and the abolishment of traditional practices that are not conducive to the nation's growth will help in bringing the new vision for the country to life. Job employment and training opportunities must be offered to curb the growth of child labor, unemployment and poverty. In addition to this, the government must enforce its laws more strictly so as to ensure that all individuals and groups are granted their basic human rights. Moreover, fair trials must be granted to the persecuted as well as the persecutors. Funding for the judicial system will go a long way in securing justice for all. NGOs, along with local and municipal governments should help unburden the government from the hefty task placed on its shoulders. The solution lies in the collaborative efforts of the community and the government, whereby the community takes care of itself while the government ensures that law and order and social sanctity is maintained. However, still media has been reporting on suicide issues in Chitral and Thar due to no means of sustainable income. Drought in Thar and high infant mortality is being repeatedly highlighted by the media to focus government's attention. However there have been community-based training by world health organization and government has also made efforts to provide clean drinking water by tube well installation and some NGO's also claim worth-while efforts but there has been no significant improvement. The disconnect between government, NGO's and world health organization calls for a collaborative effort of all including a training of the Thar community to become self-sufficient.
World report 2018 states in regard to human rights "In July, the European Union Foreign Affairs Council welcomed several positive measures taken by Pakistan, but also raised several concerns, including the death penalty; trial of civilians by military courts; inadequate protection for juveniles in the criminal justice system; the discrimination faced by minorities; misuse of blasphemy laws; lack of freedom of religion or belief; and restrictions on freedom of speech, particularly for journalists and activists, and related to NGO registration."[ 14 ]
Hence, we cannot actually totally blame Pakistan to have backslid in regard to humanitarian rights. The influx of Afghan refugees, earth quake displacement and war on terror have been massive challenges. Though Pakistan is not fully successful in controlling the situation but yet there has been a massive decrease in terrorism, and we can see a change in attitudes regarding reporting of cases without fearing the society and religious issues. There has also been a call for making laws to protect the rights of transgender community. Though challenges are great and much needs to be achieved in this area we still see a positive contribution to these issues.
My Brother Is Better Than Me!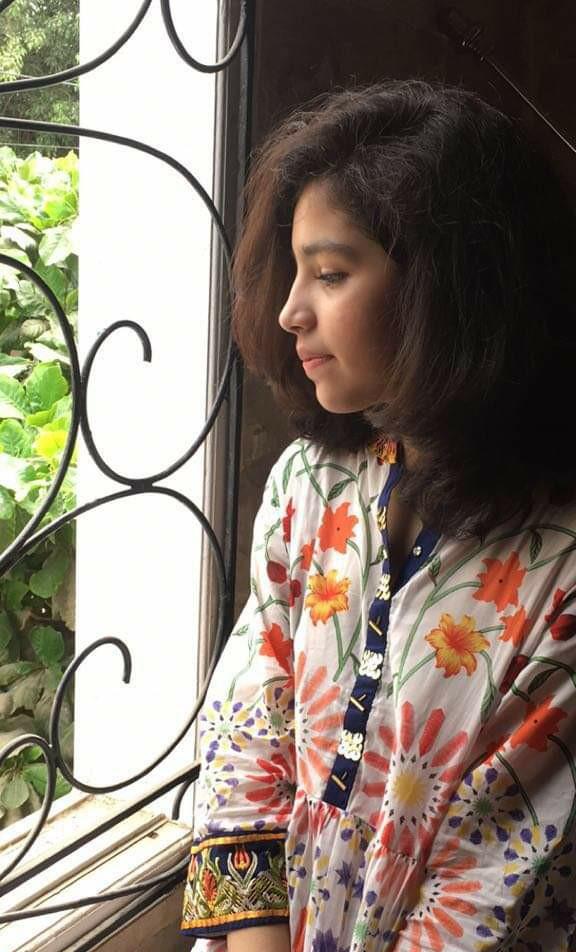 Sana Ali 
Second Prize Other than U.S.
Class XI, Beaconhouse School System (North Nazimabad Cambridge), Pakistan 
            "You made us proud son, we will buy you one more phone", I heard my father saying this to my brother just as I entered the house. "Look Sana," my father said to me, "Your brother got a B grade in tenth class." That was the point where I felt confused, thinking about when I got A grade in ninth class, I got nothing, and my brother was getting a second phone for his B grade. But I think it makes sense that my brother is treated better than me. He needs to be looked after rather than me because he is a man and he deserves more. He is the one who is going to have a successful career and bright future. At the dinner table, when my mother serves vegetables to me and chicken to my brother, it is okay. He needs to be fed more than me because he is a man. He should be bigger and stronger than me. He should be in good health because he has to take care of my parents in their old age.
            I remember once when I asked my father to study abroad, he said "Isn't this an awfully expensive education for a girl?" Indeed, he is right. I should not dream of studying abroad. I should not set such high goals for myself, because it is useless for my parents to invest money in my studies. One day I will leave my parents behind and will belong to some other household. However, if money is invested in my brother's education it will surely bring a lot of returns to my parents. He can then get a good job, earn lots of money and take good care of my parents. From his first day in school, my brother has always had home tuitions. For the last two years my brother has been receiving help from two tutors so that he can succeed in his intermediate exam. I have never received home tuition in my life and have always studied on my own because my parents cannot afford to pay for my tuition together with my brother's. It is fine if my father cannot pay for my tuition as nowadays home tuitions are very expensive. My brother needs to get good marks in his intermediate exam so that he can get admission in a top professional college, have a successful career and can make a lot of money. This will guarantee that my parents will live a comfortable life in their old age.
I and my brother grew up in Karachi which is notorious for its high crime rate and bad peace situation. My father is always concerned about my brother's safety when he goes out of the house. My father never lets him go alone and always drops him in his car or my brother takes Uber to his destination. On the other hand, when I have to travel, I always take a bus with my mother. We just cover ourselves with black shawls and keep our gazes down so strangers do not harass us. Indeed, my brother's safety and protection is more important than my safety because later he will provide security to our household. If he is safe, we are safe.
People say women are weaker; and that is why they are inferior to men. Indeed, they are. We women can never compete with men. Men are much stronger, and they work harder. That is why in every field men are preferred more than women. But to me it does not matter at all because we women have accepted our inferior status in Pakistan.
According to the Universal declaration of human rights: "We are all born free and equal. We all have our own thoughts and ideas. We should all be treated in the same way".
This declaration of human rights does not make sense to me because here in Pakistan women are considered inferior than men. Does that mean that the country is backsliding from the declaration of equal human rights? I do not think so. As I mentioned above, men are stronger, work harder, and therefore are more efficient than women. No wonder, according to theglobaleconomy.com, the unemployment rates for women in Pakistan have gradually decreased from 8% in 2009 to 3% in 2015. Yes, the country is backsliding, but this is where we want to go.
The employment rates are connected with literacy rates. According to Pakistan Economic Survey, in 2005 the literacy rate for males was 64% and for females it was 35%. In 2015, the male literacy rate increased to 69% while the female literacy rate decreased to 44% – yet another evidence of backsliding. But we are okay with that, because it seems that parents are interested in educating their sons rather than daughters. Similarly, the female literacy rate in urban areas was 70% in 2004 and it decreased to 50% in 2014.In rural areas the literacy rate for women is even less, almost zero, and that is why most of the women end up working as housemaids. Unfortunately, 60%of Pakistan's population lives in rural areas as compared to urban areas where it is 40%. Due to low literacy rate women's status in Pakistan has also become low. They are becoming dependent on their family men. As a result, a woman is told to follow the terms and conditions of men and if she fails to follow or denies doing it then she is forced or is punished by murder.
According to World Economic Forum, 5000 women a year are still being killed in the name of honor. For example, Qandeel Baloch, a small-town girl with big dreams was killed by her brother in the name of honor. She was killed in the name of honor because she wanted to be a free and independent woman. Her own brother confessed that he strangled her as she was bringing disrepute to their family's honor and he could not tolerate it any further. Another example is Malala Yusuf Zai, one of the most influential supporters of equal rights for men and women. As a young girl, Malala Yousafzai defied the Taliban in Pakistan and demanded that girls should be allowed to receive education just like boys. As a result, she was shot in the head by a Taliban gunman in 2012, but she survived. Both of these women risked their lives to become free and independent just like men.
In Pakistan, women are dependent on men. When they are mistreated, they cannot defend themselves, they are unable to raise their voices and that is why they fall victims to sexual harassment. According towww.dawn.com, in Pakistan,70% of women experience physical or sexual harassment at their work places. Sexual harassment involves unwanted or unwelcome behavior which can offend or humiliate the other person. Such problems require immediate action but here in Pakistan women do not take further steps against this issue because they are afraid of the consequences. This shows that the country is backsliding from the declaration of equal rights. The #metoomovement started against sexual harassment in the US, France, Japan, India and Italy. Due to this movement many women who were the victims of sexual harassment raised their voices. On the other hand, acid attacks in Pakistan are at an all-time high and increasing every year. According to a survey by Acid Survivor Foundation (ASF) in 2012, 70% of the women were targeted by acid attacks. Due to these attacks many women have suffered from long term consequences such as blindness or permanent scarring of face and body.
All of this evidence shows that Pakistan is backsliding from the universal declaration of equal human rights. Look what happened to Qandeel and Malala. One was killed and the other almost lost her life when they demanded equal rights. It seems that society in Pakistan wants to go that way because that is what indicators are showing every year. It is evident that the country is continuously sliding back from where it should be. It is true that parents do not want to invest money in their daughters. So, unless we change our social values, the country will continue to backslide every year. Each year we will see this gap becoming wider and wider.
After considering all these things, I came to the conclusion that I have to accept myself as an inferior woman in Pakistan. I cannot raise my voice for equal rights otherwise the same thing is going to happen to me that happened to Qandeel and Malala.
It is best for me to not ask my father to send me abroad for studies. I will not set high goals for myself because I know that they will not be fulfilled. I am happy to accept that my brother is superior than me. I am okay that the country is backsliding from the declaration of equal rights. I have decided to remain silent and accept my fate as an inferior Pakistani woman. My life is important to me I do not want to risk it by raising my voice for equal rights. If I raise my voice, I can become a victim of acid attack. I do not want to live my life with scars and blindness. I want to stay alive and keep all my body parts together.
I have been taught accommodation.
I have been taught to filter.
I want to tell my brother that we have come from difference.
You have been taught to grow out
I have been taught to grow in.
You learned from our father how to emit, how to produce, to roll each thought off your tongue with confidence.
You used to lose your voice every other week from shouting so much
I have learned to absorb
I took lessons from our mother in creating space around myself
I learned to read the knots in her forehead while you were out with your friends
I spend enough time sitting across from someone and you pick up their habits –
that's why women in my family have been shrinking for decades.
– "Shrinking Women" by Lily Myers
The Wall Between America
and Human Rights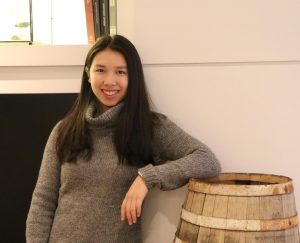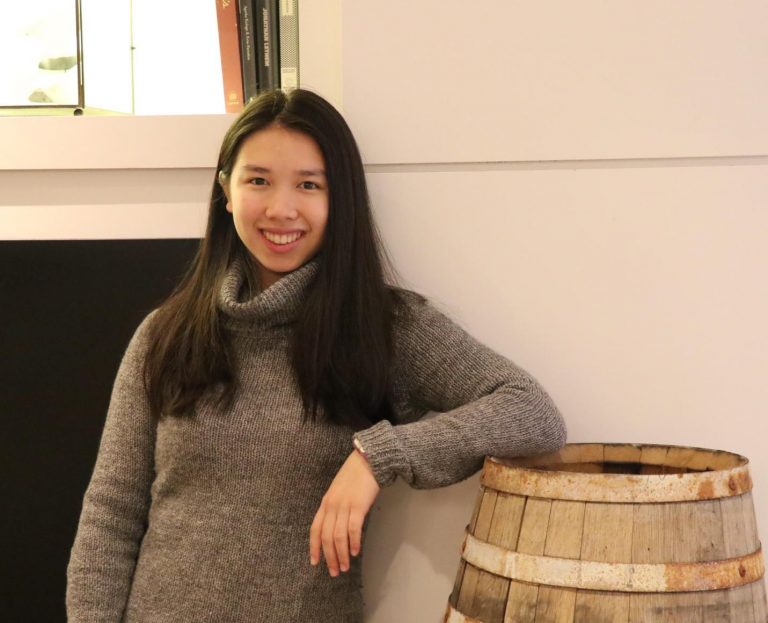 Kaelyn Ha
Honorable Mention U.S.
11th Grade, Hunter College High School, New York, NY
"I will build a great great wall on our southern border and I'll have Mexico pay for that wall."
— Donald J. Trump, Presidential Announcement, June 16, 2015
This promise marks the beginning of a series of government-sanctioned human rights violations that would become emblematic of Trump's presidency. More than three years later, America has not built that border wall, nor has Mexico agreed to pay for it. But the everlasting threat of racial prejudice, nativist ideologies, and scapegoating threats has persisted, imbedded into current anti-immigration policies. While we cannot observe a physical wall, the government has constructed a metaphorical one, dividing America from the freedom-loving ideals that founded it, from the human rights ethics we once aspired to uphold, and from an immigrant community that over time, has become woven into the fabric of our society. Trump's anti-immigration campaign stands as that wall, and it has divided us from our deep-rooted principles of human rights more than ever before. In order to break down this wall, we must inform Americans of these wrongs and encourage voters to elect only those in office willing to make it right again.
The concept of human rights was first introduced at the signing of the U.N. Declaration of Human Rights (UNDHR, 1948). The treaty acknowledged that every human is born with unalienable rights to freedom of speech, freedom of religion, freedom from persecution, and the freedom to stand up to wrong, among other principles. With such an international policy, the world changed overnight. Suddenly, peace, stability, and democracy became not only privileges to strive for, but also rights granted to everyone. As one of the treaty signees, America pledged to uphold these principles. Sixty years later, America broke this promise, and is justifying by scapegoating downtrodden immigrants who cannot stand in opposition.
Ever since his inauguration, Trump has professed to mass deport those hard-working undocumented immigrants he deems dangerous, ban asylum-seeking refugees from our care, and refuse visas to those with 'anti-American' religious beliefs. Trump's plan to do so has resulted in the institution of policies like the travel ban, the "Zero Tolerance" policy, and the repeal of Temporary Protection Status for much of Central America.
His widely disputed executive order, "Protecting the Nation from Terrorist Attacks by Foreign Nationals" (more commonly known as the travel ban) sought to curb the number of Muslim immigrants entering the country by banning immigrants from seven predominantly Muslim nations. Signed on January 27th, 2017, it banned over 218 million people from Iran, Iraq, Libya, Somalia, Sudan, Syria and Yemen for six months. Under the guise of preventing a national security risk, the U.S. is specifically targeting Muslims as scapegoat for terrorism–even as the administration denies such an intent.
Not only is the travel ban's hidden allegation absolutely discriminatory, it completely violates various rights covenants America entered long ago. For instance, the targeting of Muslim nations infringes on the right to freedom of persecution on account of religion, as stated in the UNDHR. Moreover, the travel ban infringes on various refugee clauses established by the international community. It has rejected over 50,000 planned asylum-seeking refugees from Syria and Iraq, among other Muslim-predominant countries. These refugees have been forced to emigrate back to their home countries and to the series of domestic, gang, and civil violence that threatened them to seek asylum in the first place. As the Office of the High Commissioner of the U.N. concludes, the U.S. has violated it international obligations "to provide protection for those fleeing persecution and conflicts." This disregard for human rights marks a trend in Trump's immigration 'reform.'
Trump's "Zero Tolerance" policy took the immigration ban to a whole new level. On April 6, 2018, Immigration and Customs patrols received a surprising memo: they were to show "zero tolerance" to all immigrants attempting to enter along the southwest border. In the first stage of the policy's enactment, Customs and Border Protection jailed adult refugees and tossed the children behind containment fences. Even from the beginning, the practice violated the International Covenant on Civil and Political Rights of 1992, which states that a detained person must be treated with "the inherent dignity of the human person." The act of family separation had a great psychological consequence on children. By May, the policy had coldly and swiftly tore 2, 342 children from their parents. The effects of family separation were traumatic. According to the American Academy of Pediatrics, for children abruptly snatched from their caretakers, the dismal, cold treatment they received was traumatizing. "Zero Tolerance" not only broke the covenant; it violated thousands of children, who may never fully recover from the swift invasion on their civil liberty.
Even when the administration reversed its "zero tolerance" policy to allow whole family detainment, it still infringed on the basic human rights to provide fair treatment toward detainees and aid toward refugees. Among the 300,000 thousand detained and deported by Trump's policy, 40,000 were asylum-seekers fleeing from abuse and war in their homelands. According to the Convention Relating to the Status of Refugees and the Protocol Relating to the Status of Refugees (1968), the U.S. cannot refuse refugees immigrating illegally if they are asylum-seekers. Thus, according to Business Insider, "When the US government prosecutes or imprisons these asylum-seekers, it violates the rights protected in the two treaties." By rejecting them, America has forced those refugees to return to the debilitating, human rights-violating conditions of their past.
Back on the home front, the government committed another breach when it began mobilizing ICE patrols and Customs and Immigration to mass deport Latin American refugees living in America. Having repealed Temporary Protection Status (TPS) for Nicaraguan refugees in November 2017, the government quickly began rounding them up. Having been protected by the status for the entire 19 years of the TPS program's duration, many Nicaraguans had roots in America: families, homes, and jobs they had to leave behind. Over the course of the following year, the administration expanded this policy to include other Central American refugees. On November 20, Trump repealed TPS for Haitians. On January 8, the same was done to the Salvadorans. Months later, the Nepalese and Hondurans followed the same fate. At the end, the U.S. had stripped away the legal protection of more than 300,000 Central Americans. The neglect for human rights left many, but not enough, stunned.
Although many organizations and businesses have forced Trump to repeal many of his major decisions, Trump has repeatedly responded with watered-down versions of the same policies. Americans, by-and-large, have come to accept the government's infringement on human rights. They elect politicians and public service officials who have themselves violated and buy into Trump's scapegoating rhetoric to paint immigrants as national security threats. In June 2018, Trump tweeted this scapegoating message: "We cannot allow all of these people to invade our Country. When somebody comes in, we must immediately, with no Judges or Court Cases, bring them back from where they came." Despite the numerous studies illustrating that immigrants actually commit less crime, on average, than American natives, Trump's rhetoric still resonates with much of America. In order to truly stop the human rights abuses plaguing America, we must work harder to inform the American people of these abuses.
In the past, human rights organizations have targeted specific policies in attempt to reverse the violation. But such a method is like trying to stop a massive leak by patching up all the little holes in a bucket. No matter how many holes you patch up, the water will find another way to leak out. The only solution to completely reverse the human rights abuses is by removing the bucket entirely. It is by mobilizing the entire American populace behind human rights and elected officials willing to support them. It is by encouraging Americans to realize that immigration is not the problem. As Yale law professor Samuel Moyn concludes, "Human rights depend on majority support if they are to be taken seriously. A failure to back a broader politics of fairness is doubly risky. It leaves rights groups standing for principles they cannot see through. And it leaves majorities open to persuasion by troubling forces." Even though U.S. natives are not affected by these anti-immigration policies, they still matter and if we fail to support the oppressed, we are letting transgressors walk free. If we fail to recognize human rights in government policies, the great wall dividing us from a better America will be permanent. We, along with the rest of the free world, will pay the price.
Works Cited
Conversation, The. "Trump's 'Zero-Tolerance' Immigration Policy Still Violates Fundamental Human Rights Laws." Business Insider, Business Insider, 30 June 2018, www.businessinsider.com/trumps-zero-tolerance-immigration-policy-violates-human-rights-laws-2018-6
Domonoske, Camila, and Richard Gonzales. "What We Know: Family Separation And 'Zero Tolerance' At The Border." NPR, NPR, 19 June 2018, www.npr.org/2018/06/19/621065383/what-we-know-family-separation-and-zero-tolerance-at-the-border.
Moyn, Samuel. "How the Human Rights Movement Failed." The New York Times, The New York Times, 23 Apr. 2018, www.nytimes.com/2018/04/23/opinion/human-rights-movement-failed.html.
Rieger, JM. "Trump Wants to Limit Immigration. He's Scapegoating Immigrants in the Process." The Washington Post, WP Company, 26 June 2018, www.washingtonpost.com/news/the-fix/wp/2018/06/26/trump-wants-to-limit-immigration-hes-scapegoating-immigrants-in-the-process/?utm_term=.ab7d44ff62ee.
"The Consequences of Stripping Temporary Protected Status." Georgetown Public Policy Review, www.gpprspring.com/new-index-1/#the-economic-and-social-consequences-of-stripping-temporary-protected-status.
Trump, Donald J. "We Cannot Allow All of These People to Invade Our Country. When Somebody Comes in, We Must Immediately, with No Judges or Court Cases, Bring Them Back from Where They Came. Our System Is a Mockery to Good Immigration Policy and Law and Order. Most Children Come without Parents…" Twitter, Twitter, 24 June 2018, twitter.com/realDonaldTrump/status/1010900865602019329.
"Trump Administration Civil and Human Rights Rollbacks." The Leadership Conference on Civil and Human Rights, civilrights.org/trump-rollbacks/.
"Universal Declaration of Human Rights." United Nations, United Nations, www.un.org/en/universal-declaration-human-rights/.
"Updated – Trump-O-Meter: Build a Wall, and Make Mexico Pay for It." @Politifact, 16 Jan. 2017, www.politifact.com/truth-o-meter/promises/trumpometer/promise/1397/build-wall-and-make-mexico-pay-it/
"US Travel Ban: 'New Policy Breaches Washington's Human Rights Obligations' – UN Experts." OHCHR | News Search, 1 Feb. 2017, ohchr.org/EN/NewsEvents/Pages/DisplayNews.aspx?NewsID=21136&LangID=E.
The Development of Human Rights
in the Czech Republic
​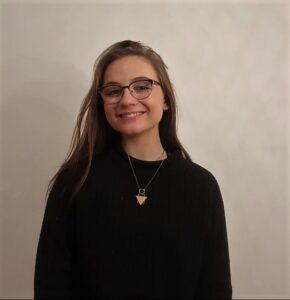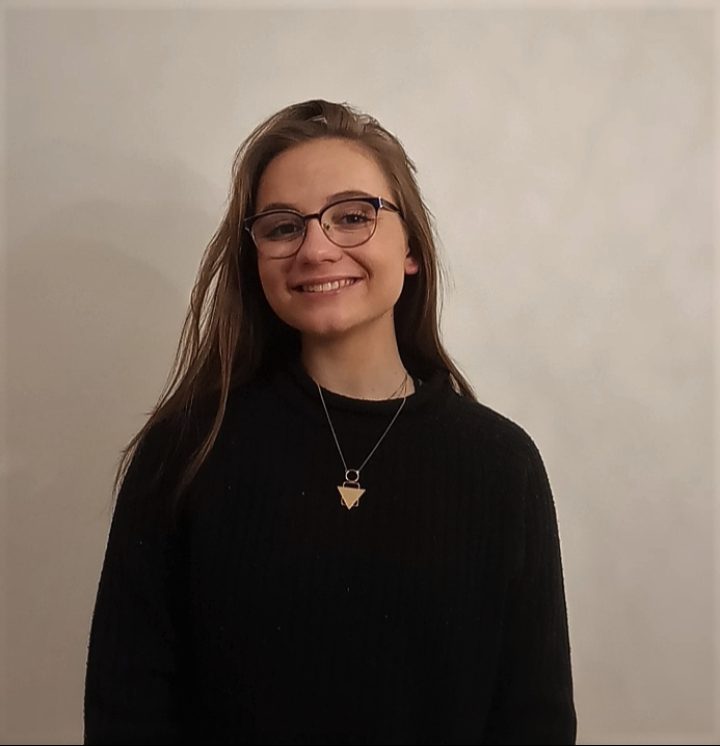 Kristýna Stříbrná ​
Honorable Mention Other than U.S.
Gymnázium Nad Álejí, Prague, Czech Republic​
On 10th December 1948, the Universal Declaration of Human Rights had been adopted. It set the fundamentals for further progression in human rights protection. It brought to the world the basic concepts of dignity, liberty and equality. These measures felt necessary to be enforced, because of the deep painful gashes the Second World War had left on everyone. Unpleasant experiences enrich us with knowledge which should be used in preventing such events to ever occur again. Our world has gone a long way since the Second World War, managed to bandage and heal most of its wounds. While those wounds are disappearing, the traumatic experiences are being forgotten as well. We always have to keep reminding ourselves what lead us to the life and opportunities we have today. The year 2018 is celebrating the 70th anniversary of the Universal Declaration of Human Rights adoption. For me, it's also a celebration of every one of us, of the possibilities we have today and the life we are able to lead. And so, it's in the interest of every individual to monitor the current political situation and its attitude towards human rights.
The main concerns faced in the Czech Republic regarding human rights are the Roma minority, the LGBTQ community and the refugee crisis.
The situation of the Roma minority is one of the most urgent questions in the Czech society. A half of Roma currently living in the Czech Republic find themselves in a situation of social exclusion (Úřad vlády České republiky(1) 6). Social exclusion results in poor education, long-term unemployment and poverty, alongside constant prejudice, discrimination and racism. The Czech government is aware of this huge problem and in 2014 authorized the Strategy of Roma Integration for years 2015-2020. Its goal it to decline the negative trend in the development of Roma situation to 2020. It focuses on areas such as education, employment, housing and generally social attitude towards Roma people.
The public employment service does not register work applicants based on their ethnicity, therefore, we can only estimate the number of unemployed Roma. However, having lived in this country, everyone surely notices that the situation is not very favourable. The Roma are a minority most jeopardized regarding employment (Úřad vlády České republiky(1) 34). When applying for their jobs, they often have to face racism and xenophobia which creates a lower chance for admission. In the Strategy of Roma Integration, the Czech government set a few specific goals to decline this negative trend. Firstly, it is the classification of individual jeopardized with racial discrimination as the targeting group within the Active Labour Market Policy. Active Labour Market Policy is endeavoring to reduce unemployment rates by an active use of instruments such as community work, requalification or various financial aids. It provides the applicants with jobs financially supported by state that vary from cleaning public areas to auxiliary tasks for charity, social or cultural institutions either in education. This categorization is up to the applicant – it is a choice of the individual if he categorizes himself as a person that confronts with racial discrimination. This implementation results in a higher employment rate, it prevents the loss of work habits and directs finances into poverty-stricken communities (Úřad vlády České republiky (2) 12).
Another problem that kept Roma people unmotivated to find a stable work position was the ratio of social benefits and a minimum wage. They reckoned that receiving social benefits is satisfactory enough for basic needs, thus, getting a job was not all that efficient (Úřad vlády České republiky (3) 19). The government solved this issue by increasing minimum wage by 3700 crowns (163USD) over the recent five years (Mpsv.cz).
A new position of social workers was also introduced. Their job is to walk around local districts and offer free services. Social workers can help individuals with paying taxes, submissions for social benefits or inform them about the rights and duties assured by the Czech citizenship (Navrátil 204). The Roma people often do not have a basic financial literacy or a general knowledge of their entitlements. By giving them a helping hand, we can navigate them towards much easier integration.
Issues regarding education consists of an educational gap between Roma and the majority, segregation of Roma children within the educational system and a low engagement in preschool education (Úřad vlády České republiky(5) 42).
Preschools help children create a habit of regular attendance. If such habits are not set up in an early age, it creates much more problematic further education (Úřad vlády České republiky(5) 42). Social workers were installed to inform Roma parents about the possibilities and advantages of enrolling their child into preschools, they are also meant to build trust between families and schools. If a bond is made, children have higher chances to successfully complete their education (Úřad vlády České republiky(5) 45).
Amnesty International is regularly pointing out the amount of Roma children in practical schools (Amnesty International 143). Practical schools are designed for developmentally disabled pupils that cannot keep up with mainstream education. Such segregation is a long-term problem in the Czech Republic. Being a minority group, Roma children still make up to 30,9% of pupils in practical schools. (Úřad vlády České republiky(4) 7). The Strategy of Roma Integration tries combating this issue and ensure a system of equal education. The endeavor resides in educating teachers and school administrators about multiculturalism and the importance and demands of successful Roma integration into schools and preschools (Úřad vlády České republiky(5) 45). The goal is for teachers to understand Roma culture and customs. As a result, they can use the right approaches in their school tuition and, consequently, avoid Roma segregation. Unfortunately, the numbers are declining very slowly, and politicians still have not come up with an effective solution.
Good education is a milestone for a functioning society, and it should be in the centre of our focus. If we provide a quality education to those in need, we can break the cycle of poverty. Good education leads to higher chances of getting a well-paid job. A financially supported individual can create better environment for their children and provide them with better education (Úřad vlády České republiky(6) 34).
Roma families often live in socially excluded areas called ghettos (Čada 9). They are staying in small flats that are in really bad conditions, isolated from the rest of the society. They became alienated and unable to successfully integrate. Their children copy the same patterns of behavior as their parents, which in those excluded areas often consists of criminality, drug use and a loss of work habits. The main cause of this problem is discrimination coming from landlords, often based solely on prejudice. This big part of the issue is being slightly neglected. The government only introduces new sets of various social benefits for the disadvantaged. It also tried to install a new annual analysis that tracks and evaluates barriers and discrimination factors that prevent Roma from the access to housing. Sadly, this analysis have not been done in any of the previous years (Úřad vlády České republiky(4) 15).
The housing situation concerning Roma people is not being improved, actually, a few months ago – the local elections were proceeding, a political party striving to be elected in a town called Most had used a strong pejorative rhetoric in their posters. "We will establish a village for the rabble," the slogan claimed (Vokurka). Every Most's inhabitant knew that they were referring to Roma. Situations like this happen often in the Czech Republic resulting in currently 600 ghettos all over the country (Čada 11). The exclusion of minorities is not going to resolve the problem. We need to stop turning a blind eye and start coming up with effective long-lasting solutions.
In conclusion, the Czech Republic is at least aware of the situation and is recognizing its negative aspects. The government regularly tries to invent and implement new solutions. This endeavor does not work like some magic pill that gives out quick results. But still, small improvements are recognizable in the reports government is annually conducting. However, its efforts could be unquestionable amplified and some of the settled targets less neglected.
Another minority present in the Czech society are homosexuals. According to a study conducted by Jaroslav Flegr, 10% of the participants labeled themselves with such orientation (Flegr 1). The Czech Republic categorizes itself as one of the most liberal countries in Europe regarding homosexuality. However, there are still many blank spaces that need to be infilled by progress. A progress towards society composed of individuals equal in their rights and dignities. Homosexual marriage is not yet legal under the Czech law. The closest compensation our government authorized in 2006, is registered partnership. This form of coexistence is depriving partners of the right to mutual child adoption and the right to apply family law. It creates many financial grievances as well – matrimonial property and the right to widower's/widow's pension is not covered under registered partnership.
The most common argument people opposing the enshrinement make is that upbringing by homosexual partners is having negative influence upon the child. In 2005, the American Psychological Association released a study called Lesbian and Gay Parenting. There they came to conclusion that homosexual parenting is not having negative impact on children and is comparative to heterosexual parenting (APA 7). Ironically, putting off such enshrinement is being unfavourable mostly towards children. When partners split, the child is not possessing any rights for alimony. If an adoptive parent dies, his partner cannot enforce any possession of rights applying to the child. Around 1000 children are currently living in Czech "rainbow families" and therefore are endangered with such risks..
If the state imposes the same responsibilities on every citizen (paying taxes, obeying the law, staying loyal to the country etc.), should it not also be ensuring everyone the same rights? Moreover, homosexuals would receive this legalization as a symbol bringing an ultimate acceptance by society, delivering them their natural dignity.
Luckily, homosexual marriage is now a hot topic in the Czech Chamber of Deputies. A campaign called Jsme fér (translated – We are fair), founded in April 2017, is endeavouring to make homosexual marriage legal under the Czech law. In February 2018, Jsme fér collected 68 000 signatures on a petition that calls for homosexual marriage legalization. On this basis, the Chamber of Deputies is currently in process of discussing a change in the civil code that will e able legal marriage for everyone.
Having lived in the Czech Republic my whole life, I noticed people becoming more open-minded and socially aware – especially among the younger generation. For example, in the capital city – Prague – a parade called Prague Pride is taking place every year since 2011. Its intention is to empower homosexuality, bisexuality and transgenders. The estimated presence is 40 000 people and the number is growing annually. I strongly believe that the acceptance towards all kinds of love will grow simultaneously – within the Czech society, within the world.
Addressing acceptance – 68,5 million people have been forcibly displaced worldwide since 2015 (Unrefugees.org). Many problems concerning acceptance by the rest of the society has arisen alongside waves of agitation. In May 2015, the European Commission proposed the EU Relocation Scheme containing: "A series of immediate actions to address the unprecedented influx of migrants on the EU's southern borders, and the large number of tragic deaths of people attempting to cross the Mediterranean irregularly" (Keller). The Czech Republic was asked to fulfill a quota of 2,691 relocation submissions. Ironically, a progress report published in June 2017 states that the Czech Republic had accepted solely 12 people (European Commission). In September 2018, the Czech prime minister announced a refusion of a proposal for accepting 50 Syrian orphans into the country. Arguing that the Czech Republic had demonstrated its solidarity in other meaningful ways (various financial and material aids) and has its own orphans to worry about (Kenety). Most recently The Global Pact for Migration was refused as well. A successful resettling cannot occur if the countries involved will not find ways how to effectively cooperate.
In an opinion poll conducted in 2016 -64% of Czech citizens are against the refugee influx (Centrum pro výzkum veřejného mínění). The general atmosphere among the public is not changing. An organization Islám v České Republice nechceme (translated – We do not want Islam in the Czech Republic) is holding many anti-refugee demonstrations and hundreds of people are participating every year. Similarly, the Czech president – Miloš Zeman – is often caught using anti-refugee rhetoric, calling the refugee crisis an "organized invasion on Europe" (Khan).
For the refugees trying to pass through the Czech Republic and resettle in further European countries, the detention centers are neither in good conditions. They are missing basic necessities such as warm clothes or proper footwear. They are overcrowded and a space for sleep is difficult to find. A Czech ombudsman, Anna Šabatová, once proclaimed that the detention center's conditions are often worse than those is prisons. However, there has been made some progress since – new centers were opened to prevent the overcrowding. More interpreters, social workers and new activities for children were installed.
Not offering a such needed aid to those in need, those who are trying to escape violence and unnecessary bloodshed, is inhuman and shameful for the whole country. We, as Czech citizens, need more tolerance training and politicians that embody those values. These measures would lead to the maintenance of bonds of cooperation and respect between all countries and its citizens. Until then, this remains an example of our isolation and a stride towards unnecessary relapsing.
The Czech society can be quite ignorant in some spheres of its national policy. It got accustomed to moving problems aside instead of initiating action. That shows In Roma communities being excluded to ghettos, not accepting refugees to stay in our country and many more. Why is the LGBT situation improving much quicker? Well, homosexuals are already present in our society today. They are in people's friend circles, a family member, a co-worker. People want their friends to have the same rights as them. Being a refugee is more complicated. A refugee cannot go and meet Czechs, he cannot go and explain them the situation in which he had found himself in, how he feels about it and why is it so important for him to leave his country. A Roma will not explain to you that he is being aggressive because he was bullied throughout his education. We have to be the ones to do it for them.
SOURCES:
Zpráva o stavu romské menšiny v České republice za rok 2017. Oddělení kanceláře Rady vlády pro záležitosti romské menšiny a sekretariátu Rady vlády pro národnostní menšiny, Úřad vlády České republiky, 2018, https://www.vlada.cz/assets/ppov/zalezitosti-romske-komunity/dokumenty/Zprava-o-stavu-romske-mensiny-2017.pdf. 12/10/2018.
Informace o naplňování Strategie romské integrace do roku 2020 v roce 2016. Oddělení kanceláře Rady vlády pro záležitosti romské menšiny a sekretariátu Rady vlády pro národnostní menšiny, Úřad vlády České republiky, 2017, https://www.vlada.cz/assets/ppov/zalezitosti-romske-komunity/dokumenty/Informace-o-naplnovani-Strategie_1.pdf. 12/10/2018
Informace o naplňování dekády romské inkluze 2005-2015 v roce 2014. Oddělení kanceláře Rady vlády ČR pro záležitosti romské menšiny a sekretariátu Rady vlády pro národnostní menšiny, Úřad vlády České republiky, 2015, https://www.vlada.cz/assets/ppov/zalezitosti-romske-komunity/dokumenty/Informace-o-naplnovani-Dekady-2014.pdf. 12/10/2018
Informace o naplňování Strategie romské integrace do roku 2020 v roce 2017. Odbor lidských práv a ochrany menšin Úřadu vlády, Kancelář Rady vlády pro záležitosti romské menšiny, Úřad vlády České republiky, 2016, https://www.vlada.cz/assets/ppov/zalezitosti-romske-komunity/dokumenty/Informace-o-naplnovani-Strategie-romske-integrace.pdf. 12/10/2018.
Strategie romské integrace do roku 2020. Odbor lidských práv a ochrany menšin Úřadu vlády, Kancelář Rady vlády pro záležitosti romské menšiny, Úřad vlády České republiky, 2015, https://www.vlada.cz/assets/ppov/zalezitosti-romske-komunity/Strategie-romske-integrace-do-roku-2020.pdf. 12/10/2018.
Strategie politiky zaměstnanosti do roku 2020. Ministerstvo práce a sociálních věcí, Úřad vlády České Republiky, 2015, https://portal.mpsv.cz/sz/politikazamest/strateg_zam_2020/strategiepz2020.pdf. 12/10/2018.
Strategie politiky zaměstnanosti do roku 2020. Ministerstvo práce a sociálních věcí, Úřad vlády České Republiky, 2015, https://portal.mpsv.cz/sz/politikazamest/strateg_zam_2020/strategiepz2020.pdf. 12/10/2018.
Čada, Karel. Analýza sociálně( vyloučených lokalit v ČR. Praha: GAC spol. s r. o., 2015.
Vokurka, Martin. "Tvůrci nápadu postavit za Mostem vesnici pro lůzu čelí kritice kvůli bytům." Mostecký deník.cz. 9/20/2018. Mostecky.denik.cz 12/10/2018.
USA for UNHCR. "Refugee statistics." USA for UNHCR. 2018. Unrefugees.org. 12/10/2018.
Keller, Ska. "1st Emergency Relocation Scheme." Legislative Train Schedule towards a new policy on migration. 2018.12/10/2018
EU EMERGENCY RELOCATION MECHANISM As of 27 September 2017. European Commission, UNHCR, 9/28/2017, https://reliefweb.int/sites/reliefweb.int/files/resources/EU%20Emergency%20Relocation%20Mechanism%20as%20of%20%2027%20September%202017.pdf. 12/10/2018.
Lesbian and Gay Parenting. Committee on Lesbian, Gay, and Bisexual Concerns, Committee on Children, Youth, and Families, Committee on Women in Psychology, American Psychological Association, 2005, https://www.apa.org/pi/lgbt/resources/parenting-full.pdf. 12/10/2018.
Kenety, Brian. "PM Andrej Babiš: "Why should we be caring for Syrian orphans?"." Radio Praha in English. 9/17/2018. Radio.cz. 12/10/2018.
Tisková zpráva: Postoj české veřejnosti k přijímání uprchlíků – prosinec 2016. Sociologický ústav AV ČR, Centrum pro výzkum veřejného mínění, 1/13/2016, https://cvvm.soc.cas.cz/media/com_form2content/documents/c2/a2144/f9/pm170113.pdf. 12/10/2018.
Khan, Shebab. . "Refugees coming into Europe an "organized invasion", says Czech president Milos Zeman." Independent. 12/27/2015. Independent.co.uk. 12/10/2018.
Dominance, submissivity (and homosexuality) in general population. Testing of evolutionary hypothesis of sadomasochism by internet-trap-method. 27, Department of Anthropology and Human Genetics, Faculty of Science, 1/6/2006, http://www.flegr.com/wp-content/uploads/2017/05/domsubm.pdf. 12/10/2018.
Amnesty International report 2017/18: The state of world´s human rights. Amnesty International, 2018, https://www.amnesty.org/download/Documents/POL1067002018ENGLISH.PDF. 12/10/2018.
Pakistan and Human Rights;​
A Turbulent Journey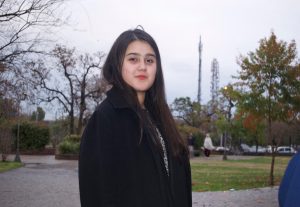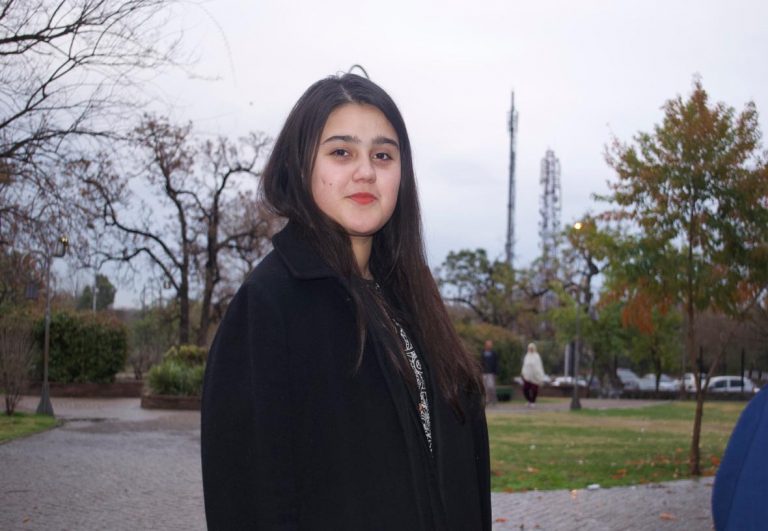 Momina Imran Abbasi
Honorable Mention Other than U.S.
Grade Level 03, Beaconhouse School System, Margalla Campus, Islamabad, Pakistan
On December 10, 2018 the adoption of the Universal Declaration of Human Rights will mark its 70th anniversary. As a goal for the world's governments and societies to reach, the UDHR is just about the best we have. However, to be truly impactful, the UDHR must be accompanied by easily measurable milestones for progress (the Millennium Development Goals as well as the Sustainable Development Goals serve this purpose), and most importantly, governments need to prioritize efforts to live up to the spirit and letter of the UDHR. I believe that the United Nations has done it's part, and now the responsibility lies with the nation states to do their part.
As a Pakistani citizen, my main focus is of course the Pakistani government, but before I get to Pakistan, I cannot help but point an accusing finger at the world's superpowers, primarily The United States of America, The People's Republic of China and Russia, who are all extremely poor role models for younger nations, since they have little regard for civil rights, rule of law and basic human rights. The US has somewhat acceptable standards domestically, while being veritable war criminals abroad, while Russia and China are lacking domestically but behave somewhat well in the international arena. Ultimately none of the current superpowers set a good standard, and this has many consequences, not only do they have a hard time critiquing other countries without coming off as completely hypocritical and false, they also set a very low standard for the regimes they cooperate with (the best example is of course the US, which has no issues working with regimes like Saudi Arabia and Israel – and even actively promotes and defends them – all the while fighting and undermining countries who have better human rights records (but are not allies militarily)), and that has the very unfortunate consequence of signaling that the West doesn't really care about human rights, it is simply a geopolitical tool, that is used whenever it is convenient, and that therefore, the only thing necessary to be part of the global community is to be a good (military) ally to the West and they will forgive all human rights abuses. Ultimately, this attitude has led to global stagnation in the move towards more and better human rights for the people of this world.
Alright, now with the context in order, let's return to Pakistan. Pakistan is a young developing country with a past full of turbulent events. Clearly the standard for Pakistan is different than the standard for older European democracies for example. Instead of looking at Pakistan in absolute terms, I'll be considering if Pakistan is progressing in terms of the UDHR or regressing.
The UDHR has 30 articles, of which article 1 has a very general character, and article 30 has a somewhat technical character, so the articles I'll be considering will be 2-29.
Article 2 – freedom and equal rights without distinction/discrimination of any kind. Two groups come to mind who have been, historically speaking, discriminated against in Pakistan, one group being LGBT people and the other group being the Ahmadis.
LGBT individuals have in recent years, seen positive change. For transgender people, the change has been fairly concrete, the most recent example being the Transgender Persons (Protection of Rights) Act, which parliament passed in 2018. For LGB people, the changes haven't been so much at the governmental level, but society's attitude is clearly shifting, and acceptance is growing, especially at the higher social classes.
Ahmadis on the other hand, haven't seen their situation improve unfortunately. Even looking past the many horrendous attacks against the community's members and their religious sites (that always go unpunished), their legal situation has also only deteriorated for the past many years (particularly since Zia-ul-Haq's Islamization of Pakistan in the 70s and 80s). One specific example that must be mentioned is the constitutional amendment of 1974 (the second amendment to the constitution of Pakistan) which was directly targeted at the Ahmadis to define them as non-Muslims.
As a final note on article 2 and Pakistan, it is worth mentioning, that the constitution of Pakistan generally creates a distinction between "Muslims" and "Non-Muslims", and grants Muslims special status, this in and of itself goes against article 2.
Article 3 – Right to life, liberty and security of person. The issue of forced disappearances is relevant to mention here. Even though this tool of government abduction has undoubtedly been used in Pakistan's earlier history, it became an institution during the rule of military dictator General Pervez Musharraf (as part of the "War on Terror") and has continued since then.
Article 5 – Protection from subjection to torture or to cruel, inhuman or degrading treatment or punishment. There are numerous reports on abuse and torture in Pakistani prisons. Furthermore, the issue has only escalated after the "War on Terror" lead to cooperation with other torturing nations such as the United States of America (the case of Muhammad Saad Iqbal held at Guantanamo Bay comes to mind).
Article 9 – Protection from arbitrary arrest, detention or exile. In 2014 the "Protection of Pakistan" Bill was passed which (among many other things) allows for indefinite detention of suspected terrorists. Fortunately, this bill has lapsed, and it seems that, for the moment, there is no indication of a similar bill being passed.
Article 10 – Entitlement to a fair and public hearing by an independent and impartial tribunal, in the determination of rights, obligations and of any criminal charges. Following the Peshawar school attack in December 2014, the Twenty-first Amendment to the Constitution of Pakistan was passed which allows for the establishment of speedy military court trials for terrorism suspects. The clause was set to expire in January 2017 but has been extended for another two years.
These secret military courts try civilians behind closed doors and have no obligation to release any details to the public.
Article 15 – Right to a nationality. Ahmadis cannot apply for a passport or a National Identity Card without agreeing to the following statement "I consider Mirza Ghulam Ahmad an impostor prophet. And also consider his followers, whether belonging to the Lahori or Qadiani group, to be non-Muslims." which effectively means renouncing their faith.
Article 18 – Right to freedom of thought, conscience and religion; this right includes freedom to change his religion or belief, and freedom, either alone or in community with others and in public or private, to manifest his religion or belief in teaching, practice, worship and observance. In 1984 "Ordinance XX" led to the prohibition of Ahmadis expressing their religion in any public manner (this includes giving their children Muslim names, and even includes a prohibition on using the standard Muslim greeting, something which not even non-Muslims are prohibited from doing).
Article 19 – Right to freedom of opinion and expression. Pakistan's blasphemy laws are in their essence understandable, but in practice they are extremely open to interpretation and abuse, to make matters worse even the allegation of blasphemy can be a death sentence in practise, as many people have been murdered before ever having their case decided in court. Recently the case of Asia Bibi has further shown that even when someone is acquitted by the supreme court, after 9 years in jail, they are still not free, as Asia Bibi is currently prohibited from leaving Pakistan.
Article 21 – Right to take part in the government. Right to equal access to public service. Non-Muslims are not allowed to become President or Prime Minister and are barred from the Federal Shariat Court that technically has the power to annul laws that the court deems are not in accordance with Islam.
Article 25 – Right to a standard of living adequate for health and well-being. According to data from The World Bank, poverty in Pakistan has steadily been falling since 2001 and is currently at the lowest it has ever been. The same positive trend can be seen with total life expectancy which is also higher than ever before.
Article 26 – Right to education. UNESCO data from 2016 shows us that primary school enrollment is at 97.71 %. This number is a bit below most western societies. However, if we look just slightly beyond this statistic and look at how many students actually complete their primary school education, only 71.35 % do so (UNESCO data from 2016). So even though education is available (one can question the quality of the public education system, the physical standard of education centers, the infrastructure, facilities or incentive structures to allow for proper education, but that is outside the scope of this essay) there are issues that muddy the good impression a bit.
Alright, time to sum up a bit; it is clear that the "material" development of Pakistan is going all right (all things considered). The main issues that Pakistan faces are clearly religious extremism (supported by a constitution that creates unequal citizens) and lack of civil rights. There are some very small victories (as mentioned under Article 9) but the overall trend definitely points to increasing authoritarianism.
To tie things back to the beginning, both of these issues are mainly caused by outside forces; the influence of the Saudi regime since the 70s and the subsequent establishment of wahhabi madrassas by the same forces, has resulted in a Pakistan today that is split between an extremely vocal and violent minority of ultra-religious fanatics, opposed by a mostly moderate and quiet majority. The other issue (lack of civil rights) is almost always tied to the "War on Terror", which of course was brought to Pakistan (in its official form) by Pakistan's cooperation with the United States.
As I reach the conclusion of this essay, the question of "what can be done to remedy the situation?" remains, and this question is very hard for me, because honestly, I'm not sure. Often as a Pakistani, you feel as though you are a pawn between superpowers, and what you have to say and the direction you want to go, is only really secondary to what the global superpowers want. But still, I do have faith in the Pakistani people. And my faith in Pakistan has only increased since the last elections, not because I have unrealistic hopes for our new government, but because the fact that an entirely new party came to power shows that the Pakistani people want change, and that they have not given up on the system, they are still willing to work towards change through established democratic channels, even as those channels have been shown to fail them again and again. Ultimately the Pakistani people still believe in democracy, and the parties they voted for were not the parties of religious fanatics, or pseudo-fascists, they were progressive parties. This is cause for hope, and when the whole world seems to slowly be descending into fascism, it's nice to see that at least Pakistan has not given in (yet).
The Relapsing Human Rights
Situation in Uganda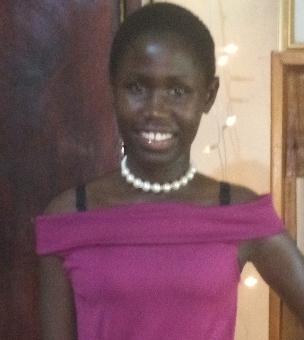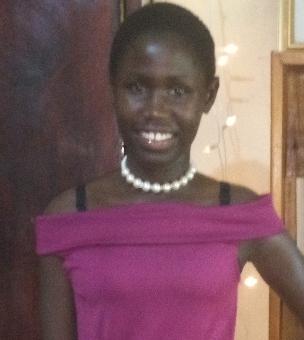 Anzoa Diana Desiderius
Special Recognition Other than U.S.
11th grade, St. Cyprian High School. Naggalama, Uganda,
Despite the Universal Declaration of Human Rights by the United Nations General Assembly on the 10th of December 1948, "after decades of gains, nearly every country seems to be backsliding," as Samuel Moyn wrote in The Last Utopia.
Foremost, I would define the two key terms "human rights" and "backsliding". What are human rights? Wikipedia defines human rights as moral principles or norms that describe certain standards of human behavior and are regularly protected as natural and legal rights in national and international laws. Then what is backsliding? According to the Oxford Advanced Learner's Dictionary, backsliding is a situation when somebody fails to do something that they decided to do and returns to their former behavior. In this particular situation, backsliding refers to the situation when countries have failed to adhere to the thirty (30) Universal Human Rights that were declared by the United Nations General Assembly and are now returning to their former bad conducts of human rights abuses.
Given the above background, in my view Uganda, one of the UN member countries is among the countries that is backsliding on the human rights issues. My country has been backsliding in various ways in political, education, health, social and other sectors. Despite the establishment of Uganda Human Rights Commission some years ago and more recently, the Parliamentary Committee on Human Rights, the current state of affairs in Uganda is far from upholding the human rights treaty. The current political happenings in the country like questionable arrests of political leaders, especially in the opposition, and broad daylight arrests of suspected civilians by gun wielding plain clothes operatives. Freedom of association and meetings are often disrupted by the police because they are accused of rebelling against the authorities. Obviously, these happenings were not conjured out of thin air, but there are certain factors that triggered them and continue to support them. The police and government agencies continue to mercilessly burst any gathering and meetings under the guise of enforcing public order management act.
Discrimination and gender inequality are some of the leading causes of violation of human rights against women, children and disabled persons. In African societies it is believed that men are superior to the women who are termed as inferior sex. In spite of the efforts to discard that belief, most societies still adhere to that cliché. Africa Renewal published an article, "Violence against women unabated despite laws and policies" by Stephen Ssenkaaba. It explicitly brings out the impact of gender inequality thus the gender-based violence and sexual abuse. Further, children should submit to elders' decisions without questioning is a common occurrence and similarly the persons with disabilities are not given many opportunities either because of the barbaric saying, "disability is inability." These violate the rights of such categories to equality and discriminate them from freely associating.
"Corruption is Uganda's ticking time bomb," Paul Busharizi wrote in the New Vision of 15th September 2007. Corruption is a fast spreading disease in Uganda's system. Ministers and other technocrats in charge of projects end up squandering money for public services like health and education for their own selfish interests. For instance, The Observer of January 18, 2013, published an article by Edgar Agumya describing how Hon. Mike Mukula, former Minister of State for Health (General Duties) was found guilty for embezzling Shs. 210 million from Global Alliance Vaccine. Similarly, in 2013 Geoffrey Kazinda, former Principal Accountant in Prime Minister's office was found guilty of multitude corruption charges like forgery, unlawful possession of government stores, defrauding government of Shs. 316 million, illicit enrichment of Shs. 4.6 billion and finally, he was also guilty of 69 charges where he allegedly stole more than Shs.5.4 billion meant for post-war reconstruction in Northern Uganda and Karamoja (The New Vision, Daily Monitor and The Observer from 31st May 2017 to 17th October 2018). Due to these corrupt acts, citizens have been denied much needed health services, education services, good roads and other developments, thus violating the 25th and 26th human rights declarations, which clearly state a right to adequate standard of living and a right to education respectively.
Another leading cause of human rights violation in Uganda is citizens' ignorance of their rights as the highest percentage are unaware of their rights. Also, majority of Ugandans are ignorant about the 30 Human Rights declarations. For example, personally I didn't even know about the declaration of human rights until I was given the essay question and I had to search it on the internet to find out more about it. This means that if I had not got the question, I would still be unaware of my rights like the millions of Ugandans who have not been exposed. This is disadvantageous because one cannot know whether one's rights are being violated or who to report to in case of such violations, hence further violation of human rights. Unbelievable yet true, some women in rural areas even think it's justifiable for their husbands to physically punish them for doing wrong.
Traditional culture and beliefs also contribute to the violation of human rights. Many African countries are widely known because of the various cultures and beliefs like female genital mutilation, male circumcision, abandoning of twins for death, early marriages, female inferiority and the like. These are common occurrences in Uganda, and no one thinks it's strange but rather find them normal. Through the years, government and some religious organizations have tried to eliminate most of those abusive cultures, and they have succeeded in eliminating some of them like abandoning of twins, but female genital mutilations still persist in some tribes like Sebei. However, female inferiority is the belief that has had a diverse effect in Uganda. Despite the introduction of Universal Primary Education and Universal Secondary Education in Uganda, still some parents do not take their girl children to school. Yet the policies were set up to ensure education for all. Many parents neglect their daughters and prefer to prepare and marry them off at very tender age so as to benefit from. Female inferiority is also the leading cause of sexual abuse and gender-based violence. These all violate a right to equality and right to education.
Finally, there is Uganda's very own problem! The political leaders overstay in power and cause issues like changing constitutions to benefit the government in power. Just in 2016, Uganda had its presidential elections and the results were a great dismay to a number of citizens because the man who had ruled Uganda for 30 years had come back to power to rule for more years under uncertain winning. "Once you taste the throne, you never want to leave it", so the citizen came up with this quote referring to him. Relatedly, this year the president showed his colors by demonstrating how far he would go to keep in power by violating freedom of speech and association. When individuals like Honorable Kyagulanyi and Honorable Zaake came out to speak, they were accused falsely, arrested, tortured, imprisoned and refused treatment at first even when they were critically ill. The news about their torture went viral, which prompted the government to ease their stand, but there are thousand others like them who are imprisoned without trial.
When I see all these things happening and they are fast spreading in Uganda where the available laws seem not able to protect the people and the institutions/committees seem helpless either; I also see the people scared, intimidated, hopeless and powerless, even at my level, I know for sure there is something going wrong in my country. I then ask myself, shall we continue like this to let the human rights abuses continue? If not, then what can be done about it? Who can end these and their negative effects? Or even better, what can alter these negative effects to positive ones? After giving it a lot of thought, I believe the following ideas can provide some of the possible solutions to these problems in Uganda and in the world.
First and foremost, raising human rights awareness of the citizens. Why? Like I said in the sixth paragraph, ignorance of one's rights is one of the major causes of the violation of human rights. If one does not know his/her rights, then how will one know that one's rights are being violated? Or how will s/he know whom to report to? It really is essential for people to know their rights. There are many ways you can reach out to tell the people about their rights. In towns you could use the billboards. The children could be taught at schools and finally, the government could send delegates or establish special units in the districts to educate the rural population about their rights. This could make a great difference because then, women will know that it is not right for their husbands to harass or beat them. Children will also know that they have a right to education and ask questions.
Second point in line is law enforcement. Undoubtedly, quite a number of laws and institutions/committees have been put in place to protect human rights. Internationally, there are the 30 Human rights declared by the United Nations, and in Uganda there are the Uganda Human Rights Commission and the Parliamentary Committee on Human Rights among others. Fine, the laws and institutions have been put in place, but what are they doing for the betterment of the people? These laws should be taken seriously and enforced, and the relevant institutions need to be put back to action immediately. That is to arrest and punish those who defy the laws to serve as example for others who abuse people. Law enforcement is really needed because if a victim reports a problem and nothing is done about it, then there is no use for the laws and committees/institutions.
People whose rights are being abused should be able to open up about their experiences because if they do not, no one will know about them and nothing can be done to help them. In the end, they will keep on suffering and their ordeal will keep on spreading to other people until nothing can be done about it. So, opening up can also be a great deal of help to mending the damages.
Finally, when a doctor detects stage one cancer in one's body, the treatment starts with immediate effect for it to be effective before the cancer spreads. When the iron-smith is at work, he heats and strikes the iron when it is still hot. So, what I am trying to send is a wakeup call to our government to sober up and tackle the rampant human right abuses going on in the country before it is too late, i.e. before the damage cannot be mended. Like the saying goes, "Make hay when the sun shines."
In summary, Uganda's major problem is where laws are in place but not implemented and institutions are in place but are reduced to nothing by the state organs. In conclusion, there is no goodwill from the sitting government to enforce human rights and that's the reason the country is backsliding.
THE PROGRESS OF HUMAN RIGHTS IN ZIMBABWE.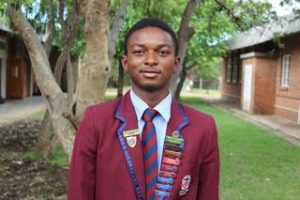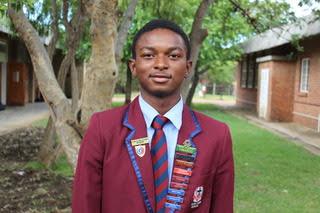 Takudzwanashe Adrian Bvurire​
Special Recognition Other than U.S.
A level, Petra College Senior, Ascot, Bulawayo, Zimbabwe​
"The UN Declaration of Human Rights outlines and promises all the economic, social, political, cultural and civic rights that underpin a life of want and fear", [under the UN declaration of human rights] and while progress has been made to this end, it seems that Zimbabwe takes two steps forward then one step back in some areas.
I could not, comprehensively, address all 30 articles of the UN declaration of human rights within the given limits of the essay, thus I shall instead choose to address the main issues within the national context and constitution of Zimbabwe as holistically as possible and thus draw up a supported conclusion, that, to a greater extent, Zimbabwe has been backsliding despite considerable efforts to prevent it. `
Within the context of Zimbabwe as a low income [and less economically developed] nation, the major groups of rights which have been or are being addressed are: –
Children's rights [educational and labour].
Women's rights [gender equality and violence].
Free speech and rights to freedom of expression.
Freedom to protest and demonstrate.
Life [security of person].
In terms of children's rights in Zimbabwe, a herculean effort has been embarked on by the state to promote children's rights, but specific focal points have been, Education and child labour. In terms of education, it is enshrined in the constitution [Amendment number 20 of 2013] section 19 (1) that the state must adopt policies and take initiative to ensure that children should receive free, mandatory and child-focused education. Obviously within a struggling economic situation such as the case in Zimbabwe where there is no solid currency and with most people, especially, in rural areas living on less than a dollar a day. It is difficult to provide free education [although it was free after independence from 1980 to the late 1990s from 2000-2008], but the government, despite this made efforts to assist the development of education with $1, 2-billion-dollar allocation in the national budget [the highest allocation in the budget].
There has been various initiatives and projects which have been embarked on such that children are still catered for despite the need for school fees [which is very low averaging of about $15 per term for schools in the rural and urban Masvingo area] such as the Education Transition fund which was organized by then Education Minister, Mr. David Coltart in conjunction with UNICEF to provide books and writing materials to over 5575 schools in Zimbabwe in 2010 and is expected to do the same in 2019. There is also the Feeding Schools scheme in various schools across the country which provides simple foods, grown in the school grounds or provided by the government, such as porridge to feed children from impoverished homes in schools at break times and lunch times.
As a result, Zimbabwe has a 99.6% enrolment in urban primary schools across the country and 96.8% enrolment in rural primary schools. Zimbabwe had the highest adult literacy rate in Africa in 2010 at 92% [though it now lies at 87% and is currently fifth place since 2014] due to the beneficiaries of such programs.
In other areas, children are also protected from child labour under section 19 (3) and various legislative measures are undertaken by the government to ensure this with various laws barring unfair and exploitative labour practices involving children. Although, as is the current status quo in a majority rurally populated Zimbabwe, some children assist in subsistence farming practices with their parents such as hoeing and needing.
There was also the Maintenance Act which was passed into law in recent years after 2013, which charges parents to look after their children when legitimate or illegitimate [in terms of whether or not they are conceived in wedlock] and this has made parents more accountable for their children and has increased the security of children born with fathers who did not take responsibility. Child marriages and abuses associated with them have been abolished with a high-level politician and businessman, Mr. Kereke receiving a fifteen-year jail term for molesting a twelve-year-old.
Thus, a lot of progress in terms of legislature and other initiatives have been made to protect and equip children in accordance with their rights, however, in some cases in a subsistence economy and a traditionally minded society in rural areas, this progress has been undermined.
Although child marriages have been outlawed the traditional cultures in some rural parts of Zimbabwe undermine the law and there are still isolated cases of children being married off to much older men. In other cases, some children are still having to walk several kilometers in isolated villages to schools which are not in close enough proximity for some students.
In terms of women's rights, a substantial amount of legislation has been implemented to promote, not only gender equity but also to discourage the social norms that often counteract against the laws. Section 56 (2) of the new constitution stipulates that women are to be treated fairly and equally in society.
The key areas in terms of development in gender equity are in terms of voting, ownership of property, inheritance and domestic violence. There have been land mark cases such as the new laws in section 23 by the constitution banning discrimination on the basis of gender which has, at least legislatively, on paper, advocated for their treatment of women within institutions. ''The Lancaster House constitution (the one preceding the 2013 constitution) … left a lot to be desired especially pertaining to women's rights" says an article published in the Herald on 2 November 2016, and rightly so, as women were not a focal point of legislation and societal reforms preceding the reform.
Many women had failed to be heard within marriages institutions due to the fact that culturally it is said that ''Chakapfukidza imba matenga'' in Shona tradition taken to mean that things that occur in the home are not to be disclosed. This belief promoted the silence that accompanist most domestic offences, but recently marital rape is prohibited within section 68 of the Criminal Law act which addressed not only the advocation for women's rights but also addressed societal and traditional worms that supersede the rights.
The domestic violence act of 2002 also prohibited many abusive and discriminatory practices within culture and tradition such as female genital mutilation, child marriages and forced marriages. Effectively criminalizing these acts made women more secure and protected as they now had the law and not only morality behind them in cases. A government legislator DR Munyaradzi Kereke (as I earlier mentioned) was actually convicted of raping a 12-year-old girl sentenced to and 15 years in jail with 3 years suspended (despite his considerable influence). This case reassured many Zimbabwean women of the reliability of the justice system within their context.
Women have also been emancipated from cultural restrictions in terms of property ownership and participation in politics. Women were actually among the majority of voters in the July 30 elections this year according to figures by the Zimbabwe Gender Commission and under the law at least 60 seats are reserved in Parliament for women. DR Joyce Mujuru, leading figure for women's rights in Zimbabwe, was Vice President of the country from 2004 to 2014. Inheritance laws have been passed which, though controversial, have enabled women to be part of the distribution of the estate of their parents even in rural areas. November is now officially recognized within Zimbabwe as a month of activism against gender-based violence and children are now taught in schools through NGOs to respect women and their rights.
It is evident that though much has been done legislatively for women and children, it is problematic that customary law and societal norms undermine these laws. The UN estimated that 23% of girls in Zimbabwe between 15 and 19 are married, widowed or divorced-which is a cause of extreme concern. If any more progress is to be made rural people must be educated concerning their rights and discriminatory customary laws must be abolished.
In fact, many women and children in rural areas today do not know their rights, or of provisions made for them by the constitution as opposed to be the urban population and it is these women along with those impoverished who often fall victim to abuse or child marriages. Even the practice of ''lobola''or to bride price effectively commodifies women and has discovered to precipitate domestic violence as men now feel they own their wives as they ''paid'' for them. Practices like this continue to occur despite several calls for their abolishment by women rights lawyers in the country.
In terms of rights to fundamental freedoms such as of expression and speech and political affiliation, the government has done much to ensure that the freedom of expression of the people is respected and maintained in terms of the constitution and there has been a marked improvement such as the protests against the protests against Robert Mugabe thus leading to his overthrowal after 38 years in power in 2017. Recent elections were not marked beforehand by violent acts, and state control of media through the Media and Information Commission has been loosened such that political topics can be discussed.
Recent elections were also allowed to be observed by international observers for the first time in 39 years. There were no indications of voter repression before the elections or reported incidences of pre-election violence which is a far cry from elections in years preceding 2017 such as 2008 when there were deaths of over a hundred and many more injured during and after the election period.
Even after the post-election killings of August 1 the president Mr. Emmerson Mnangagwa established the Kgalema Motlanthe commission to investigate the army and government's involvement in the matter, which heralds a different era from that of Robert Mugabe in which the government and its officials and institutions would not have been held accountable for the killings. The commission is yet to publish its final findings and it has been remarked on by prominent lawyer, Tendai Biti, that the commission was unconstitutional as it did not investigate his own conduct.
Yet even with this progress some say the change in power is superficial as it only indicates the switching of powers between hands in the same party and the main two of the repressive laws which underpinned the old regime are still in place, in fact the current president Mr. Mnangagwa drafted one of these with a colleague, John Nkomo. These two laws are the AIPPA (Access to Information and Protection of Privacy Act) and the POSA (Public Order and Security Act) which received widespread international and national criticism after they were passed into law in 2002. To fully understand their implication, they must be addressed briefly.
The AIPPA made provision for the state to violate the rights of freedom of expression and access to information of citizens. It had four key powers which were frowned upon by human rights activists globally especially the inter-American court of human rights and the UN:
It allowed regulatory and licensing powers to a commission directly involved with the state (The Media and Information Commission)
It required journalists in Zimbabwe to be licensed and of Zimbabwean nationality
It allowed international investors to own only small factions of private media outlets
Media outlets and channels had to be licensed by the commission
It is somewhat obvious how it may be ironic and problematic that journalists and media outlets that seek to expose workings of government must seek permission from the state before being allowed to operate. It meant that the media had an obvious bias. The act was dubbed by Dr Eddison Zvobgo to be "the most calculated attack on our constitutional liberties" that he had seen in his 20 years in the Cabinet. Its main criticism was that it allowed for state to harshly restrict media freedom. This is still in effect (though much of it has been repealed) and has allowed the state to unjustly arrest journalists and block licensing of private news outlets. It often works hand in hand with its counterpart the POSA.
The POSA is the most appalling infringement of human rights in Zimbabwe, making it passable for the state security forces (the Zimbabwe Republic Police and the Zimbabwe Defense Forces) to use whatever force they deem fit to prevent or suppress demonstrations, effectively muzzling the complaints of the people through fear and intimidation. It has four key features:
The police may prohibit demonstrations in an area for up to three months if they believe this to be necessary to prevent public disorder
Public gatherings will not be allowed unless seven days' notice is given to the police.
The police are allowed to take measures including lethal measures, to suppress an unlawful public gathering.
The police may request the assistance of the army to suppress a demonstration should there be the need.
It is also ironic and distressing that the people who seek to complain about or, hold government accountable for, its actions must seek permission from the government itself and this has led to masses of people having their rights of security of person as well as their right to protest being infringed on unconstitutionally.
The final group of rights is the right to life which have been infringed on by frequent and illegal protests in the health sector as well as by the POSA. On the first of August after the 2018 elections six people were murdered, and many injured from beatings by army officers during a demonstration of MDC-A supporters after the delayed announcement of the election results. The shooting of live bullets was unconstitutional, and the police should have arrested the people instead.
The problematic factor is that Constantino Chiwenga, the army general, is heavily involved in politics. It has become obvious that the simple solution to this is to ban effectively the political involvement of the army in state politics and to repeal the POSA and AIPPA.
The health sector has also experienced frequent protests by doctors for higher salaries though they are illegal due to the obvious ramifications and have often left patients stranded. Very little has been done about the matter as within a struggling economy the government is still trying to provide free healthcare instead of simply subsidizing it such that the doctors may be incentivized with sufficient salaries and patients given consistent care.
In conclusion Zimbabwe has been backsliding, though much has been done to promote the development and recognition of human rights in Zimbabwe (in terms of legislature reform and initiatives) and to set an example for other countries, still more has to be done in order to stop cultural norms, political tensions and past government legislature from subverting these efforts.
2019
This year the question students in the U.S. and other countries were asked to address was:
Antonio Guterres, Secretary General of the United Nations, said, "hate is moving into the mainstream – in liberal democracies and authoritarian states alike."* Others, such as Prince ZeidRa'ad Al Hussein, the former United Nations High Commissioner for Human Rights, claim that intolerance manifested in religious extremism, xenophobia, racism, Islamophobia, anti-Semitism, misogyny, homophobia, and hatred of immigrants, is on the rise.** Do you agree that one or more of these forms of intolerance is or are on the rise in the world, in your country in particular, or both? If so what do you think are the causes and implications of the increase and how do you think it should be addressed? If you disagree, explain the reason you disagree.
*Remarks to the Human Rights Council in Geneva, February 25, 2019
**ZeidRa'ad Al Hussein, "Human Rights Are Not A Luxury," Washington Post, June 15, 2018
56 students from 21 High Schools in 13 states (CA, CT, FL, GA, IA, MA, NC, NJ, NY, NV, OH, PA, TX) and 95 students from 38 high
schools in 16 countries and territories (Armenia, Australia, Bahamas, Canada, Czech Republic, Ghana, Great Britain, Greece, India, Mauritius, New Zealand, Nigeria, Pakistan, Puerto Rico, Slovak Republic, Zimbabwe) participated.
2019 ESSAY EXCERPTS
 "Treaty by treaty, policy by policy the world leaders built a great body of laws and vowed to uphold themand the progress they achieved was immense. However, in this generation world leadershave forgotten the laws of survival and the world is moving back intoan era where racist and extremists inflame Islamophobia and discrimination…the world is going backwards." Abdul-Rehman Ahmad, Beaconhouse, Faisalabad, Pakistan. 
 "Intolerance is the first sign of an inadequate education…truly profound education breeds humility." Haley Trolio, Poland Seminary High School, Poland, Ohio. 

 "Facebook, Twitter and other social media have certainly made social intolerance more visible and, as a consequence, more legitimate." Marielle Mather, Old Lyme High School, Old Lyme, Connecticut. 
 "People aren't born with racist ideals or beliefs, it's something that is learned." Aaliyah Novas, Danbury High School, Danbury, Connecticut. 
 "Walls of the mind are more easily built than destroyed…Words kill. Misperceptions kill…Thanks to Twitter, Whatsapp, YouTube, Facebook, etc. any false narrative can be made to go viral." Sumer Moudgill, Horace Greely High School, Chappaqua, New York. 
 "Campaigning for the UK to leave the EU was an opportunity form many hate crimes and discriminatory comments about immigrants to become widespread." Amani Younus, St. Olave's Grammar School, Kent, Britain. 
 "40% of Pakistan's population is illiterate which makes it easier for the population to be brainwashed…The government should take serious measures to educate the population of Pakistan." Shajia Ali Anwar, Beaconhouse,Islamabad, Pakistan.
 
 "Sadists and misanthropists come from every religion…They use religion as a curtain to hide behind…This does not make every person belonging to that group one of them." Muskan Fatima, Beaconhouse, Islamabad, Pakistan.