RESOURCES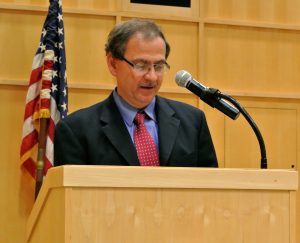 D-DAY AND HUMAN RIGHTS
May 2, 2014 Essay and Art Contest Award address
by Stephen Frasene
Assistant Principal, Mamaroneck High School
Good Afternoon:
I was honored by the invitation to speak for a few moments on this solemn and important occasion as we honor those who gave their lives so we can live in a free society.
June 6th will mark the 70th anniversary of D-Day and the Invasion of Normandy.   This day is arguably one of the most important days in United States history.  This was the beginning of the end of Adolph Hitler. It was a huge step in ending World War II.  For thousands of soldiers, this battle would be their last act on this earth fighting for freedom and human rights.
D-Day has always held a special meaning for my family.  My dad, Raymond Frasene Sr., fought in the Normandy Invasion on Omaha Beach.  Despite his remarkable wartime achievements, as was typical of many soldiers who fought in battle, pops rarely spoke about his army career. Don't get me wrong, he was extremely proud, as we all were of his service to our country, but his experiences in the Invasion of Normandy and the liberation of Nordhausen Concentration Camp were just too painful for him to discuss.
However, pops did articulate quite often during our countless current events discussions how disheartened he felt over the sad realization of history repeating itself.  That in the United States and in countries all over the world, people are still fighting for the same freedoms people were fighting for in his generation during World War II….a harsh reminder that we can't afford to look the other way.  We are eternally grateful to our veterans who through their sacrifice have taught us that if you don't fight for freedom and rights, you will have none, for silence is taken for consent.
This year's Richard Kemper Memorial Essay Contest question asks "how can we best direct our energy and efforts to ensure human rights for all people"?  I've always been proud of the fact that I work in a school community where students stand up and take action to involve themselves in many ways to ensure that all of us are educated about the daily struggles for basic human rights in our nation and abroad.
Students groups such as Students for Senegal, The Human Rights Club, The Gay/Straight Alliance, and Kids for World Health are just a few of the dozens of endeavors our students involve themselves with to serving others.  Through their actions they make an important statement that is up to all of us to contribute in some way to help ensure basic human rights for all people.
I would like to extend my congratulations to this year's Richard Kemper Memorial Essay Contest and Poster Contest winners.
Thank you to all the students and community members who are here today. Your presence is a tribute to those lost troops who fought for our rights and freedom.
It is a humble way for all of us to say we remember.