ARCHIVES
PAST CONTEST WINNERS
ESSAY CONTEST CHRONOLOGY
2000
August. Richard Kemper's nephew, Paul Cantor, with the help of Mamaroneck High School Social Studies teachers Mary Cronin, Lorna Minor and Adam Sobel and the support of MHS principal Dr. Mark Orfinger sets up the Richard Kemper Memorial Essay Contest linked to Richard Kemper Park.
2001
Uncovering the Kemper Memorial, an article in Mamaroneck High School student newspaper by Adam Bisno, explains:
"Anyone driving through Mamaroneck on the Boston Post Road passes the granite monument between the high school parking lot and the street. Why, then, do so few people know it exists? Mr. Paul Cantor, a grandson of the memorial's founders, posed the question first. With his and Mamaroneck High School Social Studies teacher Lorna Minor's help in providing invaluable letters and newspaper articles, I have pieced together the forgotten history of the Kemper Memorial. Richard Kemper, for whom the memorial was named and dedicated, graduated from Mamaroneck High School with the class of 1937. The yearbook of that year praised "Dick" as a most affable young man. After the outbreak of World War II, Richard Kemper joined the war effort and was stationed in Britain as an office worker. In his letters home, Lieutenant Kemper wrote on subjects ranging from war to the quirks of British schoolchildren. The letters are a valuable testimony of Richard Kemper's experiences before his request to be sent to the front lines. In the summer of 1944, Richard arrived in Normandy. Excited to be in command at the Battle of the Hedgerows, of which he wrote to his parents, Richard Kemper was fatally wounded by an exploding shell during battle on August 6, 1944. Adolph and Helen Kemper, Richard's parents, saved his letters for posterity, but they felt they should do more to preserve the memories of their son and the other men who lost their lives in World War II. In 1946, the Kempers purchased land adjacent to the high school, constructed a park and erected a granite monument bearing about one hundred names of Gold Star men from Mamaroneck and Larchmont. Adolph Kemper then donated the park and monument to the school district. The speeches given at the memorial's dedication upheld the values for which the men died: liberty, justice and peace. The Richard M. Kemper Memorial Park should preserve and uphold those values for the future classes of MHS. Adolph Kemper reminded those present that there is no justification for the destruction of war and, furthermore, that the values for which his son and his son's contemporaries gave their lives ought not be forgotten. Paul Cantor has suggested that Mamaroneck High School sponsor an essay contest in which students would either research one name on the monument or write an essay on the values for which the men sacrificed themselves. Although this proposal has not been effected this year, Ms. Minor will use Richard Kemper's letters in her American history classes and perhaps lead a visit to the park, itself. Through the introduction of Richard Kemper's letters and memory in Mamaroneck classes, the memorial will hopefully cease to drift into obscurity."
May. The First Richard Kemper Memorial Essay Contest Award Ceremony takes place. Ellen Fure is the winner. Ellen writes that the Kemper Memorial brings "to life the many young people who fought and died in WWII."
2002
The Second Annual Richard Kemper Memorial Essay Contest is held. Giulia Frontini and Kathy Reilly are the winners. Ms. Frontini writes about Ann Kathleen Cullen, the only woman whose name is on the monument in Richard Kemper Park and "the Grace Kelly of Larchmont" who was"well known for her zest for life" and "her generous and tolerant view of all people." Kathy Reilly writes about how the civil rights leader Medgar Evers "died for his belief in the freedom of every American, regardless of their skin color."
2003
Mathew Schumer and Steven Northrup win the Third Annual RMK Memorial Essay Contest awards. Steven writes, "the names of people engraved on war memorials around the world represent the loss of millions of dreams and hopes that were never realized."
2004
Abigail Benudis and Emma Rauschkolb, win the Fourth Annual Richard Kemper Memorial Essay Contest. Both, like Giulia Frontini before them, choose to write about Kathleen Cullen.
2005
William Moore and Robert Cross win the Fifth Annual Richard Kemper Memorial Essay Contest. Mr. Cross writes about his grandfather who was shot down while flying a B-17 over Austria in 1944. His grandfather is present at the reward ceremony when he receives his reward and then reads his essay. Mr. Moore points out in his essay points out how over a million African Americans contributed to the defense of our country in World War II even though faced with discrimination in the armed forces.
The nonprofit Kemper Memorial Park Preservation Fund is established to raise funds to: i. preserve, protect and restore Kemper Memorial Park, in its present location and in its present configuration in the Village of Mamaroneck, State of New York, for the use and benefit of the public as follows: (a) as a memorial to veterans of World War II and the sacrifices made by local residents who died in World War II; (b) for use as a place of quiet reflection by families of local residents who were lost in World War II and as a place where community members can pay their respects to those who were lost; and (c) as valuable open green space; ii. educate the community, especially students of the Mamaroneck School District, about the history and significance of the Park as a memorial to veterans of World War iii. assist the American Legion, Veterans of Foreign Wars, the Mamaroneck School District and the citizens of the community with the planning and conduct of the annual Memorial Day ceremonies; iii. encourage appropriate allocations from the Mamaroneck School District; iv. to prevent the Park from being used as an athletic field, parking lot or for any other purpose that would detract from the quiet, contemplative space originally envisioned by the donors; and v. raise funds from the public and other organizations, for the above described purposes. The Mamaroneck School board drops plans to relocate and redesign the park. Jan Northrup is elected president of the Fund. Mark Schumer is the treasurer.
2006
Edan Soroker and Joanna Lyons win the Sixth Annual Richard Kemper Memorial Essay Contest. Mr. Soroker writes about Norman Rockwell's art and President Roosevelt's Four Freedoms speech. Joanna Lyons composes an imaginary speech given by a returning soldier to a MHS graduating class.
2007
Lily Goodspeed and Pauline Mang win the Seventh Annual Richard Kemper Memorial Essay Contest. Ms. Goodspeed argues in her essay that "America needs to do its best" to settle differences "by peaceful discussion, and not jump to warfare so quickly." Ms. Mang concludes by saying her generation should encourage people "to respect not only the diversity of cultures but also the ideals of equality, human dignity, and freedom."
2008
The Richard M. Kemper Foundation for Promoting Human Rights Education, founded by Paul Cantor, is incorporated by the State of New York. The certificate of incorporation states that "the purposes for which the Corporation is formed are: Educational, literary, and cultural…to this end the Corporation shall promote human rights education by sponsoring activities designed to bring human rights issues into the public school curriculum. This will include sponsoring essay, research paper, poetry, photography and other contests or competitions which motivate students to search for ways to create a just and peaceful world in which human rights are universally respected; building archives that preserve the thoughts and experience of World War II veterans and their families so that future generations may gain a better understanding of how war affected their communities; funding programs or projects that motivate teachers or facilitate the efforts of teachers to address human rights issues; human rights film series; providing financial support for teachers to take university level human rights classes; offering Richard Kemper Human Rights awards or scholarships to students, teachers, and/or student or teacher organizations for academically oriented human rights activities; purchasing books and other materials that might be of particular interest to students of human rights; publicizing its activities or the activities of other human rights organizations; and awarding prizes for teachers or students who formulate questions for the Richard Kemper essay contest or research paper contests."
The first Richard Kemper Memorial Art Contest takes place. Danielle Kogan wins a $100 award for her poster calling attention to the Richard Kemper Memorial Essay Contest. Danielle's poster depicts a young woman addressing a seated audience. The woman is standing behind a podium with a microphone on top of it. One member of the audience is raising her hand to ask a question. On the front of the podium is the American Flag. The Poster reads: "It's Time to Address America: What will you say?"
Catherine Gerkis and Nina Chiappetta are the winners of the Eighth Annual Richard Kemper Memorial Essay Contest.
2009
Chelsie Walters and Addie Nicole Merians are the winners of the Ninth Annual Richard Kemper Memorial Essay Contest.
2010
MHS junior Patricia Cassidy and sophomore Max Gude were selected as the winners of the Tenth Annual Richard Kemper Memorial Essay Contest. Elizabeth Goodspeed received a prize for designing a poster promoting the contest.
2011
In 2011 for the first time there were two separate essay contests, one for students at Mamaroneck High School and one for students from all high schools. Ilana Gratch from Mamaroneck High School won the first contest for her essay Navigating the Road to Patriotism and Tild Maliqati from Rye Neck High School won the second contest for his essay, Racial Profiling and Lina Kheir from Scarsdale High School won honorable mention for her essay, Silencing Russian Journalism. The art contest for the best poster promoting the contest this year was won by Anna Hill of MHS.

2012
Mamaroneck High School students Emily Gerszberg and Andrew Yohan Lee were the winners of 2012 year's essay contests and Mamaroneck High's Jaileen Reyes won the 2012 art contest. Emily's essay, Sharing the Legacy Brings Remembrance, was written in response to the following question:
America's Veterans. Mamaroneck has kept its promise to "never forget their sacrifice" by recently adding the names of James Allen Callaghan and Warner Marshall to the Kemper Monument more than 60 years after their deaths in World War II. What are some other ways that we can honor our veterans, their comrades and the causes they fought for?
Andrew's essay, How to Help the People of North Korea, responded to the question:
"Americans came to liberate, not to conquer, to restore freedom and to end tyranny." Those are the words inscribed on the base of the flagpoles at the entrance to the World War II Memorial in Washington D.C. Yet as
Freedom House
points out many people in many countries still live under tyrannical regimes. What can and should be done to promote political rights and civil liberties in any one of those countries?
2013
The winner of the 2013 art contest was Sam Blumberg. The winners of the essay contests in 2013 were Alexa Barrett and James Quinn. Alexa's essay addressed the question of whether memorials that honor people involved in events that took place long ago are as important to today's generation as they were to previous generations. Jimmy wrote about how the government of Syria was violating the principles our World War II veterans died defending and how our country should respond to those violations.

2014
Natalie Spangle and Arthur Thery were the first and second place winners of the 2014 essay contest. Natalie's essay, Call to Arms, was about how one young courageous Pakistani woman, Malala Yousafzai, helped draw attention to the importance of guaranteeing the rights of women everywhere to be educated. Arthur's essay, How to Achieve Human Rights for All People, discussed the many ways in which we can employ today's technological tools to advance the cause of human rights. In 2014, for the first time, there were two winners of the art contest: Emily Olson and Eralda Balaj. Also in 2014, Stephen Frasene, the Assistant Principal at Mamaroneck High School spoke movingly of his father, Raymond Frasene St., who fought in the Normandy Invasion on Omaha Beach. Mr. Frasene's father was "extremely proud of his service to his country" but rued the fact that despite our victory in World War II people all over the world still must fight for their freedom. Nevertheless, Mr. Frasene said, he has always been proud of the fact that he works "in a school community where students stand up and take action to involve themselves in many ways to ensure that all of us are educated about the daily struggles for basic human rights in our nation and abroad."

2015
Najah Ellington a tenth grade student at Western High School in Baltimore, Maryland won the 2015 Richard Kemper Memorial Essay Contest with her essay Black Footsteps in a White World and Michael Tashash an eleventh grade student at Brien McMahon High School in Norwalk, Connecticut was the runner up with his essay Black Lives and Rights Matter. Also, on March 14, 2015 the Kemper Human Rights Education Foundation sponsored a lecture at Mamaroneck High School by David Blight on The Origins of Memorial Day and the Legacies of the American Civil War in Our Own Time (see the pictures below).
2016
This year, the sixteenth year of the KHREF human rights essay contest, we received 63 essays from 17 schools. Avon High School junior Ayushi Hegde, won $1000 for her essay Refugees Under a Trump Presidency in which she pointed out that people have a right to seek and receive asylum in any country of the world. And Andrew Selius from Mamaroneck High in Mamaroneck, N.Y.; Andrea Rašovská from the Czech Republic's Gymnázium Jana Palacha; and Michelle Woo from Greenwich High in Greenwich, Connecticut each won $250 for the essay s/he submitted. Mr. Selius wrote about The Crisis of Modern Slavery, Ms. Andrea Rašovská's essay was entitled Start Telling a New Story, and Ms. Woo wrote about Syrian refugees in her essay The People Who Have No One.
Kemper Human Rights Foundation's $1000 Essay Contest Winner,
Avon High School junior Ayushi Hegde with Avon High School's principal Dr. Timothy Breslin.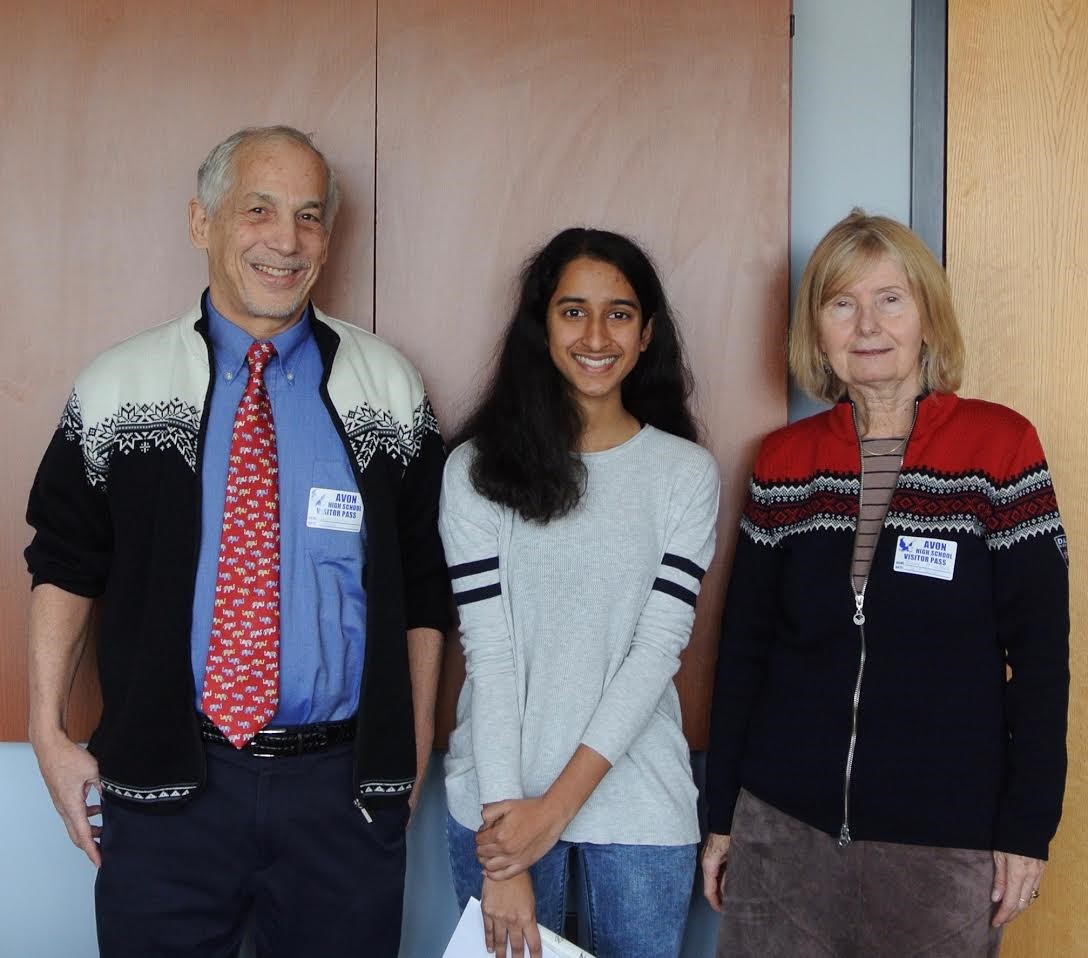 Ayushi Hegde with Kemper Human Rights Education Foundation's President and Vice President,
Paul Cantor and Yvonne Myška Lopaur.