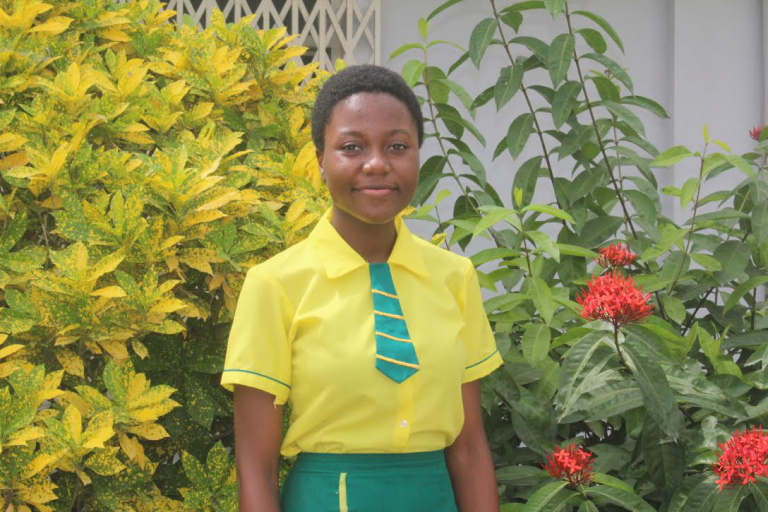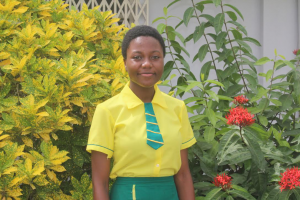 By Audrey Obuobisa-Darko, Wesley Girls' H.S., Cape Coast, Ghana
As a child, my eyes had beheld nothing other than parents to love me, a good roof over my head, and food I could eat without working for. The worst things I saw happen to children only made themselves known to me from the movies behind my TV screen; it was a thick enough barrier between my world of blissful ignorance, and theirs of staged pain. As more years were added on, however, I came to the realisation that the horror I used to see was closer to me, than I could have ever anticipated.
"Every child has a right to be protected from doing work that is harmful, and to not be deprived of medical care, education or other benefits due to religious beliefs." Anyone who lived in areas in Ghana where child labour is prevalent and seen as a normal phenomenon would argue heatedly in doubt of the existence of such a right, and even go ahead to question its reasonability. "After all, aren't the children the ones we need for this 'galamsey'?" one native may say.
'Galamsey' is a local Ghanaian term which means illegal small-scale gold mining in Ghana, West Africa; such workers are known as 'galamseyers' or 'orpailleurs' in neighboring francophone nations. 'Galamseyers' are people who perform illegal gold mining independent of mining companies, digging small working (pits, tunnels and sluices) by hand. ("Galamsey") Most of those involved in illegal mining in Ghana are children, who were introduced to the labour by parents, friends or other adults who ostensibly want the best for them. The children come in handy especially when gold has to be reached in tunnels too small for adults to fit in.
I choose to throw light on this because it is the most common form of child labour, alongside work in agriculture, home-based assembly operations, respectable trades, factories and even building construction in Ghana.
In my country, it is typical to see children taking part in work done by adults, be it working on the family farm, selling in the family shop, or hawking, as is the case of the less-privileged families. However, give one an inch, he takes a mile. This is illustrated by natives of rural areas who leave their children, between the ages of five and fourteen, to partake in laborious onuses which are likely to cause them harm. I have no right to say it is their fault, because poverty, which is the main cause of child labour in Ghana, is what drives many children into these areas.
Child labour has deprived many children of the opportunity to attend school, and generally live lives devoid of any cares, like a normal child would. In the 18th century, when there was the Industrial Revolution in Britain, even four-year-old children were employed to work in factories for long periods; between 70 and 80 hours a week.
"When they returned from Yeji, they had scars from scorpion stings and snake bites. They were malnourished. They don't like to talk about what happened there, but to this day they scream in the night. They cannot fully close their fingers to make a fist because of their work on the nets. They hate me … they remind me that I sold them. They are also angry at their sisters who stayed here and attended school. It has destroyed our family," one Ghanaian mother said (Ubelong, 2016).
In 2009, Ghana designed a holistic approach to the problem, setting into motion the implementation of a National Action Plan (NPA) for the Elimination of the Worst Forms of Child Labour (Somopac network (social mobilisation partners against child labour), 2017). This move is commendable, as it is concerned about the eradication of such a menace from the country. However, I believe more can be done about it, because although the global incidence of child labour decreased from 25% to 10% from 1960 to 2003, the United Nations International Children's Emergency Fund (UNICEF) and the International Labour Organistaion (ILO) acknowledged in 2013 that an estimated 168 million children worldwide were still involved in child labour.
Public education is the most fundamental, yet one of the most effective ways of eliminating menaces such as this. Ignorance of the physical, mental, moral and social effects of child labour is mainly what is keeping it alive. On the media, in symposia, seminars and other fora, the public must be educated on how detrimental child labour is to the well-being of the child. Parents must be sensitized and encouraged to find other lucrative means of making money for the upkeep of the family. In my part of the world, Christian religion is common. Churches and other religious institutions like the Presbyterian Church must play a role by educating their members to desist from exploiting children. The victims themselves must definitely not be left out in the bid to enlighten. In schools, Child's Rights clubs should be established to teach children the rights and freedoms they are entitled to. Victims on the streets and in rural areas must be reached, and their liberties made known to them, for many are affected because they are unaware that their rights are being infringed upon. John Whitmore said, "I am able to control only that which I am aware of. That which I am unaware of controls me. Awareness empowers me." Awareness empowers individuals, and this can only be made possible through public education.
Also, one of the reasons for which certain families in Africa especially push their children into child labour is the inadequacy of affordable schools and quality education, according to Wikipedia. The government should provide more educational opportunities for children. Recently, the Free Senior High School Policy(FSHSP) was established in my country, Ghana, and took effect on 12th September, 2017, for the benefit of young people who lack the means of continuing their second-cycle education. The implementation of the FSHSP is in agreement with provisions of the International Covenant on Economic, Social and Cultural Rights (ICESCR), of which Ghana is a signatory (Ghanaweb.com, 2017). This phenomenon breeds hope in the hearts of Ghanaians, that education will be entirely free for all children soon, in order that children who have to indulge in child labour to earn money for school would no longer have to do so. Many parents would choose overworking their children for more money for the household than take them to school, as they deem it unnecessary and fruitless. "Why must I take her to school if the quality is poor, and the fees are exorbitant?" Governments must make reforms in the educational system, employ qualified teaching personnel, provide good educational facilities, and make schooling affordable for those in rural areas. This way, the only labour the child would bother suffering is the preparation for tests or doing homework, and more children would be found in the classrooms than on the fields.
In addition, Part five of the children's Act, 1998 (Act 560) prohibits the exploitation of children and addresses which kind of work is acceptable for children to do. However, the Act does not include the necessary strategies for the Worst Forms of Child Labour (WFCL) which were laid down by the International Labour Organisation (ILO). The Act contains a list of areas unsuitable for children to work in, and merely ends there. There should be a proper amendment of the Act and the development of a framework which will clearly provide for the identification of harmful tasks or activities within each of the identified sectors. This way, individuals have no excuse to falter.
Legally, also, severe sanctions must be meted out to adults and parents who exploit children under the legal working age. It must be enshrined in the laws and enforced, that even the legally employed children must be given good conditions at work, and given their deserved wages. Exclusive courts and tribunals should be designated to protect children from the abuse of the WFCL. Perpetrators must be duly brought to book, regardless of their social status, or affiliation to the victimised child. The full involvement of the legal institutions in countries will play a massive role in eliminating child labour.
 Lastly, social services should be provided for children under the working age who have been subjugated, and their right to be protected from harmful work infringed upon. Government-affiliated institutions like the Social Welfare centres should step in. Ill-treated children must be rescued and taken in, and given better living conditions such as good food, water, comfortable shelter, and good medical care especially for those who may have been over-worked and injured. This will help to reduce the trauma they have gone through, and wipe away their psychological and social troubles.
 The well-being of the child is important for the development of the world, as children are considered as the gem of the universe. When the above-mentioned are put in place, children will be given the chance to enjoy their childhood, just as they should, and child labour will only remain a staged act made known to them, from behind their television screens.
References
Galamsey. (n.d.) In Wikipedia. Retrieved November 18, 2017, from https://en.wikipedia.org/wiki/Galamsey
Somopac network (social mobilisation partners against child labour). (2017). Modern Ghana. Retrieved 22 November, 2017,  from https://www.modernghana.com/news/478329/combating-child-labour-in-ghana-significant-progress-and-cr.html
Ghanawebcom. (2017). Ghanawebcom. Retrieved 22 November, 2017, from https://www.ghanaweb.com/GhanaHomePage/NewsArchive/Financial-benefits-of-Free-SHS-policy-to-parents-and-economy-587509
Ubelong, U. (2016). Global development. Retrieved 18 November, 2017,  from https://www.theguardian.com/global-development/gallery/2016/sep/30/ghana-slavery-child-labour-kids-hate-me-i-sold-them-in-pictures