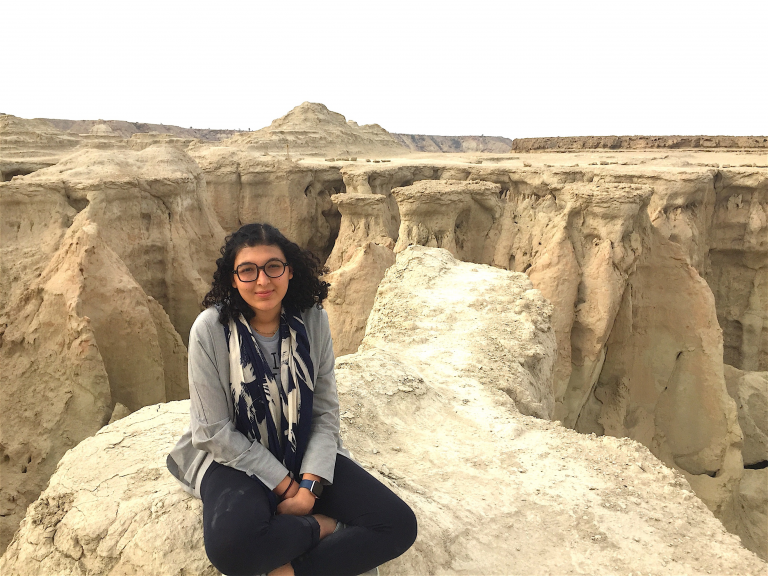 Yaas Farzanefar, Mahdavi International Education Complex, Tehran, Iran
In my dream, I see a country where the most fundamental human rights are not being violated. A country where basic rights such as: "gender equality", "freedom of expression" and "freedom of movement" have meaning. I see a country where women are not treated as second-class citizens, not banned from entering sports stadiums, not prohibited from leaving the country without a males' permission, and have control over their bodies. I see a country where more than 500 people, including juveniles, are not being executed each year. I see a country where more than 40000 underage girls are not forced into early marriage every year. I see a country where "gender equality" is not known to be "unacceptable".
When I wake up my vision is blurry as I see my reality, which is the complete opposite of my dream!
Over 2 millennia have passed since King Cyrus the great enshrined the first charter of human rights, known as the Cyrus Cylinder. Yet today, after the establishment of the new civil rights, citizens of Iran, especially women, are facing all kinds of discriminations and much more against their rights.
After the Islamic revolution in 1979 and the formation of the Islamic civil rights based on the sharia-law, Iranian women lost many important legal privileges. Issues related to marriage, divorce, inheritance, labor, and restrictions on dress and even access to sports stadiums as spectators, are the most important women rights violations that Iranian citizens are facing against their rights on a day-to-day basis.
But why is it that Iranian women, consider themselves as "second-class" citizens?
A further look into the civil code of the Islamic Republic of Iran reveals all the discriminations and defilements women have to face. Iran's civil code severely restricts the rights of women to freely choose a spouse and to enter into marriage with free and full consent. Article 1043 of the civil code puts the marriage of a girl, no matter the age, dependent on the permission of her father.Guardianship also belongs to the father or paternal grandfather; meaning that mothers have no obligations towards their children. The right of women to freely choose a spouse is also restricted. According to article 1059, an absolute prohibition is imposed against the marriage of a Muslim woman to a non-Muslim man. In contrast, no such restrictions for Iranian men who want to marry to non-Iranian or non–Muslim woman are seen anywhere in the book of the Islamic republic civil code! The Iranian law on inheritance, which denies the equal share of inheritance between children, implements that "when a father dies each son takes twice as much as each daughter". In addition, the testimony of a man is often given twice the weight of a woman's. Moreover, the testimony of a woman is not accepted for certain types of offenses.
The right to free choice of profession and employment is established in article 23 of the UDHR "Everyone has the right to work, to free choice of employment, to just and favorable conditions of work and to protection against unemployment." Yet in contrast to this law, according to article 1117 of the civil code "The husband can prevent his wife from occupations or technical work which is incompatible with the family interests or the dignity of himself or his wife." This gendered regulation or may I say, human rights violation not only highlights the false and long-gone assumption of men as primary breadwinners and women as primary caregivers but, it also questions our modern 21st century society today, where powerful female Politicians, journalists, and human rights activists, such as: Angela Markel, Christiane Amanpour, Shirin Ebadi and Amelia Clooney, are trying to build an equal society.
Women are once again sullied in article 1105 of the civil code in which it is noted, "the head of the family exclusively belongs to the husband."
"Everyone has the right to leave any country, including his or her own, and to return to his or her country." As written, article 13 of the UDHR proclaims the right to "freedom of movement" for every human being. But does this law truly refer to everyone? Sadly women in Iran are deprived of this vital right. Even if a woman reaches the highest ranks of politics, sports, or culture, she still needs her husband's consent for one of her most basic rights, traveling abroad.
To what extent can this law impact a woman's life? In 2015, Nilufar Ardalan, the captain of Iran's national team, was unable to compete in the Asian Football Confederation's women's championship in futsal because her husband did not give her permission to travel abroad! Unfortunately, many more women have to deal with similar situations every day.
If there are such legislation, and young girls, are thought as such in school, how can they grow up thinking that women are worth more?
It is important to realize that only when women and girls have full access to their rights, equality will truly exist. Therefore in order to establish an equal society for the next generation of Iranians, the authorities must open their eyes to the repercussion of their established laws on Iranian women all over the country. All legislation that violate woman's rights and make them seem "unworthy" must change. New laws, those that are not biased towards women in any way, and give women equal rights in all aspects, should substitute the unequal rights of Iranian women today. All requirements of the Civil Code, which constitute discrimination against women in matters relating to marriage, divorce and family relations, must be repealed and all appropriate measures must be taken to ensure, on a basis of equality between men and women, the same rights and responsibilities for men and women during marriage and at its dissolution. The authorities must take all necessary action, including legislation, to allow women free choice of 
profession and employment and freedom of movement, without discrimination. Furthermore, they should abolish the current unlawful arrangements, which allow men to prohibit their wives from working in a certain profession.
Isn't it the right of every woman to live equally and free from discrimination? Aren't women's rights the most fundamental rights?
It can be seen, under the declaration of international human rights law, everyone has the right to freedom of expression and freedom to manifest their religion or beliefs. The way people dress can be an important expression of their religious, cultural or personal identity or beliefs. Therefore it is every human beings' right to choose what – and what not – to wear. The enforced wearing of the hijab has been one of the most distinguishing characteristics of the Islamic Republic and as such is one of its weightiest issues. Hence, cumpolusary hijab not only interferes the control of women over their bodies but also violates their dignity and freedom. Hijab enforcement actions are not limited to warnings by the morality police and daily arrests. Iranian women undergo various forms of harassment, abuse, and discrimination by authorities on a daily basis for not observing "proper" hijab. Many Iranian women face limitations in relation to their careers, education, public services, and participation in cultural or recreational spaces if they violate hijab laws.
I believe that, new "fatwas" must be given to allow women to retain their freedom of expression in all aspects and have control over what they wear. Similarly, women's clothing shouldn't impact their carriers or their education!
Since the revolution, women have been banned from entering stadiums. Today, Iranian women are still banned from entering sports stadiums. The reason being that clerics insist that it is inappropriate to have women at matches, where they would unnecessarily be mixing with men outside their families, where the male players wear shorts, and where, there is often vulgar language and behavior. Nonetheless, non-Iranian women are allowed to support visiting teams in Iran, and have freely attended games! Authorities must realize that women have the right to enjoy live sports as much as men and, that it is unfair to exclude half the society from supporting their favorite sports teams. As a result, they must take actions to lift the ban that prevents women from entering stadiums. "Excluding women from stadiums is part of excluding women from society."
Another legal act that risks the life of next-generation Iranian women, is the legal age of marriage; that is 13 for girls and 15 for boys. Research shows that Over 40,000 under Age girls are being forced to Marriage Each Year in Iran. The government considers girls to be mentally and sexually mature at the age of 13. Additionally in article 1041 of the civil code: "Marriage before puberty by the permission of the Guardian and on condition of taking into consideration the ward's interest is proper." This law is not only against "The right to marriage and family", but also curtails the opportunity of a child to develop a full sense of selfhood, denies the child's well-being as well as the opportunity of reproductive health and right to education.
Consequently, in order to prevent child marriages, I believe that primarily the legal age of marriage should be increased to 18 for both genders. Secondly, the results from the international center for research on women (ICRW) must be put into action. "Policies and programs must educate communities, raise awareness, engage local and religious leaders, involve parents, and empower girls through education and employment."Thirdly, all appropriate measures, including new legislation in order to eliminate the practice of all forced marriages must be taken.
Building an equal society in a world of unequal laws is certainly not easy. Yet I hope to wake up one day only to see that my dream has turned into reality.
Bibliography

Ali, Dr Ansia Khaz. Iranian Women After The Islamic Revolution. PhD Thesis. London: A Conflicts Forum Monograph, 2010.
Banda, Dr. Fareda. "Project on a Mechansim to Address laws that Discriminate Against Women." Office of the High Commissionor for Human Rights 6 march 2008.
Ali, Dr Ansia Khaz. Iranian Women After The Islamic Revolution. PhD Thesis. London: A Conflicts Forum Monograph, 2010.
Banda, Dr. Fareda. "Project on a Mechansim to Address laws that Discriminate Against Women." Office of the High Commissionor for Human Rights 6 march 2008.
Braunschweiger, Amy. "Banned from Stadiums for Being a Woman in Iran." 13 june 2016. Human Rights wATCH. <https://www.hrw.org>.
Dehghan, Saeed Kamali. "Husband bars Iranian footballer from Asian championships." 16 september 2015. https://www.thegaurdian.com.
Goosheh, Shima. "Over 40000 girls under age 15 Married Each Year In Iran." 4 september 2015. Center for Human Rights in Iran. <https://www.irNHUMnrights.org>.
Kabbani, Shaykh Muhammad Hisham. "What is a Fatwa." 23 july 2003. The Islamic Supreme Council of America. <www.islamicsupremecouncil.org>.
Milani, Farzaneh. "Veils and Words: The Emerging Voices of Iranian Women Writers." Syracuse University Press (1992).
Mouri, Leila. "Iranian Women Do Not Have the Right to Control Their Bodies." 9 10 2014. Center for Human Rights in Iran. <https://www.humanrights.org>.
Salman Khazaei, Kamyar Mansori, Zaher Khazaei, Erfan Ayubi. "A Look at the Phenomenon of Child Marriage in Iran and the World." International Journal of Pediatrics (2016).
udayi, Ali. "400000 Girls Forced into Marriage in one Decade in Iran." 25 december 2015. BBC. <www.bbc.com/persian>.
"Women's Rights in Iran." 28 10 2015. Human Rights Watch.